June 14, 2011
"World's Lowest Rating"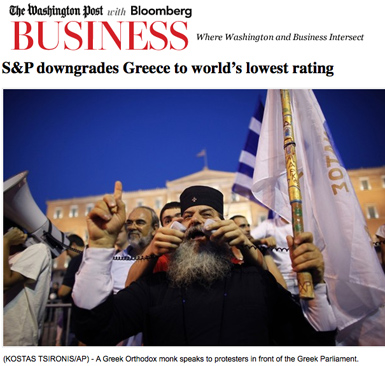 Washington Post article telling the obvious:
"Credit-default swaps on Greece, Ireland and Portugal surged to records Monday on concern that governments' struggles to resolve the turmoil will threaten their ability to pay off their debts.

"The ratings agencies are now playing catch-up with the market," said Gianluca Salford, a fixed-income strategist at J.P. Morgan in London. "The market is pricing in a very high probability that there will be a credit event around Greece. The agencies are just catching up to the negativity that's already priced in by the market, not the other way around.

....A "financing gap has emerged in part because Greece's access to market financing in 2012 and possibly beyond, as envisaged in the current official E.U./IMF program, is unlikely to materialize," the report said."
The S & P downgrade is speeding up the whole process of whether Papandreou can keep Greece on the IMF/eurozone path, or if the process has been so suffocated by pressures from inside Greece (and outside, too: European banks refusing to consider restructuring, for example) there's no place to go for the official participants except into an unknown future. "Over-control" may lead to "no control" quite soon.
[For a reference for the ECB refusal to consider restructure on Greek loans, see this May 2011 article from the Economist, The European Central Bank's refusal to consider a restructuring of Greek debt could wreck the euro zone.]



---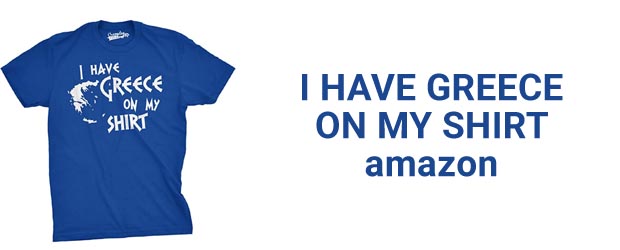 I Have Greece On My Shirt Funny Pun Geography Country Tee (Blue) - XL
---
Create Amazon Business Account - save time and money on business purchases with competitive B2B prices and discounts
---
Andros: The Little England of the Cyclades - AMAZON