May 11, 2011
General Strike underway across country
The IMF/eurozone inspectors are back in Greece to decide if the Papandreou government will get a fifth €12 billion aid boost or not, meanwhile Greek union groups are trying to derail the austerity program which has seen public worker salaries drop by as much as 25% for some jobs, with other cuts, downsizing and reorganizations already accomplished (like the ELSTAT and GSS statistics agency).
The Wallstreet Journal roundup of the general strike:
" Public services across Greece ground to a halt Wednesday as hundreds of thousands of civil servants, dockworkers, teachers and hospital staff walked off the job to protest new government austerity measures.

Around the country, central and local government offices were closed, hospitals and ambulance services were operating on skeleton staffs, and schools and universities were shut for the day.

Transport services were also disrupted with ferry and rail services suspended, public transport around the capital, Athens, operating on a reduced schedule, and flight operations hit by a four-hour walkout by air traffic controllers.

Journalists have also joined in the strike leading to a blackout in all radio and television news programs.

The strike, the second to be called this year by the country's two main umbrella unions, comes just days before the government is due to present parliament with EUR29 billion in further spending cuts and tax hikes to slash the budget deficit over the next five years.

"These neoliberal and barbarous policies, which are driving workers and society into poverty for the benefit of creditors and bankers, are taking us back to the last century," said public sector umbrella union ADEDY in a statement. "They must not pass!"
Particularly interesting in this WSJ article (by By Alkman Granitsas, Dow Jones Newswires) were these poll reports:
"According to a poll published in the center-left Ethnos newspaper earlier this month, 67.7% of Greeks think that the government should proceed with economic reforms, and 63.7% supported the need for privatizations or other measures to exploit state-owned assets. A further 59.7% said they supported abolishing the current life-time job guarantee for public servants.

But a separate poll for the privately owned Mega television channel this week also showed that 60.3% of Greeks want the bailout deal renegotiated, and 26% thought Greece should scrap the program altogether and abandon the euro. "
For a general outline of the crisis, Time Magazine has a list of significant dates and events here.



---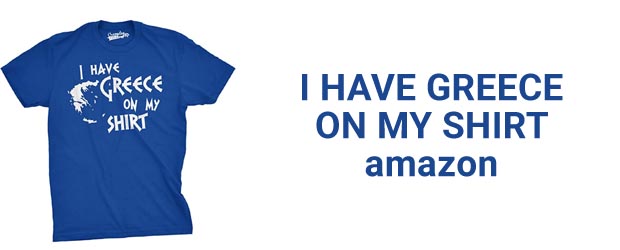 I Have Greece On My Shirt Funny Pun Geography Country Tee (Blue) - XL
---
Create Amazon Business Account - save time and money on business purchases with competitive B2B prices and discounts
---
Andros: The Little England of the Cyclades - AMAZON