May 1, 2011
Greece to start going after tax evaders depositing money outside of Greece
"Tax evasion estimated at 25% to 35% of the Greek GDP"
Ekathimerini article on the changes coming from merged tax and financial agencies in Greece, and the tracking of evaders using foreign banks to hide money.
"...With tax evasion estimated at about 25 to 35 percent of Greece's gross domestic product, as the finance minister reiterated on Monday, containing the phenomenon has always been a target for all governments, and quite an elusive one at that. The ministry is aiming at 1.5 billion euros in extra revenues this year, 4.4 billion in 2012 and 5.9 billion in 2013.

...Papaconstantinou announced a three-year plan that provides for the opening of taxpayers' bank accounts, particularly those with deposits abroad, and the monitoring of the origin of the money deposited. Already, there are ongoing negotiations with Switzerland for Greece to receive a list of major deposits by Greeks in Swiss banks.

The plan further dictates the new role of the financial police, who will conduct more targeted checks and refer to the Citizens' Protection Ministry, just like the main police force. The court processing of cases will be accelerated to avoid the delays seen nowadays.

...Papaconstantinou also warned that his ministry will publish lists of taxpayers with significant arrears to the tax authorities."



---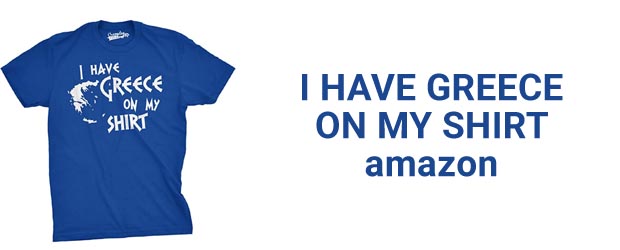 I Have Greece On My Shirt Funny Pun Geography Country Tee (Blue) - XL
---
Create Amazon Business Account - save time and money on business purchases with competitive B2B prices and discounts
---
Andros: The Little England of the Cyclades - AMAZON