Nieghborhood of Athens Greece frequently in the news
Exarchia
Currently much construction and gentrification has come into this famous neighborhood, known for being a "hotbed of anarchist activity," the area has only gained that reputation since the later part of the 20th century. Earlier it was noted in guide books as a place where 19th Century Neoclassical buildings persisted and a highlight was the "sleepy" park at Strefi Hill.
In the 1870-1880 what is today Exarcheion square was "an anonymous, bare plateau that was battered by the winds and regularly excavated by the torrents rushing down Lycabettus" (Kathimerini, 2016)
In the mid-1960s demolition was used to remove dilapidated old housing in what was considered a pleasant, quiet neighborhood, making way for modernization.
"There are few apartment buildings, more old two-story buildings with wooden doors and marble balconies. In almost every house there was a small or a larger piece of land with a bit of greenery, you could see an orange tree, a palm tree and everywhere in the yards, on the stairs, on the balconies abundant flowers", says D. Petsetidis in Kafenio ("Athens: Tracing the city guided by history and literature", Than. Yochalas, Tonia Cafetzakis, Estia ed.).(Kathimerini, 2016)
More recently, Exarchia has a reputation as a central hub for political groups, political violence at times, and a great deal of street graffiti.
---
Construction, under police guard, begins for metro stop in Exarcheion square
Aug 10, 2022
Story at Kathimerini [Greek]
---
Significant number of arrests at Exarchia
December 7, 2020
Story at Ethnos [Greek]
---
Terrorist weapon tunnel found, arrests made
March 20, 2020
Sepolia and Exarchia - story at Ethnos [Greek]
---
Police patrols with dogs begin in Exarchia
Feb 12, 2020
Story at Iefimerida [Greek]
---
Second Christmas Tree burned in Exarchia
December 21, 2019
Story at Protothema [Greek]
---
SYRIZA and gov't argue over recent crackdown on university violence, Exarchia, measures to reduce crime
November 20, 2019
Story at Skai [Greek]
---
Squatter evictions in Exarchia
August 28, 2019
Story at eKathimerini [English]
---
Political mandate for Exarchia "clean up?"
July 6, 2019
Story at Iefimerida [Greek] and at Liberal GR [Greek]
---
Police methods changing around Exarchia
May 14, 2019
Story at eKathimerini [English]
---
Is Exarchia a No-Go zone?
April 27, 2019
Story at Protothema [English]
---
Protesters from Exarchia using disguise
April 12, 2019
Story at Kathimerini [English] and at SKAI [Greek]
---
Fighting at protest over teen's death in 2008
Story at Washington Post
December 6, 2017
"The tension came during a demonstration by high school students through the center of the capital. Another protest by mainly anarchist groups was planned for the evening. About 2,000 police were deployed in Athens for the commemorations of the 2008 death of 15-year-old Alexis Grigoropoulos, shot by police while out for an evening with friends in Exarchia, a central Athens neighborhood popular with anarchists."
---
Powerful bomb blast at Athens Appeals Court
Story at Athens News Agency
December 22, 2017
"[Police] are awaiting the ballistics report on a single 7.62x39mm round fired by the suspected terrorists at a police guard from a Kalashnikov rifle, in order to determine whether it has been used in other terrorist or criminal acts. According to earlier reports, counter-terrorism investigators suspect that the left-wing terror organisation Popular Fighters' Group is behind the attack. Police have also tracked down the mini-van used as a getaway vehicle and later found torched on Kountouriotou Street in Exarchia."
---
Group claims November 6 armed attack on riot police
Story at Kathimerini
November 16, 2017
They are also being blamed for random assaults on the Mexican Embassey, French Embassy, and now PASOK headquarters in Exarchia. Reports elsewhere claim they've been using Kalashnikov military weapons.
"...the group admitted to firing a shot at a riot van parked in from of the offices of PASOK on Harilaou Trikoupi Street on January 10 as a "warning" and then "attacking again" on November 6." [Kathimerini]
In July Tovima had a story on this group's activities: "The group posted a declaration on the Athens Indymedia website, explaining that it decided to attack PASOK's offices in response to the party's "historical role in the service of capital..."
---
Increase in attacks by anti-establishment groups a growing concern
Story at eKathimerini
September 2016
"The almost daily attacks launched by self-styled anarchists against law enforcement units stationed outside the National Technical University of Athens and in the Exarchia district have placed the Greek police on full alert, bracing for the possibility of an incident-filled fall – starting with demonstrations being planned in Thessaloniki on the occasion of the International Trade Fair of Thessaloniki.

...critics describe as the Citizens' Protection Ministry's soft-handed approach to anti-establishment groups, which has essentially sapped the will of law enforcement decision-makers who appear reluctant to address the issue head-on."
---
Church slams coalition for failing to maintain order in cities
Story at eKathimerini
Aug 2, 2016
"The coalition came under pressure over its record on law and order on Monday, with opposition parties and the Church of Greece heaping criticism on the government after activists disrupted the Sunday service at Thessaloniki Cathedral.

...The incidents come in the wake of concerns about crime levels in central Athens, particularly the Exarchia neighborhood. As a result, New Democracy leader Kyriakos Mitsotakis took the opportunity on Monday, when he met with Athens Mayor Giorgos Kaminis, to assure the local official that he would have the conservative party's "full support" in the effort to ensure law and order in the capital."
---
Culture Ministry targeted in petrol bomb attack -
"Authorities in Greece say the entrance of the country's Culture Ministry has suffered minor damage in an arson attack in central Athens.

No one was hurt and no arrests were reported following the pre-dawn attack early Sunday, when a group of youths hurled petrol bombs at police guarding the ministry building in the city's central Exarchia district."
---
---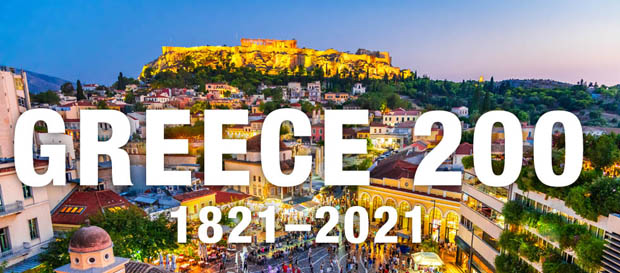 ---
Advertisement: I am an Amazon affiliate
Fodor's Essential Greece: with the Best Islands (Full-color Travel Guide)
---
Original Page August 2022