NEWS ARCHIVE - November 2014
November 30, 2014
Greece Is Becoming A Huge Startup Incubator Despite Economic Crisis - Business Insider
"Faced with the worst unemployment wave in living memory, Greece's youth are turning away from the traditional pursuit of civil service or family-centered jobs, and towards innovation and foreign funding.

"If I can make it here, I can make it anywhere," muses Petros Boskos, a 35-year-old architect.

Alongside two of his friends, Boskos created Verdical, a company designing "vertical" gardens for the sides of buildings.

"It was basically my last chance to stay in Greece," he told AFP on the sidelines of a business innovation fair in Athens earlier this month.

Until recently, most Greeks fresh out of university contemplated life-long job security in a civil service post, or guaranteed employment in their family-owned business.

But that's no longer an option."
---
Ancient coins found at Amphipolis mystery tomb - News AU
"Coins featuring the face of Alexander the Great have been found at the largest tomb ever unearthed in Greece, where archaeologists are hunting for clues to solve the mystery of who lies buried there.

The enormous tomb at Amphipolis in northern Greece dates back to the fourth century BC and contains near-intact sculptures and intricate mosaics.

The discovery earlier this month of a skeleton inside the structure has added to the excitement over the site, which has enthralled the Greek public.

The archaeologist in charge of the dig, Katerina Peristeri, said they still did not know the identity of the skeleton but it was likely the tomb was built for a high-ranking individual and could be linked to the family of Alexander the Great."
---
---
November 29, 2014
Between the Troika and a Hard Place - Greek Reporter
"Today, in an act of desperation, Athens agreed to the proposed raise in value added tax on certain products and services. Books, newspapers, theaters and hotels that currently have a 6.5% VAT, may go up to 9.5%, despite immediate reactions. Even medicine belongs in that category, but the coalition government tries to save that. If it's enough to appease our creditors, let's do it. Or rather, let's add another nail to the coffin of that thing called Grecovery.

It seems ironic that every measure or reform proposed to revive the Greek economy and bring us out of recession, adds a new burden on a population that keeps paying and paying.

Greece is currently facing two options: We either forget about new measures and taxes and continue to borrow under the strict supervision of our lenders, or we take the risk and receive a credit line from the European Union and go to the international markets, borrow at high rates and may God help us."
---
Turkey-Greece joint statement on resumption of stalled Cyprus talks - Anadolu
"Appearing at a joint press conference Saturday in the Turkish capital, Ankara, Turkish Foreign Minister Mevlut Cavusoglu and his Greek counterpart Evangelos Venizelos called for the resumption of of reunification talks which came to a halt when the Greek-Cypriot administration suspended them on Oct. after Turkey sent a warship to monitor an oil-and-gas exploration mission off the disputed Cyprus coast.

Turkey and the government of the Turkish Republic of Northern Cyprus have strongly opposed any "unilateral" move by the Greek-Cypriot administration to explore any hydrocarbon resources around the island, saying its natural resources should be exploited in a fair manner under a united Cyprus."
---
November 28, 2014
A Sea Change in Greece? - Nicholas Gage, NYT
"...Over those decades I watched succeeding Greek governments get into a vicious cycle that sent the national debt soaring higher than Mount Olympus and threatened to unravel the entire European Union.

...Every time elections approached, the party in power would add thousands of new hires to public payrolls, raise salaries and pensions, and increase benefits. When some ministers would try to cut back even a little after elections, hordes of angry demonstrators would besiege the Parliament or block highways and ports until the politicians caved in and withdrew or watered down their meager reforms.

...With the prospect that the next elections might be won by Syriza, financial experts believe that a [bank] run three to four times greater than 2012 is likely. While the €23 billion shortfall in that year was covered by the E.C.B., today a much weaker eurozone would hardly be in a position to transfer over €100 billion to Greece if another huge run were to occur.

In this scenario, the vacuum of currency would bring Greece to technical bankruptcy. The hard-won gains of the past two years would vanish. Access to loans would disappear. The faltering economy would come to a standstill, and the only recourse for Greece would be to return to the drachma, a disastrous move for a country that imports much of the goods it consumes.

So a lot more is riding on the selection of a president next February than who will be the new head of state. If the members of Parliament make a choice and avoid premature elections, a new sense of responsibility in the country may have a chance to take root and lead the Greek people to a promising future. If they don't, the recent hardships Greeks have faced will pale in comparison with the troubles ahead."
---
Greece grows GDP 1.9% - Market Watch
"Greece's economy expanded at a slightly faster pace in the third quarter than previously expected, the national statistics service said Friday, confirming that Greece has returned to growth after six years of recession.

According to revised data by the Hellenic Statistical Authority, or Elstat, gross domestic product in the July to September quarter rose 1.9% from a year earlier. In its previous third quarter flash estimate from earlier this month, Elstat said the economy grew at a 1.7% rate.

Accounting for seasonal adjustments, Elstat said GDP rose 0.7% from the second quarter, unchanged from its previous estimate.

Until this year, Greece's economy has been wallowing in a deep recession, made worse by waves of austerity measures to fix its public finances in exchange for two successive international bailouts worth 240 billion euros ($300 billion). Six years of recession have shrunk Greece's economy by roughly 30% since its peak in early 2008 and left more than a quarter of the workforce unemployed.

But a record tourist season, that saw the arrival of more than 21 million overseas visitors this year, helped return Greece's economy back to growth. Fresh retail sales data for September, also released Friday, also show a modest improvement in consumer sentiment."
---
Services throughout Greece shut down during 24-hour strike - NY Daily News
"Unions called the strike to protest austerity measures as Greece struggles to emerge from a financial crisis that wiped out a quarter of the country's economy and sent unemployment soaring to 26%.

"The strike is a minor thing. Something very significant must happen because we've reached the point of being on the verge of jumping out of windows," businessman Stamatis Fassoulis said."
---
Greece returns to growth - NASDAQ
"...a record tourist season, that saw the arrival of more than 21 million overseas visitors this year, helped return Greece's economy back to growth. Fresh retail sales data for September, also released Friday, also show a modest improvement in consumer sentiment.

According to the data, retail sales volumes at constant prices rose 2.2% on year in September, as shoppers spent more at supermarkets and at book and stationary stores at the start of the back-to-school season. But on a month-on-month basis, retail sales were down 9% from August as the summer discounting season drew to an end."
---
National Bank of Greece Rating Lowered to Neutral at Nomura - WKRB
"Nomura lowered shares of National Bank of Greece(NYSE:NBG) from a buy rating to a neutral rating in a research report released on Friday morning, TheFlyOnTheWall.com reports. Nomura has also modified their ratings on a number of other stocks in the few days. The firm lowered its price target on shares of BP plc from GBX 490 ($7.67) to GBX 430 ($6.73). They have a neutral rating on that stock."
---
Waiting for Godot in Greece - The Corner EU
"While the timetable for the troika's return is getting ever more condensed, the outcome of its regular evaluation is critical for the decisions and developments that are to follow in the course of 2015. What used to be a quarterly monitoring process of reform compliance benchmarks is increasingly being extended in terms of the time required to bring such deliberations to a conclusion.

While waiting for the troika to return to Athens, other observers outside Greece have started to lose patience and are drawing their own conclusions. One key indicator is international bond market reactions to this impasse. Much attention is being given to the consistent rise in the yield for the Greek ten-year bond. Mid-week it stood at 8.34 percent. Back in June of this year, the yield stood at 5.6 percent. The refinancing objectives of the Greek government in 2015 at such elevated yields are a non-starter.

More worryingly however, is the constant increase in the yield for Greece's three- and five-year bonds."
---
Flying to Greece - What Will it Cost You in 2015? - GoGreece
A survey or pricing from various online ticket-booking sites, with average prices going between $1080 and $1300
"I'm yearning for a long stay in Greece, so I scheduled the potential outbound flight for a Wednesday at the end of April. I'm stacking the odds in my favor of getting a cheap price, since Wednesday is usually a day where there are seats available - fewer people travel midweek. On Mondays and even Tuesdays you have some long weekenders and business travelers filling seats, and the same applies for Thursdays and Fridays. I've also scheduled my eventual return flight for a Wednesday."
---
November 27, 2014
Greece says under pressure for new austerity - Yahoo News
"A Greek official says the country is under pressure from rescue creditors to impose new austerity measures to resolve an ongoing budget disagreement worth a reported 2 billion euros ($2.5 billion).

Negotiator Christos Protopapas, a former union leader and Socialist labor minister, said Thursday that international lenders remained at odds with Athens over deficit projections in the 2015 budget."
---
November 24, 2014
Troika, Creditors and Greece meet in Paris Tuesday - Bloomberg
"Greek government officials will meet in Paris tomorrow with representatives of the so-called troika of international creditors in a bid to break a deadlock over freeing up the last tranche of the country's bailout.

Bonds gained today after the Greek Finance Ministry said in a statement that Greece and its creditors will discuss how to move forward with the current review and the framework for a post-bailout agreement. Two troika officials, who asked not to be identified because the talks are private, said one option might be extending the euro area-backed program beyond this year, a proposal that Greece has so far refused.

The European Commission said it's premature to talk about next steps until the current review is resolved. The Paris meeting will focus on the current review and no discussion on extending the program is scheduled, according to spokeswoman Mina Andreeva."
---
Final audit ahead for Greece / Troika - France 24
"Greek officials are gearing up for tough negotiations on Tuesday when they meet the country's international creditors in Paris for a final audit into reforms needed for a 240-billion-euro bailout.

The two-day meeting will "raise key points and get the audit going", said a spokesman of the European Commission -- one of Greece's three international lenders.

"Progress needs to be made on a certain number of measures before the mission can go back to Greece," another EU source told AFP.

"It's the last audit and it is therefore expected to be the most difficult," Sophia Voultepsi, Greece's government spokeswoman, told private television channel Skai.

Among thorny issues is Greece's budget for 2015, which has failed to win the approval of the international creditors -- who also include the International Monetary Fund and the European Central Bank."
---
Reform of operating permits eliminates 897 licensing requirements - Greek Reporter
"...In the future, businesses will simply have to submit their papers to the General Commercial Registry (GEMI) and then follow set guidelines.

Skrekas said this would save entrepreneurs two to three months in filling out paperwork and waiting for replies.

Food, paper, wood and clothing are some of the industries that will benefit from the new regulations. Electronics manufacturing, engineering, energy, repair services and retailers, as well as wholesalers are also included."
---
Namco to restart manufacturing? - Neo Kosmos
"Greece's national motor company Namco could be Greece's answer out of the economic crisis, according to its CEO Petros Kontogouris.

"This is the real backbone of the Greek economy," Mr Kontogouris said.

"Everything else, such as tourism, is all well and good, but it does not bring the same results to the economy."

However, there's a catch: this turn around may only be possible with the help of German investments.

Despite the rocky relationship in recent years between the two European countries due to economic instability in the eurozone, Namco are looking to mend the ties.

Started by the Kontogouris brothers in the 1970s, the company's ties with Germany date back to 1973 when companies such as Intelco and Fahr would supply their spare parts. The Greek and German union proved successful and popular through a simple formula - using highly durable materials, coupled with the simplification of the usually high-tech German designs. This led to the creation of almost indestructible SUVs, truck and military vehicles, making them popular in the African, Asian and South American markets.

"The engines were supplied by Citroën, Ford, Volkswagen and Deutz, and we took care of the body," Mr Kontogouris explained.

Currently standing as Greece's only car factory, their plant based in Thessaloniki has the capacity to produce between 6,000 to 8,000 cars per year - a significant figure for the Greek car manufacturer."
---
Painted figure art found in Amphipolis tomb - Discovery.com
"Painted human figures have been discovered at the mysterious, richly-decorated tomb in Amphipolis in northern Greece, according to a news announcement by the Greek Ministry of Culture.

Found on the door frames of the second chamber, the figures will be examined with lasers.

Pictures of the newly found paintings, as well as additional information, have not yet been released.

"We are not hiding anything. New findings are revealed slowly as the restoration process continues," Greek Culture Minister Kostas Tassoulas said."
---
November 22, 2014
Fitch Affirms Greece at 'B'; Outlook Stable - Yahoo News
"Fitch Ratings has affirmed Greece's Long-term foreign and local currency Issuer Default Ratings (IDRs) at 'B'. The issue ratings on Greece's senior unsecured foreign and local currency bonds are also affirmed at 'B'.

The Outlooks on the Long-term IDRs are Stable. The Country Ceiling is affirmed at 'BB' and the Short-term foreign currency IDR at 'B'."
---
November 21, 2014
Greece to Submit its Contentious Budget - Market Pulse
"..The coalition government led by Antonis Samaras has promised the budget will include no further austerity measures—on which its bailout is contingent— in an effort to combat the risk of snap national elections next year. The latest polls show that the anti-austerity left-wing opposition party SYRIZA would win an election, if it was held now.

Greek Finance Minister Gikas Hardouvelis will submit the final plan for 2015 to the President of the Parliament at 10 a.m. GMT on Friday. Negotiations in Parliament on the Greek budget for 2015 will then start December 4."
---
Greece-Troika talks are said to have ended in disagreement - Foxlive
"A conference call between Greek authorities and the Troika of officials representing IMF, ECB, EU Commission didn't reach agreement between the two sides"
---
November 20, 2014
Investors watchinge efforts Greece making - World Finance
"After four years of exile from market borrowing, Greece is back with a vengeance, but is the real economy discouraging investor sentiment? Representatives from Attica Wealth Management, Theodore Krintas and Dimitra Vassilakopoulou, shed light on the financial situation in their country."
---
Greece seeks US support on keeping F16s in the air - UPI
"Greece has asked the United States to continue sustainment support through the Foreign Military Sales program for its F-16 fighters.

Notification of the request, together with certification of approval from the State Department, was given to Congress by the U.S. Defense Security Cooperation Agency, which handles the FMS program.

"The government of Greece needs this aircraft support to ensure its F-16 fleet is properly sustained and modernized to maintain interoperability with the United States and other NATO countries," DSCA said. "The continued support and maintenance of Greece's F-16 fleet will ensure the effectiveness of its capabilities and ability to support future contributions to NATO operations."
---
---
November 19, 2014
Greece asks tourists to join Elgin Marbles debate - Yahoo AFP
"The Greek government is asking tourists at Athens airport to join the notorious debate over the return of the Elgin Marbles to Greece from London.

Faced with a picture of the famed Parthenon and its marble statues on an interactive screen, travellers are asked to reply "yes" or "no" to the question: "Do you support the return of the Parthenon marbles?".

The Greek government installed the airport polling system on Wednesday as part of a high-profile campaign -- including legal support from George Clooney's wife Amal Alamuddin Clooney -- to win back the artefacts which were taken to London two centuries ago."
---
November 18, 2014
20,000 join peaceful annual rally to US embassy, marking deadly uprising - Reuters
"More than 20,000 demonstrators have joined a peaceful rally in Athens marking the 41st anniversary of a deadly student uprising against the country's former dictatorship.

The annual rally to the U.S. embassy was policed by some 7,000 officers, deployed to prevent a potential repeat Monday of violence seen in previous years."
---
Earthquake shakes Athens - Straits TImes
"A strong 5.4-magnitude earthquake shook the Greek capital Athens early on Tuesday, the United States Geological Survey (USGS) said on its website.

The quake was centred south-west of the town of Prokopion on Evia, some 120km north of Athens, and was felt in the capital just past midnight."
---
November 17, 2014
Draghi says Greece reaping rewards from its economic reforms - Fox Business
"European Central Bank President Mario Draghi said Monday that the bank stands ready to buy government bonds if inflation in the 18-country eurozone fails to rise as anticipated, a hint that helped shore up stock markets and put pressure on the euro.

Addressing lawmakers of the European Parliament on Monday, Draghi said the bank's governing council remains unanimous in its commitment to using additional unconventional instruments within its mandate.

...The ECB is tasked with ensuring price stability across the 18-country eurozone, which it defines as annual inflation of just below 2 percent. In the year to October, inflation stood at only 0.4 percent. Draghi said the bank continues to expect inflation will remain at current levels for a few more months but that it will start rising again next year.

Though the ECB has cut interest rates to record lows and backed the purchase of some types of private-sector bonds, it has refrained from following other central banks such as the U.S. Federal Reserve and the Bank of England in buying government bonds — so-called quantitative easing, or QE."
---
November 16, 2014
Greece upgrading maritime reconnaissance aircraft - Strategy Page
"The U.S. has agreed to upgradesix Greek P-3B maritime patrol aircraft to the current P-3C standard and refurbish components of the aircraft to extend their use for another 15,000 flight hours. All this will cost about $84 million per aircraft. Four of the P-3Bs are currently on active duty while the other two are in storage. The P-3Bs are over twenty years old and near the end of their useful lives, unless refurbished. Greece wanted to replace the P-3Bs with newer aircraft, but that would cost two to three times more than refurbishing the P-3Bs. Greece has to consider the cheaper option because it is still suffering from a banking crises caused by decades of getting by on borrowed (often illegally) money."
---
November 13, 2014
Greece, Cyprus and Israel Ministrial meetins coming - Famagusta
"Foreign Affairs of Greece Evangelos Venizelos has said that a trilateral meeting between Greece, Cyprus and Israel, at ministerial level first and later on at head of states` level, will take place the soonest possible in Athens."
---
Skeleton found in Alexander-era tomb - Yahoo News
"Archaeologists are holding their breath that a skeleton found in a mysterious, richly-decorated tomb from the time of Alexander the Great will solve the riddle of who ancient Greece's biggest burial mound was built for.

Having dug their way past huge decapitated sphinxes, broken through a wall guarded by two caryatids and emptied out an antechamber decorated with stunning mosaics, experts have finally found the body it was all built for, the Greek culture ministry said Wednesday.

The bones were found scattered around a wooden coffin in the third room of the vast mound near Amphipolis in northern Greece."
---
Greece warns Turkey of legal action over warship move - World Bulletin
"Evangelos Venizelos made the remarks at the Greek Parliament in Athens. He was referring to Turkey's recent move to send a warship to monitor a Greek Cypriot oil-and-gas exploration mission off the coast of Cyprus.

Turkey and the government of the Turkish Republic of Northern Cyprus have strongly opposed any unilateral move by the Greek-Cypriot administration to explore any hydrocarbon resources around the island, saying its natural resources should be exploited in a fair manner under a united Cyprus.

Venizelos said the political reaction from the Greek side might take form of a legal course."
---
Lignite: the dirty, dangerous job that powers Greece - Mashable
"It takes a lot to power a country — and though it's small, Greece is no exception.

Lignite is a soft, crumbly form of brown coal that has low carbon content, high water content and causes more pollution than black coal. Still, it accounts for more than 50% of Greece's electricity supply, and is mined primarily at the Lignite Center of Western Macedonia, the largest such facility in the Balkans. The center belongs to the second biggest public-power corporation in Europe, according to the European Pressphoto Agency."
---
November 11, 2014
Maniatis: Greece to Become a Pole of Stability in the Region - Greek Reporter
"...the Greek Minister underlined that the country is endowed with resources that can reduce its energy dependence from abroad. He also announced that the Hellenic Republic Asset Development Fund (HRADF) will immediately proceed with a tender for the creation of gas storage in the deposit of South Kavala, in Macedonia, Greece. "The storage will be one of three possible supply sources of the Greek-Baltic vertical pipeline, which, according to estimates from the Greek side, can be operational as of 2017, as it does not require major investments but only the linking of the existing networks of the region's countries," Maniatis explained, adding that the two other sources are the TAP pipeline and the floating LNG plants located in Northern Greece."
---
Greek military replacing armored vehicles - Janes.com
"By the end of 2014 the country will also receive 320 Oshkosh Heavy Expanded Mobility Tactical Truck (HEMTT) family of vehicles.

...All are being forwarded to the 301 Military Depot in Athens and the 308 Military Depot in Thessaloniki for inspection, minor repairs and repainting, before delivery to armoured and mechanised infantry units."
---
November 8, 2014
Egypt, Greece, Cyprus challenge Turkey- Economic Times
"Cypriot President Nicos Anastasiades said in Cairo that the three countries "discussed boosting cooperation in the field of energy, with the belief that the discovery of hydrocarbons in the eastern Mediterranean can contribute to supporting regional cooperation for stability and prosperity."

The meeting in Cairo between Anastasiades, Egyptian President Abdelfattah al-Sisi and Greek Prime Minister Antonis Samaras demonstrated deepening ties between the three states, who are challenging Turkey's efforts to chart gas deposits in areas of the east Mediterrean claimed by Cyprus."
Related:
Egypt, Greece, Cyprus condemn Turkey Violation - GreekReporter
Greece, Cyprus to represent Egypt's interests in EU - Egypt News Daily
---
Germany and Greece sign 'reconciliation' agreement - Euroactiv
"In an attempt to bridge cultural differences and break down national stereotypes among young people, Berlin and Athens have decided to establish a Greek-German Youth Institute. EurActiv Greece reports from Germany.

The "reconciliation" agreement was signed on 12 September between the ministries of education of Greece and Germany. It includes a variety of activities like internships, school and youth exchanges as well as visits to places where the Nazi atrocities took place.

According to sources, the Institute will be established as an international organisation and will cost approximately €6 million. It will be funded by both the Greek and German government. "
---
86-year-old Serb guards over WWI dead in Greece - Intelligencer
"...Some 7,500 Serbs are buried in Thessaloniki, where sections are also reserved for the French, Italians, British and Russians who died there. Mihailovic is caretaker only for the Serb area.

Serb visitors typically get a tour of the grounds and a shot of fiery plum brandy from Mihailovic, whose role over the decades has shifted from listener and collector of stories to guide and raconteur.

Many are eager to listen to Mihailovic's stories of how soldiers traversed freezing Greek mountain passes to bypass enemy artillery, or how a shattered army survived a typhoid outbreak when it reached Greece and was taken to the island of Corfu. Many Serbian visitors to the island still refuse to eat fish there, out of respect to the thousands of soldiers buried at sea.

Mihailovic, who has two daughters, knows that his family tradition will die with him, and is training a younger apprentice appointed by Belgrade."
---
November 5, 2014
Does Greece need more debt relief? - Reuters
"The euro zone is reconsidering whether Greece needs the additional debt relief it has been hoping for, because its economic reforms and improved prospects have changed the arithmetic, officials say.

Describing a rethink by some of Greece's partners, euro zone officials told Reuters that no decision would be taken until a new analysis of whether Athens can service its debts has been completed.

"It has not been decided, but it has not been ruled out, either," one euro zone official said.

A provisional offer of further debt relief was made two years ago, when the euro zone extended maturities and cut interest on its bailout loans."
---
An end to micro-management? - Economic Times India
"Greece expects an interim period of up to a year of limited EU/IMF supervision when it quits its bailout programme at the end of the year, without the current "micro-management" by lenders, the finance minister told Reuters on Wednesday.

The comments by Gikas Hardouvelis in his office overlooking Syntagma square were the first time Athens has spelled out its expectations for the post-bailout era starting next year, including the sensitive issue of foreign supervision.

Faced with snap elections if it loses a key presidential vote next year, the Greek government has staked its survival on exiting the austerity-laden bailout programme a year early."
Related: KARE video on "Greece ready to go it alone?"
---
November 4, 2014
Big 3rd quarter losses at Alpha Bank - NY Times
"...Earlier this year, Alpha, traditionally Greece's most conservatively run bank and the only Greek lender that fully passed the European Central Bank's recent stress tests, launched an early retirement scheme aimed at reducing its staff head count in Greece by a fifth...

After facing six years of recession, Greece's financial crisis and an unprecedented sovereign debt restructuring, Greek banks are struggling to nurse their balance sheets back to health. Alpha, along with Greece's three other big lenders— National Bank of Greece SA, Piraeus Bank SA, Eurobank Ergasias SA —are staggering under a mountain of bad loans that collectively add up to about €80 billion and make up roughly a third of banking system loans.

However, amid signs of a recovery in Greece's economy, the rate of new bad loans has been slowing and is expected to peak later this year or early next year. That, in turn, has allowed the banks to gradually reduce the level of provisions they have had to set aside. In the third quarter, Alpha reported impairment losses of €337 million, down from €348.5 million in the second quarter and down sharply from €490 million a year ago."
---
November 3, 2014
Greece eyes relief for mortgage holders - Salt Lake Tribune
"Dendias [development minister], who said the government was in talks with banks on the scheme, made the announcement after submitting legislation to parliament to provide debt relief for small businesses, which have been hard hit by austerity measures demanded by international rescue lenders.

Greece has already achieved a major restructuring deal for its privately-held sovereign debt and has been promised a further improvement in repayment terms for bailout loans.

But the conservative coalition government is anxious to provide some relief for ordinary Greeks as it faces the threat of an early general election in March.

"The model we are examining ... is for a 30 percent reduction on the value of purchase," Dendias said."
---
Greece will need more aid after IMF's current bailout - Spyghana
"Greece will need further financial support when its European bailout programme ends in December, an EU official predicted Monday, despite the unpopularity of the conditions attached to the international aid disbursed to date.

Greece"It seems as if a completely clean [bailout] exit is highly unlikely," the official said on condition of anonymity, referring to the possibility of the Greek bailout ending without strings attached.

Athens is keen on a clear end to the 240 billion euros (300 billion dollars) in rescue packages it has received since 2010, which have come with strict requirements that have led to unpopular tax hikes, salary reductions and pension cuts."
---
See the main archive index of all collected news articles and pages on Athens Greece Now.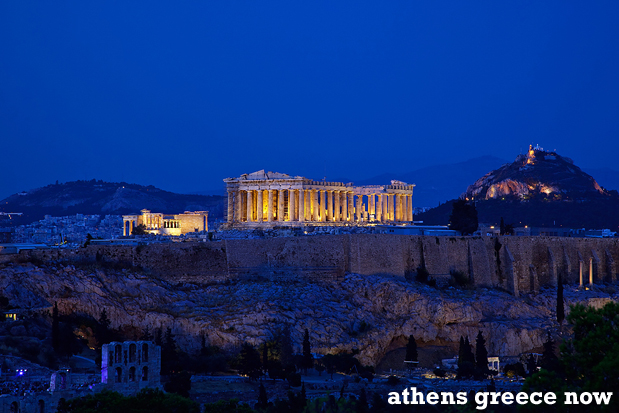 ---
Advertisement: I am an Amazon affiliate
Fodor's Essential Greece: with the Best Islands (Full-color Travel Guide)