June 24, 2011
Hurdles Greek private companies face inside and outside of Greece
I saw this via the An American in Greece / Living in Greece blog.
.. The Greek private sector, which accounted for 97 percent of JEPA's orders three years ago, has collapsed .

Greeks like Papagrigorakis find their own state as alien as many foreigners. While some state officials head home even before their lunch break, most private entrepreneurs work hard. At JEPA, 15-hour days are the norm, as is weekend work. Many state enterprises, however, simply have "no reason to exist," complains Papagrigorakis. He refers to the famous example of the office to oversee the reclamation of a lake which vanished way back in 1957.

In Greece, one in four employees works for the state. Industry makes up only about 12 percent of gross domestic product -- about half as much as in Germany. Small- and medium-sized enterprises make up the largest part of the Greek economy. And these medium-sized enterprises do have their strengths. Greek college graduates are well trained -- like the engineers working at JEPA.

"I have been pleasantly surprised by the high level of competence that I have encountered here," says Byron Vargas. He has been the technical director at the Greek subsidiary of Bosch and Siemens Household Appliances (BSH) for a year. The company has been operating in Greece since the late 1970s, manufacturing refrigerators and stoves at two factories.

But while Bosch and Siemens is a German brand with a good reputation, there is a lack of illustrious company names in Greece. There were once strong industries, like textiles. But they lost their competitive edge when Greece suddenly had to compete with Eastern European countries within the EU. There has been little new investment since, and even many Greek entrepreneurs are putting their money in Balkan countries.

Today, the Greek economy has an image problem -- even within its own borders. "Many Greeks don't believe that high production quality is possible here," says Vargas. Some Greek companies even disguise their origin, an industry representative in Athens says, citing a pharmaceutical company which markets its products through a foreign PR firm as an example.
Article is from the English side of Der Spiegel online.



---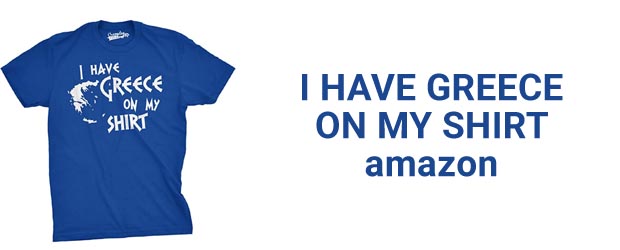 I Have Greece On My Shirt Funny Pun Geography Country Tee (Blue) - XL
---
Create Amazon Business Account - save time and money on business purchases with competitive B2B prices and discounts
---
Andros: The Little England of the Cyclades - AMAZON