May 5, 2011
Not a "Land of cheats and liars"
Nick Malkoutzis writes a homage to the late musician Nikos Papazoglou at Ekathimerini and in the process attacks various stereotypes about Greece and the Greeks:
"The debt crisis has led to all Greeks being pigeonholed as liars, cheats, tax dodgers and beggars. It's a one-size-fits-all image promulgated by domestic politicians who want to share the blame with a voiceless accomplice, by an over-zealous local media that wants to atone for its own murky role in the country's slide into the cesspit and by some international observers who smudge the dividing lines to deliver a neatly-packaged story, so – as was the case last week – reports on the dispute over the planned landfill in Keratea are transformed with no regard for objectivity into stories about hardline resistance to the government's austerity measures.

Facts have been a major casualty in this stereotyping but so has the opportunity for an alternative point of view to be heard. Minds have been made up and judgments have been passed. Even some members of the Greek diaspora have hurled invective against their brethren, displaying self-loathing for a people who have supposedly blackened the name of Greece and sullied the legacy of the ancient Greeks.

It shows how quickly reputations can be ruined. In 2004, the Greeks were earning praise from around the world for being worthy torchbearers of the ideals born in Ancient Olympia. Of course, few people outside Greece then were concerned about what organizing the Athens Olympics cost. It's only when you're broke that people become experts on what you should or should not have spent your money on. "



---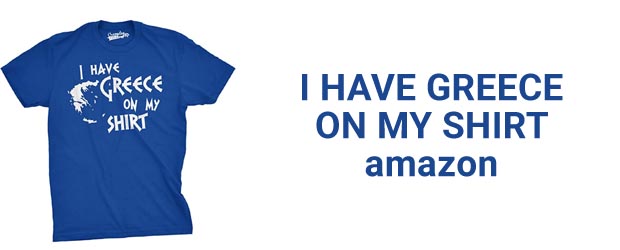 I Have Greece On My Shirt Funny Pun Geography Country Tee (Blue) - XL
---
Create Amazon Business Account - save time and money on business purchases with competitive B2B prices and discounts
---
Andros: The Little England of the Cyclades - AMAZON