June 20, 2010
Chinese spending in Greece: bargains a plenty
Article by Mary Jo A. Pham at Fortune, via money.com.
"China is hunting for bargains in some unlikely corners of the world. Earlier this week, it opened its checkbook to make 14 commercial investments inside Greece, which is struggling to avoid defaulting on its mounting debt. China's vice premier Zhang Dejiang signed off on each contract, securing deals in major industries such as telecommunications, real estate and shipping during his four-day visit to Greece, which began on Monday.

Among the contracts signed was a $123 million contract between Helios Plaza and BCEGI, a Chinese real estate company...

...China has made other market building bargains in otherwise overlooked countries, including Costa Rica, Sudan and Zimbabwe. While the United States is heavily financing the war in Iraq and Afghanistan, China is taking advantage of U.S. security there and negotiating oil field contracts and managing the Anyak copper mine, home to one of the largest deposits of the metal in the world."
For China, part of the motivation in Greece (and elsewhere) is not just the cheap buying opportunities, but the momentum of Chinese economic development is at risk (or so is said by some experts) of hitting a brick wall, and must continue to expand or could implode, so 'Hello, Greece!'
---
More CHINA AND GREECE
---



---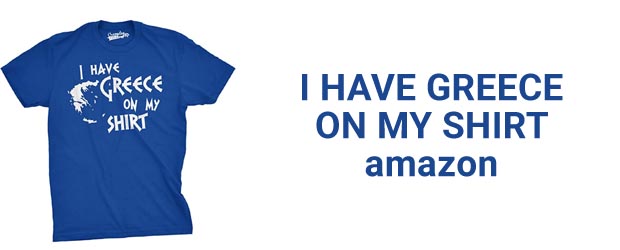 I Have Greece On My Shirt Funny Pun Geography Country Tee (Blue) - XL
---
Create Amazon Business Account - save time and money on business purchases with competitive B2B prices and discounts
---
Andros: The Little England of the Cyclades - AMAZON