The Meteora mountain peaks in Thessaly, Greece.
Black and White Meteora mountain peaks in Thessaly, Greece.
---
Amazon: A Journey in Greece - Hardback and Softcover
---
From the book JOURNEY IN GREECE by Antoine Bon, published 1949 by Kauffmann Publishers, Athens Greece. This book is apparently a reprint of a 1938 publication.
From the book:

"METEORA: Monastery of Hagia Triada, founded in 1438, is one of those monasteries built as early as the 14-th century on sandstone rocks, with vertical walls - and called Meteora - to be safe from brigands."
More Meteora
A contemporary color photograph of Meteora here online along with a brief history of the area known for its cliff-top monasteries.
View another contemporary color image of a Meteora mountain top monastery.
---
The Acropolis in Athens Greece
The Acropolis - Parthenon and More
---
---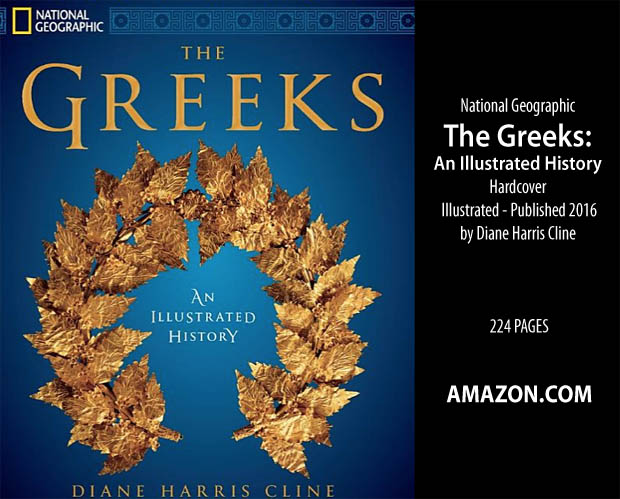 National Geographic The Greeks: An Illustrated History - AMAZON
---
Touring Athens: Rick Steves Pocket Athens - Amazon
Rick Steves Pocket guidebooks truly are a "tour guide in your pocket." This colorful, compact 220-page book includes Rick's advice for prioritizing your time, whether you're spending 1 or 7 days in a city. Everything a busy traveler needs is easy to access: a neighborhood overview, city walks and tours, sights, handy food and accommodations charts, an appendix packed with information on trip planning and practicalities, and a fold-out city map.
---
---
The Country Cooking of Greece - Amazon - 384 Pages
---
---
---