Greeece and the IMF
: Joined the IMF on Dec 27, 1945.
---
Current amount of IMF/EU loans to Greece
: €240 billion (US $397bn).
---
Greek Account Deficit 2012
2.9% of GDP
Greek Account Deficit 2011 9.9% of GDP
Greek Account Deficit 2008 14.7% of GDP
---
GDP estimate
(4th quarter 2012):-6.0%
GDP estimate (3rd quarter):-7.2%
GDP estimate (2nd quarter):-6.3%
---
Greek foreign exchange reserve
Dec 2012: €5.5 Bn
---
Unemployment
Oct 2012: 26.8%
---
Import Price Index
- Greece is heavily dependent upon import items. Increase of 2.4% calculated between June 2012 and June 2011.
---
Demographics:
ELSTAT
put the population of Greece ("registered population") at 9,903,628 for 2011.
Population of Athens:
Municipality: 655,780
Metropolitan: 3,737,550
Urban: 3,074,160
2012 estimates non-Greek immigrants at over 800,000 (legal) and 350,000+ (illegal) in Greece.
---
---
---
---
Where to Flee.com - Time for a new place to live?
---
---
TOP PAGES:
RSS FEED
---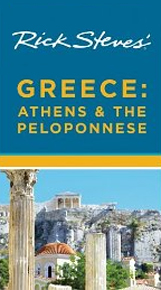 Rick Steves' Greece: Athens & the Peloponnese amazon.com
---
Credit Ratings around the world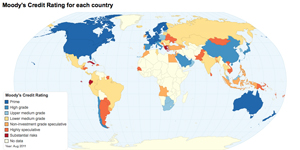 Nice interactive world map that shows the credit ratings for sovereign nations around the planet. That's right: Greece has a burning red "substantial risk" rating at present.
With national ratings and global banks all experiencing a phenomenon of credit rating 'adjustments', I don't know for how long this chart will be accurate.
Entire chart at chartbin.com
---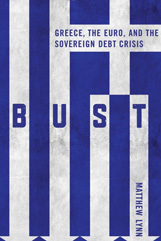 Bust: Greece, the Euro and the Sovereign Debt Crisis - By Matthew Lynn amazon.com
---

Greece's 'Odious' Debt: The Looting of the Hellenic Republic by the Euro, the Political Elite and the Investment Community - By Jason Manolopoulos amazon.com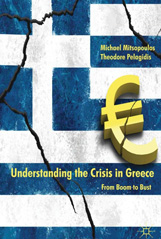 Understanding the Crisis in Greece: From Boom to Bust - By Theodore Pelagidis amazon.com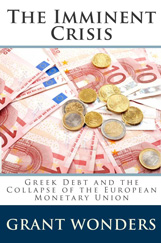 The Imminent Crisis: Greek Debt and the Collapse of the European Monetary Union amazon.com

Eyewitness Greece - Athens and the Mainland - 352 Pages
---
Greece and the economic crisis
December 18, 2014
European Markets Eye an Austerity-Weary Greece - NY Times
"In Brussels, in national capitals and on trading floors, there is a general sense that Europe could survive a breakup with Greece, if it came to that, with relatively minimal damage, thanks to an array of recent regulatory changes and a renewed commitment among the leaders of the largest countries to keeping the European Union moving forward even in the face of setbacks.

The situation is shaping up as the first big test of Europe's progress in building safeguards against the financial contagion that rocked the Continent five years ago...

"If Greece were to step out, this would not lead to an immediate contagion threatening the other countries because financially we have strengthened the system," said Paul De Grauwe, a professor of European political economy at the London School of Economics. "But other risks — political risks — are still there."

...If the current center-right government, led by Prime Minister Antonis Samaras, cannot elect its presidential candidate by the end of the third vote, on Dec. 29, it is likely to call a quick general election, which polls at the moment suggest Mr. Tsipras's party would win. The government got 160 votes on Wednesday for its candidate, 40 short of the 200 necessary to prevail in this round and 20 short of the 180 necessary in the third and final round.

...other nations that were forced to take billions in taxpayer bailouts during the crisis, including Ireland and Spain, have recovered and are less likely to be tainted by any new financial tremors that Greece might produce."
---
Germany Backs Plans to Extend Greece's Bailout Program -WSJ
"The surprise decision by Athens to bring forward presidential elections to December from February has led to a slump in Greek stock prices, with investors worrying that the move might cause political instability and plunge the country back into turmoil.

"There is still uncertainty in financial markets, which to some degree gets triggered by the domestic situation in Greece. and increased over the past weeks," Mr. Schäuble told lawmakers. "Therefore, it would be a stabilizing signal for all, for Greece, for markets, for the eurozone as a whole if Greece meets its commitments... and then a precautionary credit line were to get decided under certain conditions."

He said backing from Germany would send "the right signal to provide as many stabilizing signals as possible in this critical phase."
---
How foreign journalists viewed yesterday's vote - Ethnos.gr
"...SYRIZA sent a delegation to London to meet with the purchasing managers and it went badly, at least according to some who were there.

Paul Mason from Channel 4 said "There is insecurity. I do not know what Tsipras can do, but I know that will be difficult to have consultation with Brussels, Frankfurt, Washington. Werner van Gent, from Swiss television "I do not think I expect a new prime minister."

Chris Morris from the BBC "We may not be in 2012, when we felt that the Eurozone may collapse, but there is still the possibility that things can go bad"
---
December 17, 2014
Greece Is On The Brink Of A New Period Of Political Chaos - Business Insider
"...Fears of a new chapter of prolonged political uncertainty have sent Greek stocks and bonds crashing since Samaras last week announced the presidential vote would be held this month instead of February. Greek stocks fell over 20 percent in three days last week while 10-year bond yields leapt over 9 percent.

"Greeks demand that we fight united, to safeguard everything we achieved with bloody sacrifices in the last few years, and lead them safely to finally exit the crisis," Samaras said in an appeal to lawmakers on Tuesday.

Samaras has warned of a "catastrophic" return to the height of Greece's debt crisis - when it risked being driven out of the euro zone - if his government falls, while Syriza has accused him of scare-mongering and blackmail to win support. Samaras is an "architect of chaos, who invests in a climate of fear-mongering", Syriza spokesman Panos Skourletis said.

Both sides are battling to win over a pool of about two dozen independent lawmakers whose votes will decide the outcome. Of these, seven have said they will support Samaras and eight have declared against. "
---
December 16, 2014
EU promising 'lighter surveillance' in Feb 2015 - Bloomberg
"Greece is on course to end a draconian bailout program in February and switch to "much lighter surveillance," European Union Finance Commissioner Pierre Moscovici said Tuesday.

His remarks in Athens came a day before Greece's parliament votes for the country's new president, in a ballot that can last up to three rounds — and could topple the conservative government.

Moscovici praised the country's "immense progress" in rescuing its public finances despite delays concluding negotiations with rescue lenders."
---
Fear again haunts the eurozone - ethnos.gr
"There is concern that populists will come to power, and that political instability will exacerbate fear and making it harder still for the development desperately needed in the euro zone.

In this context and with the negotiations on the metamnimoniaki season to continue, Antonis Samaras uses the presidential election as a "vote of confidence" for his government, and Tsipras accusesthe Prime Minister of playing the 'fear card'."
---
New poll gives SYRIZA 4.9 pct lead over New Democracy - eKathimerini
"Asked who they would vote for if elections were held tomorrow, 28 percent of the people polled by GPO for Mega television, said they would cast their ballot in favor of SYRIZA (compared with 26.7 percent from a similar poll in October) and 23.1 percent responded New Democracy (also up from 20.2 percent).

The Greek Communist Party (KEE) polled in third place on 5.5 percent, followed by coalition partner PASOK on 5.1 percent, and To Potami and ultranationalist Golden Dawn on 5 percent each."
---
Samaras wants to scare voters rather than try to persuade them - WSJ
"...Mr. Samaras's decision to call the presidential election that threatens his government appears to be a gambit to neutralize the increasingly popular far-left Syriza party, which promises to undo painful reforms and force creditors to take bigger haircuts on Greek debt. With negotiations for Greece's exit from its bailout looming, Mr. Samaras seems to hope voters will return his unpopular government to power rather than risk further chaos by handing Syriza power for the exit talks.

That strategy is symptomatic of the broader political failures that have brought Greece to this pass. Since 2010, Athens has reduced pensions, health-care spending and government employment, and as a result borrowing costs have fallen and the economy was showing signs of growing again....

...Mr. Samaras has tried to scale back some reforms, ostensibly to show his independence from the troika of the European Commission, European Central Bank and International Monetary Fund that have orchestrated the bailout. In some cases this has been just as well, as with plans for tax cuts to roll back some of the IMF's ill-advised hikes. But he has also dragged his feet on many other measures, such as further reducing the bloated government headcount, waiting for the troika to force his hand and then blaming the foreigners when the measures are unpopular. "
---
December 15, 2014
EU: Greek defiance on debt would be 'suicidal' - Washington Post
"A refusal by Greece to repay bailout debts would be "suicidal" for the country, the European Union's top finance official said Monday in a clear warning to the country's popular opposition.

EU Finance Commissioner Pierre Moscovici made the remarks after a three-hour meeting with conservative Prime Minister Antonis Samaras.

The anti-bailout Syriza party is pressing for a snap election, arguing that austerity policies have failed. After a brutal six-year recession, it says Greece still has an unsustainable debt burden which cannot be repaid to rescue lenders in full.

Syriza retains a lead in the latest opinion poll published Monday by private Real FM radio. It projected a general election victory for the left-wing party by a 5.1 percentage-point margin over the conservative New Democracy. However, victory on such a scale would not give Syriza enough seats to govern without a coalition.

The political uncertainty has rattled Greek markets over the past week or so as investors have fretted over the country's place in the 18-country eurozone."
---
Greece Is Still The Eurozone's Achilles Heel - Forbes
"...The country escaped a six year long recession in Q3 2014 and grew at the fastest pace of all Eurozone countries. However, that is far from the complete picture. Unemployment is still at 25.7 percent and youth unemployment an eye watering 49.3 percent. Debt levels relative to GDP stand at 174.1 percent so making Greece the most indebted nation in the Eurozone, according to Greek daily Ekathimerini and Eurostat.

There is still many phases of Greek politics to complete before we would see the radical left-wing Syriza Party leader Alexis Tsipras become Prime Minister. Not least of which is seeing the left collect enough seats to forge a government or left leaning coalition.

The latest opinion poll (December 13th) gives Syriza a lead of 4.5 percent over New Democracy, up from 3.6 percent at the end of November.

If Syriza were to enjoy a lead of 6 percent at the General Election then projections show that it would be just ten seats short of a parliamentary majority. So over the course of the next few weeks it is crucial to monitor the margin of Syriza's lead over New Democracy."
---
December 14, 2014
Greece Is Not Headed for the Door Just Yet - NY Times
"Greece is still several steps from chaos...

...First, Parliament must fail to elect a new president. This, admittedly, is likely. A president needs the support of 60 percent of the members of Parliament, and the government can count on only just over 50 percent to support its candidate.

However, there is a slim chance that Prime Minister Antonis Samaras can persuade enough members to switch sides to cross the threshold. There is also a small chance that the conservative prime minister himself will be replaced by a technocrat as the price for cobbling together the majority needed to elect a president.

In either case, Athens could resume negotiations with the so-called troika of international lenders...

However, the government will probably not be able to secure the election of a president. Although the post is largely ceremonial, the constitution says there would then have to be a general election.

... Alexis Tsipras, the Syriza boss, has a solid lead in public opinion polls. He would almost certainly emerge with the largest party.

If Syriza implemented its program, the prospects for Greece would be bleak. Among its string of populist policies are plans to write off a chunk of the government's debt and expand public spending. Both ideas would provoke a confrontation with the troika that would put Athens on the fast track to bankruptcy.

While the eurozone might be prepared to vary the terms of Greece's borrowings, it would not accept a write-off."
---
December 13, 2014
Embattled Samaras hard-pressed to forestall early elections - Yahoo AFP
"The prospect of early elections has alarmed financial markets and caused Greek stocks to slide dramatically for three days, although they showed signs of steadying on Friday.

The government will need 200 MPs in the first two votes to elect its candidate, former EU Environment Commissioner Stavros Dimas, or 180 MPs in the third and final vote.

But it only has 155 MPs in the 300-seat chamber.

"We do not have the number required," deputy development minister Gerassimos Giakoumatos admitted this week.

Prime Minister Antonis Samaras hopes to find the remaining 25 deputies from among independent MPs and the deputies of two smaller parties -- centre-left Democratic Left and the Independent Greeks, a nationalist party."
---
Greece Reports 3.5-Bln-Euro Primary Surplus -Greek Reporter
"Greece on Friday reported a primary budget surplus of 3.5 billion euros in the January-November period, from a primary surplus of 2.8 billion euros in the same period last year and up 660 million euros compared to set target.

According to Greek Finance Ministry preliminary data on budget execution, the general government deficit totalled 1.9 billion euros in the January-November period, from a deficit of 3.2 billion euros last year and a target of 2.5 billion euros."
---
Government condemns attack on Israel embassy in Athens - Euro News
"The Greek government has condemned a pre-dawn, drive-by gun attack on the Israeli embassy in Athens.

"Any terrorist attack hitting at the heart of democracy hits the heart of the country," government spokeswoman Sofia Voultepsi said.

Police say four people on motorbikes opened fire at the embassy on Friday morning."
---
December 12, 2014
Turmoil in Greece better contained - Fox Business News
"Greek stocks and bonds have been hammered this week, a reminder of the bad old days of Europe's debt crisis when the very future of the euro currency was called into question...

Q: What happened in Greece to trigger all this?

A: It was the announcement of a speeded-up presidential election. This raised the possibility of new national elections shortly after the New Year — elections that could, according to opinion polls, bring to power the left-wing Syriza party.

...Analyst Tom Rogers, adviser to the EY eurozone forecast, says that Greece's debt level — 170 percent of economic output — is so high that it's "not implausible" that a further restructuring would take place.

That would mainly hit government creditors such as the IMF, ECB and eurozone governments. Yet the effects on the rest of the eurozone might not be so severe: "The eurozone is far better placed to withstand volatility in Greece."
---
December 11, 2014
Presidential vote in doubt, stocks continue to tumble - Fox News
"Shares on the Athens Stock Exchange are again suffering heavy losses after officials in the governing coalition conceded they were still short of the support needed to stop the government collapsing in a parliamentary vote this month.

In late afternoon trading Thursday, shares were down nearly 8 percent, while the yield on Greece's 10-year-bond jumped to nearly 9 percent.

Despite recently emerging from recession, the country was thrown back into uncertainty this week, when conservative Prime Minister Antonis Samaras called an early vote in parliament to elect a new president — despite requiring support from opposition lawmakers to avoid a stalemate.

The deputy trade minister, Gerasimos Giakoumatos, in a radio interview Thursday said "at the moment we do not have the numbers."
---
Papaconstantinou must stand trial - NY Times
"A judicial panel in Greece has ruled that a former finance minister, George Papaconstantinou, must stand trial on charges related to a scandal over a list of potential tax evaders that angered Greeks in the grip of austerity measures.

Mr. Papaconstantinou, an economist who was educated in the United States and Britain and who served under the former Prime Minister George A. Papandreou from 2009 to 2011, will stand trial on charges of attempted breach of trust and of tampering with a list of about 2,000 Greeks with money deposited overseas, court officials said.

...News of the existence of the list — given to Greece by France in 2010 — shocked many Greeks, who are angry that successive governments have failed to pursue those on it while imposing austerity measures.

"...I'm not responsible for all of the country's ills," Mr. Papaconstantinou told Parliament..."
---
December 10, 2014
Greece default fears are back - USA Today
Video report online: "Greece's short-term borrowing costs jump further above longer-term equivalents. As Amy Pollock reports it's a tell-tale sign that investors fear political uncertainty in Athens could put the country back on the road towards default."
---
Greece teeters, France and Italy talk reform - Reuters
"With the Greek government again in peril and Italy flirting with a junk credit rating, it's all starting to feel a bit familiar. Greek stocks suffered their steepest daily fall in more than a quarter century on Tuesday after Prime Minister Antonis Samaras brought forward a presidential election.

But there is one big difference from 2011/2012. With markets convinced that the European Central Bank will launch a sovereign bond-buying programme with new money early next year, there is little chance of an attack on all peripheral euro zone debt driving yields up to levels that would threaten default – one of the most dangerous elements of the euro zone crisis 1.0.

Greek 10-year bond yields may have jumped back to an unsustainable eight percent but Italy can still borrow at 2 percent for a decade..."
---
December 9, 2014
Tuesday Stock Crash in Greece - Yahoo/Bloomberg
"At the close, the Athens Stock Exchange Index was down a mindboggling 12.78%. That's the worst fall since 1987.

The steep decline comes after the announcement that Greece's presidential elections are being brought forward to Dec. 17.

The presidential election is conducted by Greece's legislators, not its population. But the government needs a super-majority to install a president, which it doesn't have. If it can't elect a president, that might precipitate a general election, and the radical Coalition of the Left (Syriza) is leading the polls.

The uncertainty also means sovereign bond yields are breaking out of the region they've been in for the past few days, up from 7.2% to beyond 7.75%. The yield on a 10-year bond is a common measure used to show how expensive it is for governments to finance their debt. Yields saw a recent peak just below 9% in October, when the far-left anti-austerity party Syriza took a polling lead, and the government was planning to exit its bailout early."
Related:
Greece Makes Itself Relevant Again - Market Watch
Early presidential vote stuns Greece, hammers stocks - Channel News Asia
Stocks fall in USA on Greek & China News - Bloomberg
---
Snap Election Announcement crashes Stocks - Brisbane Times
"Greek stocks suffered their steepest daily fall in more than a quarter century on Tuesday and its bond yields jumped after Prime Minister Antonis Samaras brought forward a presidential election in a gamble over his, and the country's future.

If Samaras fails to secure victory in parliament for his presidential candidate, snap national elections will be called that the leftist Syriza party - a fierce opponent of Greece's bailout deal with the European Union and IMF - is likely to win.

Financial markets took Samaras's do-or-die decision badly, as he lacks enough support to win the vote in parliament without the backing of independents and small parties. The Athens general stock index tumbled 12.8 percent, its biggest loss in a day since 1987. An index of Greece's listed banks fell 14.7 percent, with Attica Bank down 27.5 percent.

The decision sent 10-year Greek government bond yields up 74 basis points to 8.09 percent. This is a level the government could not afford to borrow at for long if, as it hopes, the country exits the widely hated bailout program and finances itself on the debt market. German 10-year Bund yields, which fall in times of uncertainty as investors seek refuge in top-rated assets, were down 3 bps at a record low of at 0.688 percent. Bondholders fear the possibility of Syriza abandoning austerity polices imposed to bring Greece's state finances into order. They prefer pro-business governments that would stick to the rigors imposed by the IMF/EU program - which have helped to slash Greeks' living standards."
---
Why Greece Still Haunts the Eurozone - Wall Street Journal
"Once again, the eurozone is being confronted by the ghost of Christmas yet-to-come. It's a specter called Greece.

Febrile politics there are reminding investors that the eurozone crisis has not really gone away. What's more, Greece itself highlights how endlessly long and painful economic adjustment for the single currency region's weakest member states will continue to be. Unless, that is, there is a profound change of heart among core eurozone countries towards their indebted neighbors. Because for all its promises, the European Central Bank can't delay key reforms to the very nature of the single currency region forever.

The latest Greek wobble was ignited by the government's decision to bring forward by two months to next week the parliamentary vote for a new president. Normally this wouldn't matter. The president's role in Greece is largely symbolic. But Greece's anti-austerity politicians are using the event as a vote of confidence on the government. If parliament fails to agree a president over, potentially, three rounds of voting, a general election would have to be called some time early in the New Year.

And that's the nub of the market's worries.

The anti-austerity party Syriza's strong standing in the polls raises the risk that it will win power. Although Syriza's leadership has toned down some of its rhetoric and would no longer be expected to deliver a "forgive our debts or we'll march out of the euro" ultimatum to Greece's rescuers, there would be plenty of scope for friction with its eurozone partners as it presses hard for debt relief."
---
2 Month Extension on Bailout - Irish Times
"Greece was given a two-month extension to its bailout on Monday, as Athens announced it will hold presidential elections this month, three months earlier than had been expected.

Euro group finance ministers meeting in Brussels yesterday agreed to extend the terms of the Greek bailout to February, with the hope of resolving the impasse between Troika officials and the Greek government over the terms of the fifth bailout review.

While a six-month extension had been considered, it is understood that Athens was resistant to such a long extension, amid continuing public resentment at the terms of the bailout programme.

Following the agreement in Brussels yesterday, the government in Athens announced it was bringing forward presidential elections which will now take place on December 17th, December 22nd and December 27th..."
---
December 8, 2014
Greek Parliament Approves First Balanced Budget in Decades - NY Times
"Greece's Parliament early on Monday approved a budget for 2015 that foresees extensive tax cuts and solid growth despite ongoing negotiations with creditors over economic policy and questions about the country's prospects for emerging from a punishing international bailout.

The budget was approved 155 to 134 in the 300-seat House following days of vehement debate (political tensions are high in Greece ahead of possible general elections next year). Before the vote, thousands of Greeks joined a peaceful gathering outside the Parliament building to protest austerity policies by successive governments that have slashed household incomes by a third and pushed unemployment to 26 percent.

In a speech before Parliament, Prime Minister Antonis Samaras said the blueprint, the first balanced budget in decades, signaled Greece's gradual emergence from six tough years of recession. "We are leading the country to a new era where we can offer relief," he said. "We are reducing the deficit to zero."

Apart from a deficit target of 0.2 percent of gross domestic product, the budget predicts that the Greek economy, which has shrunk by a quarter in the past five years, will expand by 2.9 percent of G.D.P. in 2015 following a timid return to growth this year. It also promises relief, notably 30 percent reductions in a tax on heating oil and an income tax surcharge."
---
Bail Out Program Extension Likely - Bloomberg
"The euro area signaled that Greece will win extra time to qualify for its next installment of international aid as the government in Athens resists calls for more spending cuts.

The current euro-area and International Monetary Fund review of Greece's progress in meeting budget targets may continue to the end of the month, euro-zone finance ministers indicated today in Brussels. That would hold up 7 billion euros ($8.6 billion) in aid payments remaining for Greece this year.

"If necessary, we'll have to extend the time," German Finance Minister Wolfgang Schaeuble told reporters in Brussels before a meeting with his euro-area counterparts. "Of course we'll find a way, but Greece has to stay on the path of reforms."
---
December 7, 2014
Bailout program opens for discussion this week - WSJ
"Eurozone finance ministers will meet in Brussels on Monday to talk about national budget plans in the morning and Greece in the afternoon. Discussion on the latter is expected to shed some light into what will happen to Greece once it's bailout program runs out at the end of the year. An extension of the current program is highly likely.... "
---
Anniversary of shooting of Alexis Grigoropoulos prompts protests in Athens - NY Daily News
"Fierce clashes erupted in Greece during protests marking the anniversary of a police-shooting death of an unarmed teenager.

Some 5,000 people marched in the capital Athens on Saturday night, reports the BBC.

Some of the protestors attacked shops and hurled petrol bombs at the police. Among the buildings attacked were banks."
---
Life Expectancy Rises in Greece - Greek Reporter
"Published in "Health at a Glance: Europe 2014," the figure puts Greece at 13th place among its European Union peers, behind nations such as top-ranked Spain (82.5 years), Italy and France but ahead of more recent members such as Romania, Bulgaria and Lithuania, the latter at the bottom of the table at 74.1 years.

According to the survey by the Organization for Economic Co-operation and Development, the rise in Greece reflects a similar trend across the block, where life expectancy has increased by more than five years on average since 1990. However, the gap between states with the highest and lowest life expectancies remains at around eight years."
For comparison, some life expectancies around the world:
Japan: 84.6 years
Sweden: 83
Australia: 83 years
Israel: 82.1
Germany: 81
United States: 79.8
Malaysia: 75.5
Turkey: 74.4
Swaziland: 55
Comparison source: Wikipedia
---
December 6, 2014
Greece protests Elgin Marbles sculpture loan to Russia - Asia Channel News
"The British Museum's decision constitutes an affront to the Greek people," Prime Minister Antonis Samaras said in a statement. The London museum said it had loaned one of the statues - taken from the Parthenon temple in Athens by British diplomat Lord Elgin in 1803 - to Russia's State Hermitage Museum.

...Samaras said the loan showed inconsistency in the British Museum's long-held policy of not allowing the sculptures to be moved. The sculpture of the Greek river god Ilissos, a headless, reclining male figure, will be displayed in Saint Petersburg from Saturday until Jan 18.

....The chairman of the British Museum's trustees, Richard Lambert, said it was the institution's "duty" to allow people "in as many countries as possible to share in their common inheritance". "The trustees are delighted that this beautiful object will be enjoyed by the people of Russia," he said.

For three decades Greece has demanded the return of the sculptures, which decorated the Acropolis of Athens for over 2,000 years before their removal...."
Presumably there will be no plans by the British Museum to have the artififacts to exhibit anywhere Greece.
Related:
Greeks Angry Over British Loan of Elgin Marbles to Russia - Wall Street Journal
Greece outraged by British Museum's sculpture loan to Russia - Japan Times
---
Online Video Report: Greece bailout exit later, not sooner? - NY Times
"Euro zone ministers may prolong Greece's unpopular bailout programme by another six months, according to a document obtained by Reuters, but Athens says it would only consider an extension of a few weeks."
---
Energean Oil eyes new drillings to fight oil price plunge - UK Reuters
"Greece's sole oil producer, Energean Oil & Gas, is sticking to its new drilling programme despite a plunge in oil prices that has led other companies to cut investment, its chief executive told Reuters on Friday.

Energean, 45 percent owned by U.S. hedge fund Third Point , currently produces 2,000 barrel per day (bpd) from two oil fields off the northern Greek island of Thassos.

But Chief Executive Mathios Rigas said the 40 percent plunge in oil prices since June put the fields at risk, unless the company pressed ahead with its $200 million investment to pump more crude out of the site and develop a new field.

"The fields are today break even with an oil price at $70 a barrel," he said in an interview. "We are keeping the 300 jobs. But if production and the oil price stay at current levels, the whole development won't be viable. So we need new drilling..."
---
December 5, 2014
Bucking the Trend: Why Olive Oil Prices in Greece are Falling - Olive Time
s
"Earlier in November when Spain, France, Turkey and Italy reported lower production during this 2014 harvest season, prices for Greek EVOO began to rise to €3.50 – €4.00 per kilo paid to the olive mills. The trend has recently reversed and prices are falling sharply. As of last week the major Italian buyers are unwilling to bid the prices above €3.20.

...There is plenty of blame to go around. Greek olive oil mills and trading companies are looking for a quick turnaround by selling to Italian buyers. Brokering a million kilos of bulk olive oil they can make a quick profit of up to €500,000. They adjust the price paid to the olive growers according to what the Italian buyer is willing to pay them. The profit for the olive mill or the broker is locked in whether they buy high or low. Furthermore, they are not investing their profits in marketing or promotional activities for Greek olive oil. When confronted they blame the government and the economic crisis for their inaction. I have spoken to a number of olive mill owners and co-operatives about this problem and they confirmed it but they are not willing to go on the record and admit the massive sales of olive oil to Italian companies. "
---
December 4, 2014
Slow to Reform, Greece Needs Bailout Extension - Atlantic Sentinel
"Greece is likely to have to ask other eurozone countries for an extension of its bailout program because a new credit line has yet to be agreed upon, the Reuters news agency reported on Wednesday.

After receiving two bailouts, worth €240 billion in total, from other European Union countries and the International Monetary Fund since 2010, Greece wants to switch back to market financing from the start of next year. To guard against the possibility that lenders will still doubt the country's ability to repay its debts and drive up its borrowing costs as a result, a new credit line — which Greece would tap in an emergency — is due to be extended when eurozone finance ministers hear from representatives of the European Central Bank, the European Commission and the International Monetary Fund in Brussels on Monday. The three have jointly administered Greece's two bailouts.

Greek prime minister Antonis Samaras has staked his government's political survival on exiting the bailout by the end of the year."
---
Greece needs bailout extension - Neo Kosmos
"Greece will have to ask for an extension on its bailout program before parliaments in eurozone nations close for Christmas because a new credit line will not be ready in time, a senior euro zone official said this week

After two bailouts totaling 240 billion euros ($300 billion) since 2010, Greece wants to switch back to market financing from the start of next year but disagreement over Greece's funding needs next year means the euro zone cannot sign off on a back-up credit line.

"I'm willing to work on Dec. 24 but parliaments are not around," the official told reporters on condition of anonymity, setting Dec. 15 as the cut-off date for prolonging Greece's existing program into January so that lenders can make a final 1.8 billion euro payment.

All eurozone parliaments must approve that extension.

Greece and its lenders aimed to get a deal on a credit line - which Athens would only tap in an emergency - by next Monday when the International Monetary Fund, the European Commission and the European Central Bank, or troika, report back to euro zone finance ministers in Brussels."
---
December 3, 2014
Greece rejects EU/IMF demands for tax rises, income cuts - Reuters
"Greece has rejected its international lenders' demands for tax rises and income cuts next year, Prime Minister Antonis Samaras said on Tuesday, arguing such measures would be disastrous for the country which has emerged from a deep economic recession.

Talks with EU/IMF inspectors have dragged on for weeks without agreement on next year's budget, leaving Athens short of time to wrap up its final bailout review by a Dec. 8 deadline..."
---
Doctors Without Borders Hits Greece on Refugees - ABC News
"Thousands of men, women and children fleeing war-ravaged countries face dreadful holding conditions and a dysfunctional reception system after risking their lives in smuggling boats to reach Greece's Aegean Sea islands, an international medical aid organization warned on Wednesday.

A report by Doctors Without Borders, or MSF, said many refugees, exhausted and often soaked from the sea-crossing, spend days sleeping outdoors or squashed in tiny police cells before being moved to the mainland.

"We have seen intolerable overcrowding, with 53 people crammed into a cell meant for six," MSF field coordinator Kostas Georgakas said. "What little they are offered after such a grueling journey is shameful, and dangerous for their health."
December 2, 2014
VAT tax offer made ahead of Dec 8 deadline on negotiations - Reuters
"Greece has offered to raise value-added tax for hotels in an effort to appease EU/IMF lenders and wrap up a bailout review that has held up its plan to quit the unpopular aid programme, government officials said on Monday.

Talks between the two sides broke down in Paris last week, with Athens disputing the lenders' stance that Greece faces a budget shortfall next year unless it takes additional austerity measures. Athens is running out of time for a deal on the review by a Dec. 8 deadline, raising doubts about whether it can exit its bailout by the end of the year as planned.

Over the weekend, Athens made the concession on VAT and offered to discuss pension reforms in a bid to convince lenders that it will meet its target for an almost balanced budget next year, finance and labour ministry officials aid.

...The head of a body representing the tourist industry - which accounts for about a fifth of Greece's economy - called the plan to raise VAT from 6.5 percent to 13 percent for hotels "economic suicide".
---
Venizelos says bailout talks could end before Feb vote - Yahoo News
"Evangelos Venizelos told a conference Monday that talks with lenders would be concluded before parliament elects a new Greek president in February — a vote that could topple the coalition government and that has revived anxiety in markets and eurozone governments.

Greece failed to reach a compromise last week at talks in Paris with representatives of the "troika" of the European Commission, European Central Bank and International Monetary Fund."
---
Samaras claims 'New Era of Opportunity' - Greek Reporter
"In his speech entitled "A New Era of Opportunity for Greece" the Greek Premier said that "we are already witnessing the fruits of our joint efforts and international investors have already entered the Greek market." While praising the event as key to the promotion of potential investments to the US public and a tool for strengthening the already excellent ties between the two countries, he highlighted that the cooperation between Greece and the US could now be more profitable and constructive than ever. "This year's Capital Link investment forum is of the utmost importance, given the successful reforms that have already been carried out to kickstart the Greek economy," Samaras added.

The Greek PM noted that the economic recovery signs are already visible, while people's sacrifices are finally starting to pay off and sweeping changes had been made in all areas, such as fighting bureaucracy and tackling extensive shortcomings. "We must now exploit our unused potential, our natural resources, our mineral wealth and, above all, our rich human capital, in order to create a secure and stable business environment, and make our country attractive to foreign investors. No more bureaucracy, acting as a disadvantage in every transaction with the general public and especially with the private sector," he noted."
---
December 1, 2014
Samaras reverses on IMF oversight - Bloomberg
"With uncertainty over its future financing prompting a surge in Greek 10-year bond yields, euro-area finance ministers are due to discuss Greece at their Dec. 8 meeting in Brussels.

All aspects of the proposal on IMF involvement remain subject to negotiations. Euro-area finance ministers would consider a credit line of as much as 11 billion euros, the amount left unused in a bank bailout fund, according to one of the officials.

The IMF's role also remains unclear. Any IMF money on the table might be provided under a precautionary program, with the expectation that Greece should avoid drawing down the funds, a second official said. Euro-area nations have said they want the IMF to stay involved with monitoring Greece and following up on rescue-program conditions."
---
November 30, 2014
Greece Is Becoming A Huge Startup Incubator Despite Economic Crisis - Business Insider
"Faced with the worst unemployment wave in living memory, Greece's youth are turning away from the traditional pursuit of civil service or family-centered jobs, and towards innovation and foreign funding.

"If I can make it here, I can make it anywhere," muses Petros Boskos, a 35-year-old architect.

Alongside two of his friends, Boskos created Verdical, a company designing "vertical" gardens for the sides of buildings.

"It was basically my last chance to stay in Greece," he told AFP on the sidelines of a business innovation fair in Athens earlier this month.

Until recently, most Greeks fresh out of university contemplated life-long job security in a civil service post, or guaranteed employment in their family-owned business.

But that's no longer an option."
---
Ancient coins found at Amphipolis mystery tomb - News AU
"Coins featuring the face of Alexander the Great have been found at the largest tomb ever unearthed in Greece, where archaeologists are hunting for clues to solve the mystery of who lies buried there.

The enormous tomb at Amphipolis in northern Greece dates back to the fourth century BC and contains near-intact sculptures and intricate mosaics.

The discovery earlier this month of a skeleton inside the structure has added to the excitement over the site, which has enthralled the Greek public.

The archaeologist in charge of the dig, Katerina Peristeri, said they still did not know the identity of the skeleton but it was likely the tomb was built for a high-ranking individual and could be linked to the family of Alexander the Great."
---
November 29, 2014
Between the Troika and a Hard Place - Greek Reporter
"Today, in an act of desperation, Athens agreed to the proposed raise in value added tax on certain products and services. Books, newspapers, theaters and hotels that currently have a 6.5% VAT, may go up to 9.5%, despite immediate reactions. Even medicine belongs in that category, but the coalition government tries to save that. If it's enough to appease our creditors, let's do it. Or rather, let's add another nail to the coffin of that thing called Grecovery.

It seems ironic that every measure or reform proposed to revive the Greek economy and bring us out of recession, adds a new burden on a population that keeps paying and paying.

Greece is currently facing two options: We either forget about new measures and taxes and continue to borrow under the strict supervision of our lenders, or we take the risk and receive a credit line from the European Union and go to the international markets, borrow at high rates and may God help us."
---
Turkey-Greece joint statement on resumption of stalled Cyprus talks - Anadolu
"Appearing at a joint press conference Saturday in the Turkish capital, Ankara, Turkish Foreign Minister Mevlut Cavusoglu and his Greek counterpart Evangelos Venizelos called for the resumption of of reunification talks which came to a halt when the Greek-Cypriot administration suspended them on Oct. after Turkey sent a warship to monitor an oil-and-gas exploration mission off the disputed Cyprus coast.

Turkey and the government of the Turkish Republic of Northern Cyprus have strongly opposed any "unilateral" move by the Greek-Cypriot administration to explore any hydrocarbon resources around the island, saying its natural resources should be exploited in a fair manner under a united Cyprus."
---
November 28, 2014
A Sea Change in Greece? - Nicholas Gage, NYT
"...Over those decades I watched succeeding Greek governments get into a vicious cycle that sent the national debt soaring higher than Mount Olympus and threatened to unravel the entire European Union.

...Every time elections approached, the party in power would add thousands of new hires to public payrolls, raise salaries and pensions, and increase benefits. When some ministers would try to cut back even a little after elections, hordes of angry demonstrators would besiege the Parliament or block highways and ports until the politicians caved in and withdrew or watered down their meager reforms.

...With the prospect that the next elections might be won by Syriza, financial experts believe that a [bank] run three to four times greater than 2012 is likely. While the €23 billion shortfall in that year was covered by the E.C.B., today a much weaker eurozone would hardly be in a position to transfer over €100 billion to Greece if another huge run were to occur.

In this scenario, the vacuum of currency would bring Greece to technical bankruptcy. The hard-won gains of the past two years would vanish. Access to loans would disappear. The faltering economy would come to a standstill, and the only recourse for Greece would be to return to the drachma, a disastrous move for a country that imports much of the goods it consumes.

So a lot more is riding on the selection of a president next February than who will be the new head of state. If the members of Parliament make a choice and avoid premature elections, a new sense of responsibility in the country may have a chance to take root and lead the Greek people to a promising future. If they don't, the recent hardships Greeks have faced will pale in comparison with the troubles ahead."
---
Greece grows GDP 1.9% - Market Watch
"Greece's economy expanded at a slightly faster pace in the third quarter than previously expected, the national statistics service said Friday, confirming that Greece has returned to growth after six years of recession.

According to revised data by the Hellenic Statistical Authority, or Elstat, gross domestic product in the July to September quarter rose 1.9% from a year earlier. In its previous third quarter flash estimate from earlier this month, Elstat said the economy grew at a 1.7% rate.

Accounting for seasonal adjustments, Elstat said GDP rose 0.7% from the second quarter, unchanged from its previous estimate.

Until this year, Greece's economy has been wallowing in a deep recession, made worse by waves of austerity measures to fix its public finances in exchange for two successive international bailouts worth 240 billion euros ($300 billion). Six years of recession have shrunk Greece's economy by roughly 30% since its peak in early 2008 and left more than a quarter of the workforce unemployed.

But a record tourist season, that saw the arrival of more than 21 million overseas visitors this year, helped return Greece's economy back to growth. Fresh retail sales data for September, also released Friday, also show a modest improvement in consumer sentiment."
---
---
Services throughout Greece shut down during 24-hour strike - NY Daily News
"Unions called the strike to protest austerity measures as Greece struggles to emerge from a financial crisis that wiped out a quarter of the country's economy and sent unemployment soaring to 26%.

"The strike is a minor thing. Something very significant must happen because we've reached the point of being on the verge of jumping out of windows," businessman Stamatis Fassoulis said."
---
Greece returns to growth - NASDAQ
"...a record tourist season, that saw the arrival of more than 21 million overseas visitors this year, helped return Greece's economy back to growth. Fresh retail sales data for September, also released Friday, also show a modest improvement in consumer sentiment.

According to the data, retail sales volumes at constant prices rose 2.2% on year in September, as shoppers spent more at supermarkets and at book and stationary stores at the start of the back-to-school season. But on a month-on-month basis, retail sales were down 9% from August as the summer discounting season drew to an end."
---
National Bank of Greece Rating Lowered to Neutral at Nomura - WKRB
"Nomura lowered shares of National Bank of Greece(NYSE:NBG) from a buy rating to a neutral rating in a research report released on Friday morning, TheFlyOnTheWall.com reports. Nomura has also modified their ratings on a number of other stocks in the few days. The firm lowered its price target on shares of BP plc from GBX 490 ($7.67) to GBX 430 ($6.73). They have a neutral rating on that stock."
---
Waiting for Godot in Greece - The Corner EU
"While the timetable for the troika's return is getting ever more condensed, the outcome of its regular evaluation is critical for the decisions and developments that are to follow in the course of 2015. What used to be a quarterly monitoring process of reform compliance benchmarks is increasingly being extended in terms of the time required to bring such deliberations to a conclusion.

While waiting for the troika to return to Athens, other observers outside Greece have started to lose patience and are drawing their own conclusions. One key indicator is international bond market reactions to this impasse. Much attention is being given to the consistent rise in the yield for the Greek ten-year bond. Mid-week it stood at 8.34 percent. Back in June of this year, the yield stood at 5.6 percent. The refinancing objectives of the Greek government in 2015 at such elevated yields are a non-starter.

More worryingly however, is the constant increase in the yield for Greece's three- and five-year bonds."
---
Flying to Greece - What Will it Cost You in 2015? - GoGreece
A survey or pricing from various online ticket-booking sites, with average prices going between $1080 and $1300
"I'm yearning for a long stay in Greece, so I scheduled the potential outbound flight for a Wednesday at the end of April. I'm stacking the odds in my favor of getting a cheap price, since Wednesday is usually a day where there are seats available - fewer people travel midweek. On Mondays and even Tuesdays you have some long weekenders and business travelers filling seats, and the same applies for Thursdays and Fridays. I've also scheduled my eventual return flight for a Wednesday."
---
November 27, 2014
Greece says under pressure for new austerity - Yahoo News
"A Greek official says the country is under pressure from rescue creditors to impose new austerity measures to resolve an ongoing budget disagreement worth a reported 2 billion euros ($2.5 billion).

Negotiator Christos Protopapas, a former union leader and Socialist labor minister, said Thursday that international lenders remained at odds with Athens over deficit projections in the 2015 budget."
---
November 24, 2014
Troika, Creditors and Greece meet in Paris Tuesday - Bloomberg
"Greek government officials will meet in Paris tomorrow with representatives of the so-called troika of international creditors in a bid to break a deadlock over freeing up the last tranche of the country's bailout.

Bonds gained today after the Greek Finance Ministry said in a statement that Greece and its creditors will discuss how to move forward with the current review and the framework for a post-bailout agreement. Two troika officials, who asked not to be identified because the talks are private, said one option might be extending the euro area-backed program beyond this year, a proposal that Greece has so far refused.

The European Commission said it's premature to talk about next steps until the current review is resolved. The Paris meeting will focus on the current review and no discussion on extending the program is scheduled, according to spokeswoman Mina Andreeva."
---
Final audit ahead for Greece / Troika - France 24
"Greek officials are gearing up for tough negotiations on Tuesday when they meet the country's international creditors in Paris for a final audit into reforms needed for a 240-billion-euro bailout.

The two-day meeting will "raise key points and get the audit going", said a spokesman of the European Commission -- one of Greece's three international lenders.

"Progress needs to be made on a certain number of measures before the mission can go back to Greece," another EU source told AFP.

"It's the last audit and it is therefore expected to be the most difficult," Sophia Voultepsi, Greece's government spokeswoman, told private television channel Skai.

Among thorny issues is Greece's budget for 2015, which has failed to win the approval of the international creditors -- who also include the International Monetary Fund and the European Central Bank."
---
Reform of operating permits eliminates 897 licensing requirements - Greek Reporter
"...In the future, businesses will simply have to submit their papers to the General Commercial Registry (GEMI) and then follow set guidelines.

Skrekas said this would save entrepreneurs two to three months in filling out paperwork and waiting for replies.

Food, paper, wood and clothing are some of the industries that will benefit from the new regulations. Electronics manufacturing, engineering, energy, repair services and retailers, as well as wholesalers are also included."
---
Namco to restart manufacturing? - Neo Kosmos
"Greece's national motor company Namco could be Greece's answer out of the economic crisis, according to its CEO Petros Kontogouris.

"This is the real backbone of the Greek economy," Mr Kontogouris said.

"Everything else, such as tourism, is all well and good, but it does not bring the same results to the economy."

However, there's a catch: this turn around may only be possible with the help of German investments.

Despite the rocky relationship in recent years between the two European countries due to economic instability in the eurozone, Namco are looking to mend the ties.

Started by the Kontogouris brothers in the 1970s, the company's ties with Germany date back to 1973 when companies such as Intelco and Fahr would supply their spare parts. The Greek and German union proved successful and popular through a simple formula - using highly durable materials, coupled with the simplification of the usually high-tech German designs. This led to the creation of almost indestructible SUVs, truck and military vehicles, making them popular in the African, Asian and South American markets.

"The engines were supplied by Citroën, Ford, Volkswagen and Deutz, and we took care of the body," Mr Kontogouris explained.

Currently standing as Greece's only car factory, their plant based in Thessaloniki has the capacity to produce between 6,000 to 8,000 cars per year - a significant figure for the Greek car manufacturer."
---
Painted figure art found in Amphipolis tomb - Discovery.com
"Painted human figures have been discovered at the mysterious, richly-decorated tomb in Amphipolis in northern Greece, according to a news announcement by the Greek Ministry of Culture.

Found on the door frames of the second chamber, the figures will be examined with lasers.

Pictures of the newly found paintings, as well as additional information, have not yet been released.

"We are not hiding anything. New findings are revealed slowly as the restoration process continues," Greek Culture Minister Kostas Tassoulas said."
---
November 22, 2014
Fitch Affirms Greece at 'B'; Outlook Stable - Yahoo News
"Fitch Ratings has affirmed Greece's Long-term foreign and local currency Issuer Default Ratings (IDRs) at 'B'. The issue ratings on Greece's senior unsecured foreign and local currency bonds are also affirmed at 'B'.

The Outlooks on the Long-term IDRs are Stable. The Country Ceiling is affirmed at 'BB' and the Short-term foreign currency IDR at 'B'."
---
November 21, 2014
Greece to Submit its Contentious Budget - Market Pulse
"..The coalition government led by Antonis Samaras has promised the budget will include no further austerity measures—on which its bailout is contingent— in an effort to combat the risk of snap national elections next year. The latest polls show that the anti-austerity left-wing opposition party SYRIZA would win an election, if it was held now.

Greek Finance Minister Gikas Hardouvelis will submit the final plan for 2015 to the President of the Parliament at 10 a.m. GMT on Friday. Negotiations in Parliament on the Greek budget for 2015 will then start December 4."
---
Greece-Troika talks are said to have ended in disagreement - Foxlive
"A conference call between Greek authorities and the Troika of officials representing IMF, ECB, EU Commission didn't reach agreement between the two sides"
---
November 20, 2014
Investors watchinge efforts Greece making - World Finance
"After four years of exile from market borrowing, Greece is back with a vengeance, but is the real economy discouraging investor sentiment? Representatives from Attica Wealth Management, Theodore Krintas and Dimitra Vassilakopoulou, shed light on the financial situation in their country."
---
Greece seeks US support on keeping F16s in the air - UPI
"Greece has asked the United States to continue sustainment support through the Foreign Military Sales program for its F-16 fighters.

Notification of the request, together with certification of approval from the State Department, was given to Congress by the U.S. Defense Security Cooperation Agency, which handles the FMS program.

"The government of Greece needs this aircraft support to ensure its F-16 fleet is properly sustained and modernized to maintain interoperability with the United States and other NATO countries," DSCA said. "The continued support and maintenance of Greece's F-16 fleet will ensure the effectiveness of its capabilities and ability to support future contributions to NATO operations."
---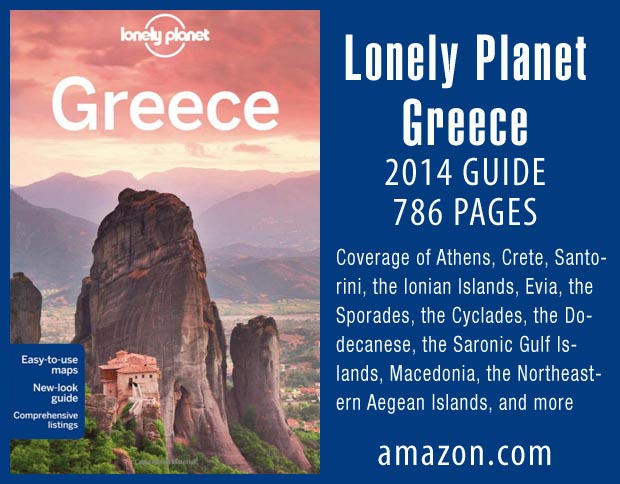 ---
November 19, 2014
Greece asks tourists to join Elgin Marbles debate - Yahoo AFP
"The Greek government is asking tourists at Athens airport to join the notorious debate over the return of the Elgin Marbles to Greece from London.

Faced with a picture of the famed Parthenon and its marble statues on an interactive screen, travellers are asked to reply "yes" or "no" to the question: "Do you support the return of the Parthenon marbles?".

The Greek government installed the airport polling system on Wednesday as part of a high-profile campaign -- including legal support from George Clooney's wife Amal Alamuddin Clooney -- to win back the artefacts which were taken to London two centuries ago."
---
November 18, 2014
20,000 join peaceful annual rally to US embassy, marking deadly uprising - Reuters
"More than 20,000 demonstrators have joined a peaceful rally in Athens marking the 41st anniversary of a deadly student uprising against the country's former dictatorship.

The annual rally to the U.S. embassy was policed by some 7,000 officers, deployed to prevent a potential repeat Monday of violence seen in previous years."
---
Earthquake shakes Athens - Straits TImes
"A strong 5.4-magnitude earthquake shook the Greek capital Athens early on Tuesday, the United States Geological Survey (USGS) said on its website.

The quake was centred south-west of the town of Prokopion on Evia, some 120km north of Athens, and was felt in the capital just past midnight."
---
November 17, 2014
Draghi says Greece reaping rewards from its economic reforms - Fox Business
"European Central Bank President Mario Draghi said Monday that the bank stands ready to buy government bonds if inflation in the 18-country eurozone fails to rise as anticipated, a hint that helped shore up stock markets and put pressure on the euro.

Addressing lawmakers of the European Parliament on Monday, Draghi said the bank's governing council remains unanimous in its commitment to using additional unconventional instruments within its mandate.

...The ECB is tasked with ensuring price stability across the 18-country eurozone, which it defines as annual inflation of just below 2 percent. In the year to October, inflation stood at only 0.4 percent. Draghi said the bank continues to expect inflation will remain at current levels for a few more months but that it will start rising again next year.

Though the ECB has cut interest rates to record lows and backed the purchase of some types of private-sector bonds, it has refrained from following other central banks such as the U.S. Federal Reserve and the Bank of England in buying government bonds — so-called quantitative easing, or QE."
---
November 16, 2014
Greece upgrading maritime reconnaissance aircraft - Strategy Page
"The U.S. has agreed to upgradesix Greek P-3B maritime patrol aircraft to the current P-3C standard and refurbish components of the aircraft to extend their use for another 15,000 flight hours. All this will cost about $84 million per aircraft. Four of the P-3Bs are currently on active duty while the other two are in storage. The P-3Bs are over twenty years old and near the end of their useful lives, unless refurbished. Greece wanted to replace the P-3Bs with newer aircraft, but that would cost two to three times more than refurbishing the P-3Bs. Greece has to consider the cheaper option because it is still suffering from a banking crises caused by decades of getting by on borrowed (often illegally) money."
---
November 13, 2014
Greece, Cyprus and Israel Ministrial meetins coming - Famagusta
"Foreign Affairs of Greece Evangelos Venizelos has said that a trilateral meeting between Greece, Cyprus and Israel, at ministerial level first and later on at head of states` level, will take place the soonest possible in Athens."
---
Skeleton found in Alexander-era tomb - Yahoo News
"Archaeologists are holding their breath that a skeleton found in a mysterious, richly-decorated tomb from the time of Alexander the Great will solve the riddle of who ancient Greece's biggest burial mound was built for.

Having dug their way past huge decapitated sphinxes, broken through a wall guarded by two caryatids and emptied out an antechamber decorated with stunning mosaics, experts have finally found the body it was all built for, the Greek culture ministry said Wednesday.

The bones were found scattered around a wooden coffin in the third room of the vast mound near Amphipolis in northern Greece."
---
Greece warns Turkey of legal action over warship move - World Bulletin
"Evangelos Venizelos made the remarks at the Greek Parliament in Athens. He was referring to Turkey's recent move to send a warship to monitor a Greek Cypriot oil-and-gas exploration mission off the coast of Cyprus.

Turkey and the government of the Turkish Republic of Northern Cyprus have strongly opposed any unilateral move by the Greek-Cypriot administration to explore any hydrocarbon resources around the island, saying its natural resources should be exploited in a fair manner under a united Cyprus.

Venizelos said the political reaction from the Greek side might take form of a legal course."
---
Lignite: the dirty, dangerous job that powers Greece - Mashable
"It takes a lot to power a country — and though it's small, Greece is no exception.

Lignite is a soft, crumbly form of brown coal that has low carbon content, high water content and causes more pollution than black coal. Still, it accounts for more than 50% of Greece's electricity supply, and is mined primarily at the Lignite Center of Western Macedonia, the largest such facility in the Balkans. The center belongs to the second biggest public-power corporation in Europe, according to the European Pressphoto Agency."
---
November 11, 2014
Maniatis: Greece to Become a Pole of Stability in the Region - Greek Reporter
"...the Greek Minister underlined that the country is endowed with resources that can reduce its energy dependence from abroad. He also announced that the Hellenic Republic Asset Development Fund (HRADF) will immediately proceed with a tender for the creation of gas storage in the deposit of South Kavala, in Macedonia, Greece. "The storage will be one of three possible supply sources of the Greek-Baltic vertical pipeline, which, according to estimates from the Greek side, can be operational as of 2017, as it does not require major investments but only the linking of the existing networks of the region's countries," Maniatis explained, adding that the two other sources are the TAP pipeline and the floating LNG plants located in Northern Greece."
---
Greek military replacing armored vehicles - Janes.com
"By the end of 2014 the country will also receive 320 Oshkosh Heavy Expanded Mobility Tactical Truck (HEMTT) family of vehicles.

...All are being forwarded to the 301 Military Depot in Athens and the 308 Military Depot in Thessaloniki for inspection, minor repairs and repainting, before delivery to armoured and mechanised infantry units."
---
November 8, 2014
Egypt, Greece, Cyprus challenge Turkey- Economic Times
"Cypriot President Nicos Anastasiades said in Cairo that the three countries "discussed boosting cooperation in the field of energy, with the belief that the discovery of hydrocarbons in the eastern Mediterranean can contribute to supporting regional cooperation for stability and prosperity."

The meeting in Cairo between Anastasiades, Egyptian President Abdelfattah al-Sisi and Greek Prime Minister Antonis Samaras demonstrated deepening ties between the three states, who are challenging Turkey's efforts to chart gas deposits in areas of the east Mediterrean claimed by Cyprus."
Related:
Egypt, Greece, Cyprus condemn Turkey Violation - GreekReporter
Greece, Cyprus to represent Egypt's interests in EU - Egypt News Daily
---
Germany and Greece sign 'reconciliation' agreement - Euroactiv
"In an attempt to bridge cultural differences and break down national stereotypes among young people, Berlin and Athens have decided to establish a Greek-German Youth Institute. EurActiv Greece reports from Germany.

The "reconciliation" agreement was signed on 12 September between the ministries of education of Greece and Germany. It includes a variety of activities like internships, school and youth exchanges as well as visits to places where the Nazi atrocities took place.

According to sources, the Institute will be established as an international organisation and will cost approximately €6 million. It will be funded by both the Greek and German government. "
---
86-year-old Serb guards over WWI dead in Greece - Intelligencer
"...Some 7,500 Serbs are buried in Thessaloniki, where sections are also reserved for the French, Italians, British and Russians who died there. Mihailovic is caretaker only for the Serb area.

Serb visitors typically get a tour of the grounds and a shot of fiery plum brandy from Mihailovic, whose role over the decades has shifted from listener and collector of stories to guide and raconteur.

Many are eager to listen to Mihailovic's stories of how soldiers traversed freezing Greek mountain passes to bypass enemy artillery, or how a shattered army survived a typhoid outbreak when it reached Greece and was taken to the island of Corfu. Many Serbian visitors to the island still refuse to eat fish there, out of respect to the thousands of soldiers buried at sea.

Mihailovic, who has two daughters, knows that his family tradition will die with him, and is training a younger apprentice appointed by Belgrade."
---
November 5, 2014
Does Greece need more debt relief? - Reuters
"The euro zone is reconsidering whether Greece needs the additional debt relief it has been hoping for, because its economic reforms and improved prospects have changed the arithmetic, officials say.

Describing a rethink by some of Greece's partners, euro zone officials told Reuters that no decision would be taken until a new analysis of whether Athens can service its debts has been completed.

"It has not been decided, but it has not been ruled out, either," one euro zone official said.

A provisional offer of further debt relief was made two years ago, when the euro zone extended maturities and cut interest on its bailout loans."
---
An end to micro-management? - Economic Times India
"Greece expects an interim period of up to a year of limited EU/IMF supervision when it quits its bailout programme at the end of the year, without the current "micro-management" by lenders, the finance minister told Reuters on Wednesday.

The comments by Gikas Hardouvelis in his office overlooking Syntagma square were the first time Athens has spelled out its expectations for the post-bailout era starting next year, including the sensitive issue of foreign supervision.

Faced with snap elections if it loses a key presidential vote next year, the Greek government has staked its survival on exiting the austerity-laden bailout programme a year early."
Related: KARE video on "Greece ready to go it alone?"
---
---
November 4, 2014
Big 3rd quarter losses at Alpha Bank - NY Times
"...Earlier this year, Alpha, traditionally Greece's most conservatively run bank and the only Greek lender that fully passed the European Central Bank's recent stress tests, launched an early retirement scheme aimed at reducing its staff head count in Greece by a fifth...

After facing six years of recession, Greece's financial crisis and an unprecedented sovereign debt restructuring, Greek banks are struggling to nurse their balance sheets back to health. Alpha, along with Greece's three other big lenders— National Bank of Greece SA, Piraeus Bank SA, Eurobank Ergasias SA —are staggering under a mountain of bad loans that collectively add up to about €80 billion and make up roughly a third of banking system loans.

However, amid signs of a recovery in Greece's economy, the rate of new bad loans has been slowing and is expected to peak later this year or early next year. That, in turn, has allowed the banks to gradually reduce the level of provisions they have had to set aside. In the third quarter, Alpha reported impairment losses of €337 million, down from €348.5 million in the second quarter and down sharply from €490 million a year ago."
---
November 3, 2014
Greece eyes relief for mortgage holders - Salt Lake Tribune
"Dendias [development minister], who said the government was in talks with banks on the scheme, made the announcement after submitting legislation to parliament to provide debt relief for small businesses, which have been hard hit by austerity measures demanded by international rescue lenders.

Greece has already achieved a major restructuring deal for its privately-held sovereign debt and has been promised a further improvement in repayment terms for bailout loans.

But the conservative coalition government is anxious to provide some relief for ordinary Greeks as it faces the threat of an early general election in March.

"The model we are examining ... is for a 30 percent reduction on the value of purchase," Dendias said."
---
Greece will need more aid after IMF's current bailout - Spyghana
"Greece will need further financial support when its European bailout programme ends in December, an EU official predicted Monday, despite the unpopularity of the conditions attached to the international aid disbursed to date.

Greece"It seems as if a completely clean [bailout] exit is highly unlikely," the official said on condition of anonymity, referring to the possibility of the Greek bailout ending without strings attached.

Athens is keen on a clear end to the 240 billion euros (300 billion dollars) in rescue packages it has received since 2010, which have come with strict requirements that have led to unpopular tax hikes, salary reductions and pension cuts."
---
Byzantine Church of the Holy Apostles
---
---
Greece is 'intermediate'
Greece, said Artistotle, is geographically intermediate, between Europe, apparently incapable of civilisation, and south-west Asia, where where only the King of Persia was fully a free man; and the Mean, or medium, to him was the best. Modern geologists add that the Aegean basin is a slab of the earth's crust which has sunk and tipped, leaving only a rim (the Greek peninsula and Crete) and mountain tops (the other islands) above sea-level.
Greece can therefore support a population, on its small though fertile plains, only much smaller than that of the adjacent slab of Asia Minor; a fact which affects the whole of Greek history. Greater wealth must be found overseas, by trade of colonization; and when adjacent powers in Italy or Asia are strong, Greece is threatened. Persia attempted conquest; Rome, the Franks and Turkey achieved it.
On the other hand, Greece enjoys, with its variety of scenery, clear air and summer heat tempered by north winds, an intensely stimulating environment; and when free, three times it has produced great art: the bronze-age Minoan-Mycenaean, the Classical and the Byzantine; all completely different, all unique."
From The Living Past of Greece: A Time-traveller's tour of historic and prehistoric places, by A. R. and Mary Burn. Published by Little, Brown and Company. 1980. Quote from page 9.
---
See the main archive index of all collected news articles and pages on Athens Greece Now.