Greece and the economic crisis
---
May 24, 2018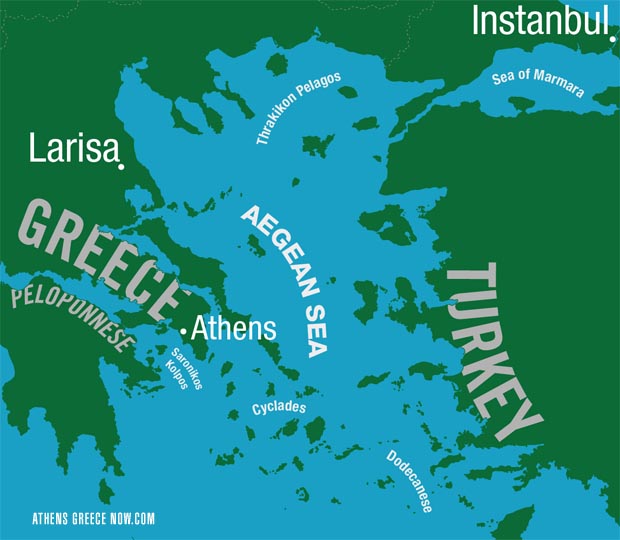 Why are US drones being based in Greece for the first time? - Defense News
"The U.S. Air Force has begun using MQ-9 Reaper drones out of Larisa Air Force Base, located halfway down Greece's eastern side, near the Aegean Sea. In response to an inquiry from Defense News, Pentagon spokesman Eric Pahon said the aircraft are being temporarily stationed at Larisa while their usual base in Africa undergoes repairs."
---
Turkey
Turkey attacks Greece granting 2 Turkish officers asylum - MSN News
Minister says nobody knows when detained Greek soldiers will be freed - eKathimerini
Finances
Greece to raise cash withdrawal limit, paper says - Reuters
Eurogroup discusses Greek bailout evaluation, debt relief measures - Tovima
Tourism
Hyatt Announces Plans for a Grand Hyatt Hotel in Athens - OAOA
Greece's Aegean Airlines to resume Skopje ops by YE18 - CH Aviation
Greece Presents Ambitious Post-bailout Tourism Plan - GTP
"Greek PM Alexis Tsipras. The Greek government has made tourism a high priority with ambitious plans that include the creation of tourist villages set to host EU nationals for a six-month period, allowing them to transfer their tax residence to Greece."
---
More
Greece offers to boost resurgence of Russian shipbuilding - Steel Guru
Rutgers Receives $27 Million to Help Revitalize Agriculture in Greece - Rutgers
Enlargement Skepticism: Greece and Macedonia Inch Closer to Solving Name Dispute - EU Bulletin
---
May 23, 2018
Godly giants in kilts: Meet Greece's best-known soldiers - Fox News
"All its members are conscripts picked for height and posture — and must demonstrate their godliness by belonging to the Orthodox Church of Greece. Their function is to stand sentry at the Tomb of the Unknown Soldier and outside the residence of Greece's titular head of state, keeping unflinchingly still for hours when not performing a clockwork-soldier routine of ponderous leg and arm swings and crashing presentations of arms. But during Greece's years of financial meltdown, the guards have several times been forced to abandon their posts as anti-austerity protests turned violent next to the Tomb of the Unknown Soldier, which is just in front of parliament, with the sentry posts occasionally burnt down.... Its Greek name — Evzones, or well-girt youths — is a 3,000-year-old word reactivated in the 19th century as the fledgling country strove to cement its blood ties with the glories of antiquity.
---
Tourism
Hyatt to open first Grand Hyatt in Greece in third quarter - Reuters
This Beach Hidden in a Sea Cave Is a Secret Slice of Greek Paradise - Travel and Leisure
Crete's Nikos Igoumenidis on Emerging Trends and Sustainable Tourism - Hospitality Net
Finances
Greece's economic future is nearing a crucial moment - CNBC
Greek Plan Vows to Keep Budget Surplus at 3.5% of GDP Until 2022 - Greek Reporter
Turkey probes money laundering at Cyprus casinos… or not - Calvineayre
Politics
With eye on re-election, Greek PM rolls dice on Macedonia - MSN News
Greece Says Negotiations With Macedonia Over Name Row at 'Crucial' Stage - NY Times
Turkey
Turkey is heading for a currency crisis - Liberal GR
Turkish currency hits record low amid Erdogan concerns - ABC
Turkey lira 'in freefall', eyes on central bank - Yahoo
---
May 22, 2018
Greece Will Not See Fiscal Gap in 2018/19, Insists Tsipras - Greek Reporter
JP Morgan: Neutral on Greek stocks, sees a dirty exit from the program - Capital GR
Jesus' Tomb-Restoration Project Unveiled in Greece - Greek Reporter
Greece aims to resolve Eldorado standoff over metallurgy plant soon - Reuters
Disappointed Emenike set for Greece return - Punch NG
New floating dock at Piraeus Port Authority receives first large F/B - Naftemporiki
Science and art commingle on new stamps from Greece - Linn Stamp News
---
What changes the government is pushing into the Katseli law - Tanea GR
"The changes promoted by the government, in agreement with the Institutions, move in two ways, the former focusing on weak economic citizens to be able to cope with their obligations and not lose their unique residence, while the second axis aiming at tightening for those who do not pay their loan obligations while they could."
---
EU official: Final debt relief decisions on 21 June - Tovima
"The official welcomed PM Alexis Tsipras' pledge that all preconditions for completing the fiscal adjustment programme will be met by 14 June"
---
Gatineau woman stuck in Greece with rare illness trying new treatment - CDC Canada
"Melanie Bergeron McAndrew, 35, to undergo plasma exchange therapy in hopes of coming home"
May 21, 2018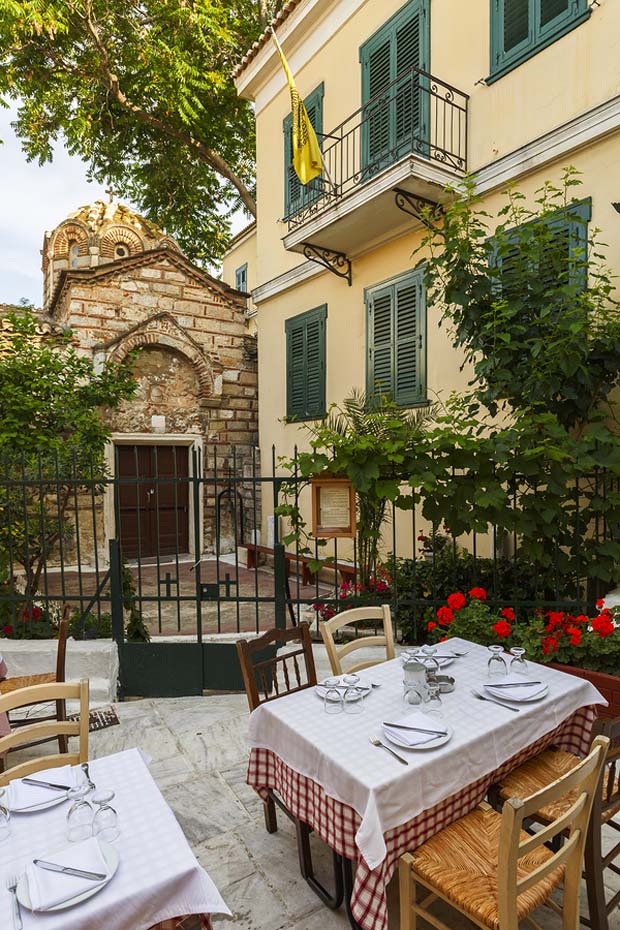 4 charged in Greece over attack on Thessaloniki mayor - Fox News
"One of the suspects allegedly told police he was angry at a recent statement by Boutaris, a liberal centrist, favoring friendlier relations with Turkey."
---
Greek Post-Bailout Growth Plan Targets Banks, NPLs, Business - Bloomberg
"Greece's banks, which passed the European Central Bank's stress tests this month, are still burdened with one of the highest levels of non-performing loans in Europe, at nearly 50 percent of total loans..."
---
Influx via Evros dips as migrants return to Idomeni - eKathimerini
Greece seen meeting fiscal targets, no fiscal gap in 2018-9 - Reuters
Greece's outbound ambassador passes torch - Japan Times
Greece, Lenders Reach Deal on Bailout Review - VOA
---
May 20, 2018
Boutaris - Mayor of Greece's second city beaten up - MSN News
"The mayor of Greece's second-largest city Thessaloniki has been treated in hospital after being beaten up by about a dozen people, officials say. Yiannis Boutaris, 75, was kicked in the head and legs and beaten with bottles by a group of nationalists angry over his appearance at a remembrance event. The mayor, who is known for his anti-nationalist views, was attending a ceremony to mark the killing of ethnic Greeks by Turks in World War One."
Police close to identifying suspect in Boutaris attack - eKathimerini
---
Yildiz: The Aegean is not a whole Greek sea - Naftemporiki
M. Yildiz: "The tension in the Aegean will be avoided if you stop believing it is only a Greek sea" - Liberal GR
Turkey's head of armed forces says country is ready to act in Agean Sea if needed - Protothema
"In a highly provocative statement the Turkish General Chief of Staff, General Hulusi Akar said the Turkish armed forces were ready to carry out their duty in the Aegean Sea and the Mediterranean."
---
FYROM's main opposition party rejects name proposal - ekathimerini
Greece Steps Closer to Completing Bailout Review - Wall Street Journal [Paywall]
Greek government, institutions reach staff level agreement - Athens News Agency
---
May 19, 2018
Greeks trust charities more than state, survey shows - eKathimerini
Tsipras surprises in Parliament: Expresses support for expat Greeks' right to vote in their place of residence - Naftemporiki
Greece celebrates Int'l Museum Day - Xinhuanet
Greece stocks lower at close of trade; Athens General Composite unchanged - Investing.com
How China's military expansion threatens U.S. interests - CBS 8
Athens Military Music Festival held at Zappeion, Greece - Xinhuanet
---
May 18, 2018
Trump's Iran Move May Swamp Greece - NY Times
"Ankara's worsening relations with Washington and European capitals over a host of issues have led to more pressure on Greece: a sharp increase of immigrants and refugees crossing from Turkey in recent months, the ongoing detention in Turkey of two Greek soldiers who strayed across the border in early March and a series of confrontational military actions by Turkey. These all highlight the dangers that Greece faces as the European Union's frontier state in a turbulent region."
---
Cyprus, Malta, Greece want EU red tape cut to boost shipping - Yahoo
Looking Through The End Of The Third Programme - Seeking Alpha
Travel Troubleshooter: Expedia misspelled her baby's name. Will she be able to fly to Greece? - Star Tribune
---
May 17, 2018
Finance
Sovereign bonds take a pounding - Naftemporiki
Pensions and development cuts are coming - Liberal GR
Vietnam, Greece to boost trade revenue - VOV World
Greece to cut 2018 economic growth forecast to 2.0-2.1 percent - finance ministry official - Reuters
Greece extends Hellenic Petroleum deadline to May 30 - MSNNews
Italy is thinking about taking a $250 billion writedown that has traders starting to freak out about Greece - Yahoo
Time is ripe for lifting of capital controls, Pitsiorlas says - Capital GR
Creditors complain of delays in reforms, Athens optimistic - Tovima
Politics
The Sofia summit: towards connectivity instead of integration - EFSYN
Refugees
One in Eight Asylum Seekers in Greece are Lone Children - Greek Reporter
Time running out for 111-year-old refugee stranded in Greece - Euro News
FYOM
Macedonian PM sees solution to name dispute with Greece in June - MSN News
Tsipras Meets FYROM Leader on Naming Dispute - Greek Reporter
Turkey
Eight Turkish servicemen want asylum and travel documents to leave Greece for another country - Protothema
New Democracy MEP visits Greek soldiers in Turkish prison - Protothema
More News
What can you buy for €95,000 in Greece, Spain, France and Kerry? - Irish Times
---
The Greek diaspora and the right to vote - eKathimerini
"...As for the argument that many of those who live outside of Greece are not interested in the country, a view that one could not describe as absurd, I think even here there is a simple answer: Those who are not interested in what is happening in Greece and who governs the country would probably not vote anyway... "
---
Byzantine Church on Greek Island Wins European Heritage Award - Greek Reporter
"The 8th century church was chosen for its unique frescoes that were reconstructed by a joint Greek and Swiss team. This restoration meant Greece was one of the outstanding European heritage success stories in the awards' Conservation category for 2018."
---
2018 World Cup of Pool - Wins for Greece, England and USA - AZ Billiards
"The three evening session matches went true to the seeding as Greece, England and the USA enjoyed victories in the opening round of the 2018 World Cup of Pool at the Luwan Arena, Huangpu District in Shanghai."
---
May 16, 2018
Greece's creditors back in Athens as bailout draws to close - MSN News
"The creditors' attention will focus on the continued supervision of Greece's fiscal adherence, which Greek Finance Minister Euclid Tsakalotos has termed "enhanced surveillance". While assessments have taken place every six months in other post-bailout countries, monitoring visits are likely to be more frequent in Greece's case, Tsakalotos told the Financial Times last month."
---
Rating firms refute Tsakalotos - eKathimerini
Greece and Turkey's tense rivalry swells over land and sea - csmonitor.com
Greece changes asylum rules to fight camp overcrowding - ABC News
'Some distance' left to solve Macedonia name row - MSN News
---
May 15, 2018
Tsakalotos rejects post-bailout precautionary credit line, admits over-taxation - Tovima
"Tsakalotos stressed the importance of funding growth, and noted that Greek banks are burdened with non-performing loans"
---
ECB insists on benefits of a credit line, SSM and IMF agree - eKathimerini
PMs of Greece, Macedonia to meet on decades-old name dispute - Lompoc Record
Turkey: Seven Afghan migrants die during sea crossing to Greece - Times of India
Greece races to meet bailout demands as inspectors return - Washington Post [paywall]
Pollution Contingency Plan by Cyprus, Greece and Israel - Marine Link
---
Case of Greece's ex-ELSTAT Chief Goes Back to Court - Greek Reporter
"...The Appeals Court has twice so far acquitted him of charges that he misrepresented Greek fiscal data of 2009 in order to help the then government bring the country under bailout agreements."
---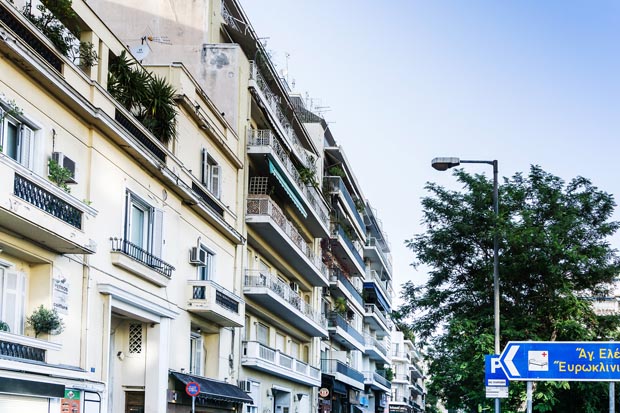 ---
May 14, 2018
January-April government primary budget surplus beats target - Reuters
Greece races to meet bailout demands as inspectors return - ABC News
Greece Leasing Out Beaches for Business Use - Greek Travel Pages
Cyclists take part in bike ride in Athens, Greece - xinhuanet
Greece races to meet bailout demands as inspectors return - Tampa Tribune
---
Greece plans more bond issues to shore up post-bailout future - Nasdaq
"Prime Minister Alexis Tsipras wants to exit the current bailout when it expires on Aug. 20 without any more external support, although some economists say Greece would be wise to secure a precautionary credit line rather then relying entirely on bond markets. Greece's central bank has been among those arguing for Athens to arrange an EU credit line to safeguard the nation's finances against another global financial crisis or an international trade war. Greece has the euro zone's heaviest debt burden, at about 180 percent of gross domestic product."
---
Greece's Open-Air Cinemas Come Alive in Summer - Greek Reporter
Open-air cinemas are a thing that very few countries can offer. While for Greeks catching a movie in a summer cinema sipping a cold beverage is like an institution, for visitors it is a one-off experience, almost as enjoyable as a dive in the cool, crystal-clear waters of Mykonos or a visit to the Temple of Zeus at Sounio. Most Greeks can't wait until their favorite summer cinema opens in May, eager to catch a movie in the open air, even if they are not crazy about the film itself. Most of the time it is a ritual, where even a date at the movie theater becomes more romantic.
---
May 13, 2018
Athens Braced for 24-Hour Metro Strike - Greek Reporter
Pensions under 1,000 euros will also be cut in 2019, says minister - eKathimerini
PMs of Greece, Macedonia to meet on decades-old name dispute - ABC News
Hellas Direct and Revolut Join Forces to Disrupt the Insurance Sector in Greece and Cyprus - New Kerala
Greece's Korakaki wins air pistol gold to claim second medal at ISSF World Cup in Fort Benning - Inside Games
National Bank of Greece : Dollar price up in major Egyptian banks - 4 Traders
---
May 12, 2018
Greece, Macedonia race to end name row before EU summit - Times of India
Greek Navy Pinpoints Sunken WWII Submarine in Aegean - Greek Reporter
---
Greece Launches New 25% Cash Rebate to Lure Productions - Variety
"Greece's new incentive is substantial. A total of €450 million ($547 million) has been allocated for the new program over the next six years, offering foreign productions a 25% rebate on all qualifying local spending, with a minimum spend of €100,000 (around $122,000) and a €5 million (roughly $6.1 million) cap. "I think the impact will be huge," says Venia Vergou, director of the Hellenic Film Commission, who explains that the rebate will offer Greece a chance to capitalize on its rich natural and historic bounty. "We have amazing archaeological sites that no other European country has."
---
Prince Charles Unprepared For Royal Wedding, Dances With Camilla In Greece - International Business Times
How Greece can still be represented at the 2018 World Cup - Protothema
AEK and PAOK fans clash in incredible scenes as Athens transforms into a warzone - UK Sun
No services Monday on Athens metro lines 2 and 3 - eKathimerini
---
Rouvikonas anarchists raid Oxfam office in Athens for the sex scandal in Haiti
"The group of ten masked Rouvikonas anarchists entered the Oxfam's office on Patision Avenu near Viktoria Square in downtown Athens.They turned over computers and other office equipment and sprayed red paint on the walls."
---
May 11, 2018
Centeno sees enhanced post-bailout supervision for Greece - Tovima
Substantial decline in migrant, refugee flows in Evros, Vitsas reports - AMNA GR
SYRIZA in 3.5-year made 21 pension cuts - Athens News Agency
Self-employed professionals are asked to pay more for 2017 - eKathimerini
WW2 Greek submarine wreck located - Protothema
Ministers from central Europe, Balkans meeting in Greece - Fox News
Athens court curbs term for ex PASOK minister, allows him to pay it off - eKathimerini
---
'No Speak English' Sign at Athens Metro Stuns Visitors - Greek Reporter
"English is the first foreign language Greek students learn from an early age. Official data released by the Eurobarometer Special Surveys in 2014 revealed that, when it came to people being able to speak English, 51 percent of Greeks could speak some."
---
May 10, 2018
Residents Warned to Take Safety Measures as Severe Weather Hits Greece - MSN News
Intense rainfall in Thessaloniki
"Streets were submerged in the Greek port city of Thessaloniki on Thursday, May 10, following heavy rainfall.Stormy weather with severe rain and hail was forecast to last until May 11 for some parts of the country.Greece's Civil Protection Agency asked residents to secure objects that might become dislodged, and to try to keep drains clear.This video gives a bird's-eye view of fast-flowing water on streets in Thessaloniki."
---
Greece's Piraeus Bank more profitable in first quarter as provisions fall - Reuters
Eurovision: How Greece's pop star helped Cyprus become favourite to win - BBC News
Britain's Prince Charles in Greece for 3-day official visit - ABC News
US committed to preserving Cyprus peacekeeping - eKathimerini
---
May 9, 2018
Greece's first property e-auction - CNN News
Regling likens Greece to Germany after WWII - eKathimerini
Prince Charles heads to Greece seeking to heal old royal wounds - UK Guardian
Greece: 50 migrants rescued after being held hostage - ABC News
Greece: 20% increase in value of fruit and veg exports - Fresh Plaza
Greece: 2nd Turkish officer to be freed after fleeing coup - Fox News
Greece stocks higher at close of trade; Athens General Composite up 0.89% - Investing
Greece: 5 aid workers cleared on migrant smuggling charges - WFMZ
---
May 8, 2018
Breaking News! Counter-terrorist unit arrests 14 people - Protothema
According to initial reports, the suspects are allegedly involved in the so-called "revolutionary" fund of the terrorist groups.
---
The government will also ask for the cancellation of asylum for the second Turkish officer - Liberal GR
Cyprus, Israel, Greece push for gas pipeline to Europe - ABC News
Volunteers Who Rescued Migrants Are Cleared of Criminal Charges in Greece - NY Times
Turkish hackers strike Greek auto-company site - Protothema
Greek participation in Agritech of Israel - Naftemporiki
---
Germany strengthens Turkish aggression - efsyn.gr
"German-exported weapons of war, assembled in Turkey in the form of stalking submarines, are perfectly suited to Turkish aggression policy in the Mediterranean," said Diego Dagdemén, deputy parliamentary spokesman for the Die Linke party. It is also associated with "significant technology transfer to Turkey". "It is clear that Turkey plans to use this aggressive weapon in violation of international law against Greece and / or Cyprus," he added, pointing out that "it can not be understood how while the equipment of armored vehicles was temporarily suspended, of scuba diving submarines proceeds normally ".
---
Eight Years on, Eight Big Questions Still Looming for Greece - MSN News
While Greece has made clear it wants a clean exit when its bailout expires in August, its huge debt load means it's bound to be under close surveillance for a while. This will be tighter than what's in place for countries like Portugal and Ireland and will include regular audits, though it's not yet clear how it will be linked to discipline from Greece's end. Still, a strong framework that keeps Greece on its toes is key for its return to the markets, ECB Executive Board Member Benoit Coeure said last month.
---
May 7, 2018
Gov't vows to complete four-year term amid calls for snap polls, blows to clean exit narrative - eKathimerini
Rising tensions in Aegean raise spectre of war between Greece and Turkey - UK Telegraph
Spaniards, Danes face Greece trafficking charges - France 24
Prince Charles and the Duchess of Cornwall touch down in a drizzly Nice as they kick off their five-day tour of France and Greece - UK Daily Mail
Greece has room for growth as shackles of austerity come off - Time UK
---
May 5, 2018
Greece's four biggest banks would lose 15.5bn euros of capital in stress scenario: ECB - The National AE
Greece says Syrian property law will impede refugees' return - Washington Post
Turkish municipal worker arrested at Greek border deported - eKathimerini
---
Greece busts cancer drug gang, arrests doctors and nurses - Sydney Morning Herald
"Twenty-one people aged between 22 and 70 have been arrested, among them doctors and nurses, according to the police. They are suspected of using forged prescriptions to get hold of the drugs which they then sent to warehouses in Italy, Germany and Switzerland where they were sold at a big mark-up."
---
DEPA to take part in a market test for LNG terminal - Hellenic Shipping News
New electronic auction allows growers to leave out the middle man - Horti Daily
Greece's National Bank CEO Fragiadakis steps down - MSN News
Greece, Macedonia to keep on working on name dispute - ABC News
New crisis would hammer Greek banks - Updated News
Greece's Tsitsipas clinches semi-final spot in Estoril - Gulf News
Greek PM attacks the press for trying to cancel his speech at Lesvos - Protothema
Unpaid taxes are building up again as taxpayers are unable to meet obligations - eKathimerini
---
Two-Sided Surplus - Naftemporiki
"Primary surpluses without high growth rates can not be maintained for a long time. Especially if they are "produced" by high taxes and continuous income reductions, as is the case with Greece."
---
May 4, 2018
Council of State to rule on fate of Turkish '8' - eKathimerini
"The ruling by the Council of State judges is being closely watched, as it will also determine whether Greece will grant protection to another seven Turkish officers wanted by Ankara to stand trial for the overthrow attempt."
---
State's 'First Task' is to Defend Greece's Territory, Says PM - Greek Reporter
European support at the land borders between Greece and Turkey - Naftemporiki
Father Of Sailor Jailed In Greece Pleads For His Son's Return - mid-day.com
Over 75% of TAP pipes backfilled in Greece, Albania - Menafn
Greece stocks lower at close of trade; Athens General Composite down 2.18% - Investing.com
Turkish trading vessel collides with Greek navy patrol boat - eKathimerini
Greek economy staggers to its feet - Moneyweek
---
May 3, 2018
Greece's new startup culture: technology and seagrass sunglasses - Reuters
"Venture capital in the sector is growing... A European Investment Fund (EIF) initiative, supported by private investors, is expected to pump about 400 million euros ($479.48 million) into Greek startups and other small businesses over the next five years. In 2008, when George Tziralis, a partner at Marathon VC, launched a networking event for startups, about 12 people turned up. Now, between 200-300 people attend each month and three to five new startups are presented."
---
Greece's debt deadlock is taking long to resolve because it's unique, Luxembourg minister says - CNBC
Macedonian Defense Chief: Name Dispute with Greece Sole NATO Impediment - VOA
Greece's Sisyphean drama: From Grexit to exit to the markets? - Brookings
Concern about the intense odor in areas of Piraeus - EFSYN
"Anonymous Greece" responded to the Turkish hackers with a 12-hour cyber-attack! - Protothema
---
May 2, 2018
Movement for Change leader calls for snap polls, debate on measures - eKathimerini
Amid protests, Greece vows to reduce migrants on islands - ABC News
Chinese Tourists Visiting Greece to Rise 10-Fold - Hotel News
Athens warned must tackle high unemployment and low investment - UK Express
Greece prepares for first wind auction - Wind Power Monthly
Evros: Arrest of Turks in Kastanies - Naftemporiki
Greece's composure during Imia incident prevented worse developments, says Kotzias - Protothema
---
Parliament approves foster care bill in principle - eKathimerini
The bill, submitted by the labor ministry, was voted by the ruling coalition of SYRIZA and ANEL, and Potami. New Democracy, the Democratic Coalition and the Centrists' Union expressed reservations, the Communists voted "present" and Golden Dawn voted it down.
---
May 1, 2018
Greece reinforces land border with Turkey to stem flow of migrants - MSN News
Albania, Greece resume maritime border delimitation talks - ABC News
OECD: Greece Deserves Debt Relief After 'Enormous' Reform Push - VOA News
Greece aims to keep primary surplus at 3.5 pct/GDP until 2022 - Reuters
DW: Another look at the Greek-FYROM conflict - Naftemporiki
---
Greece getting its first English undergrad program
"The program will be dedicated to the study of the country's greatest assets – archaeology, history, the Greek language and literature – and the aim is to attract students from beyond the European Union."
---

---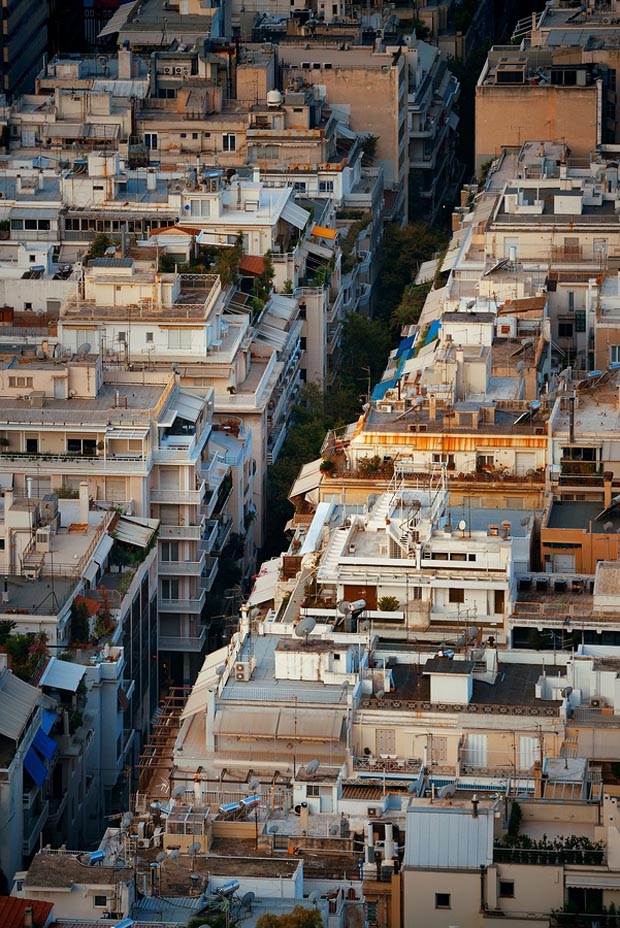 ---
---
The Country Cooking of Greece - Amazon - 384 Pages
---
---
---
Travels with Epicurus: A Journey to a Greek Island in Search of a Fulfilled Life
---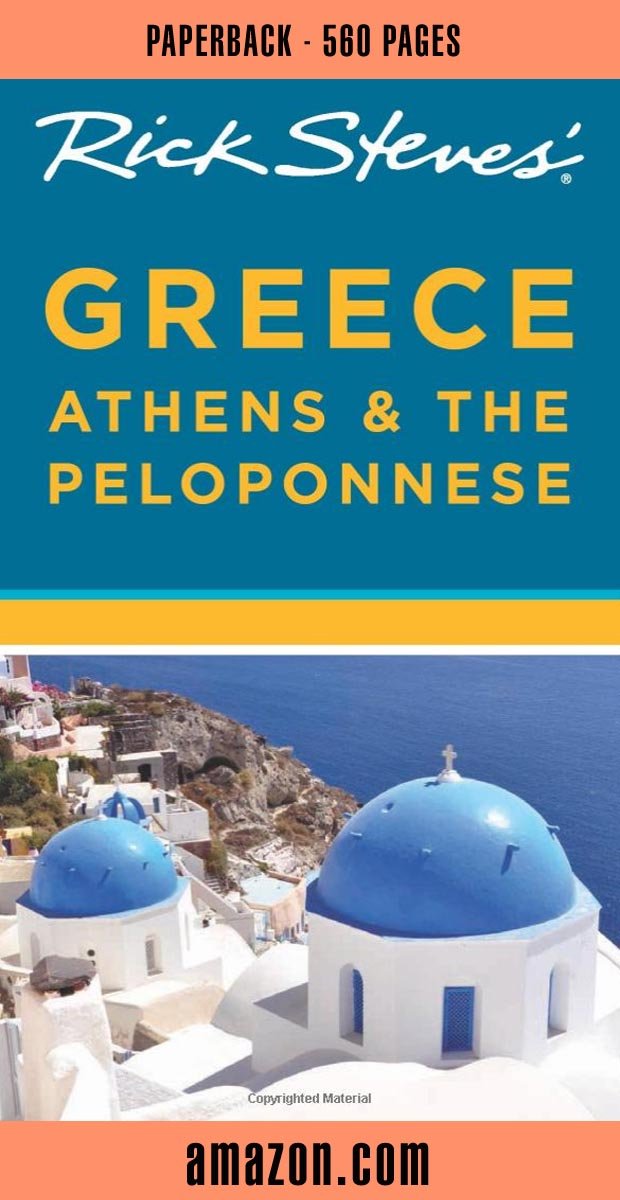 Rick Steves Greece: Athens & the Peloponnese
---
---