Current amount of IMF/EU loans to Greece
: €240 billion (US $397bn).
---
Greek Account Deficit 2012
2.9% of GDP
Greek Account Deficit 2011 9.9% of GDP
Greek Account Deficit 2008 14.7% of GDP
---
GDP estimate
(4th quarter 2012):-6.0%
GDP estimate (3rd quarter):-7.2%
GDP estimate (2nd quarter):-6.3%
---
Greek foreign exchange reserve
Dec 2012: €5.5 Bn
---
Unemployment
Oct 2012: 26.8%
---
Import Price Index
- Greece is heavily dependent upon import items. Increase of 2.4% calculated between June 2012 and June 2011.
---
Demographics:
ELSTAT
put the population of Greece ("registered population") at 9,903,628 for 2011.
Population of Athens:
Municipality: 655,780
Metropolitan: 3,737,550
Urban: 3,074,160
2012 estimates non-Greek immigrants at over 800,000 (legal) and 350,000+ (illegal) in Greece.
Where to Flee.com - Time for a new place to live?
---

TOP PAGES:
RSS FEED
---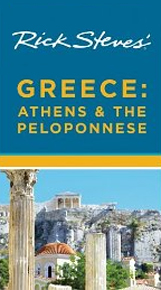 Rick Steves' Greece: Athens & the Peloponnese amazon.com
---
Credit Ratings around the world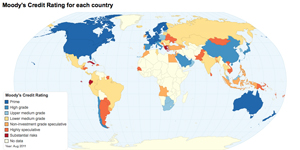 Nice interactive world map that shows the credit ratings for sovereign nations around the planet. That's right: Greece has a burning red "substantial risk" rating at present.
With national ratings and global banks all experiencing a phenomenon of credit rating 'adjustments', I don't know for how long this chart will be accurate.
Entire chart at chartbin.com
---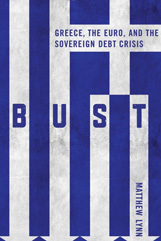 Bust: Greece, the Euro and the Sovereign Debt Crisis - By Matthew Lynn amazon.com

Greece's 'Odious' Debt: The Looting of the Hellenic Republic by the Euro, the Political Elite and the Investment Community - By Jason Manolopoulos amazon.com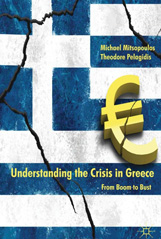 Understanding the Crisis in Greece: From Boom to Bust - By Theodore Pelagidis amazon.com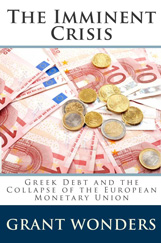 The Imminent Crisis: Greek Debt and the Collapse of the European Monetary Union amazon.com

Eyewitness Greece - Athens and the Mainland - 352 Pages
---
---
Greece and the economic crisis
February 17, 2014
Troika to decide additional funding after election cycle; summer - Wall St Journal
"Talks to decide additional funding and debt reduction for Greece will be held after the summer, Dutch Finance Minister Jeroen Dijsselbloem, who presides over the regular meetings of his eurozone counterparts, said Monday.

Mr. Dijsselbloem said that the International Monetary Fund, which co-funds the Greek bailout alongside the euro zone, was "on board" with that timetable. Delaying the decision until after the summer would make it easier for European politicians to sidestep the divisive issue of how to deal with Greece's financing needs and massive debt in the lead-up to elections for the European Parliament in late May."
---
Rise in abandoned children - NY Times
"Hard statistics are difficult to come by. But in a telling tale of the trend and an admission of the devastating effects of austerity on young children, Health Minister Adonis Georgiadis told parliament recently that the number of abandoned infants had soared by 336 percent alone in the state's flagship pediatrics hospital since the start of the financial crisis.

Four other children's hospitals and maternity clinics in the capital, home to half of Greece's population of 11 million, showed similar spikes."
---
Will Greece return to bond markets soon? - Reuters
"Greek media reports said earlier this month that the government was considering tapping bond markets as early as March, before local and EU government elections in May. But the official said there had been no change in Greek plans."
---
Clooney stands by Elgin Marbles remark - eKathimerini
"American actor George Clooney has defended his comments from just over a week ago advocating the return of the Parthenon Marbles to Greece despite criticism from London Mayor Boris Johnson.

Johnson accused the actor of pursuing a "Hitlerian agenda" for what he termed "London's cultural treasures" as the Nazis had also intended to remove the marbles from the British Museum if they occupied Britain.

"...When it comes to real facts, not imagined history, you need only to look at the UNESCO rulings that have been agreed to by all parties.

"An occupying nation can't sell off the national heritage of the country it occupies," added Clooney.

"More relevant is the fact that the Parthenon Marbles were chipped away from the Parthenon by the occupying Turks and sold. It was a single monument broken into bits. It would be as if the statue of David's head were sold to England. His arm to the Vatican. And his torso to the Met."
---
February 15, 2014
Troika pressure on Stournaras to wrap up negotiations - eKathimerini
"A senior European official told Kathimerini that a possible "haircut" on Greek debt had not been ruled out and was still on the table of proposals and being discussed along with an extension for loan repayments as a possible solution. However, the International Monetary Fund, which has long been emphasizing the need for a Greek haircut, is expected to soften it stance as the Fund's managing director, Christine Lagarde, is interested in seeking the post of European Commission president, a European official told Kathimerini. "
---
February 10, 2014
American actor George Clooney backs repatriation of the 'Elgin Marbles' to Greece - UK Guardian
"Actor says it would be "very nice" if the British Museum reptriates ancient frieze removed by Lord Elgin in 19th century

George Clooney says returning the Parthenon Marbles to Greece would be the "right thing to do".

George Clooney has strolled into one of the most bitter and longest-running controversies in the heritage world, saying it would be "very nice" if the British Museum sent the Parthenon Marbles back to Greece.

Clooney, at the Berlin Film Festival promoting The Monuments Men, the story of an Allied team trying to save artefacts from the Nazis, was asked by a Greek reporter whether Britain should return the Marbles.

"I think you have a very good case to make about your artefacts," Clooney said. "Maybe it wouldn't be a bad thing if they were returned. I think that is a good idea. That would be a very fair and very nice thing. I think it is the right thing to do."

The sculptures were removed from the monument, which had been used as a gunpowder store, by Lord Elgin between 1801 and 1805, when he was ambassador to the Ottoman court in Istanbul, which ruled Greece. The collection, eventually bought by parliament in 1816 and presented to the British Museum, includes roughly half the surviving sculptures – more than 70 metres of the beautiful frieze, showing a procession of horses and warriors."
More on the Parthenon and the Elgin Marbles
---
Samaras tells Bild no 3rd loan needed - eKathimerini
Prime Minister Antonis Samaras has ruled out a third bailout program for Greece despite reports in Germany suggesting that Finance Ministry there is working on such a plan.

"We do not need a new, third aid program,» Samaras told Bild newspaper in an interview published over the weekend. «We are reaching the goals of our current program and it is showing results."
---
February 7, 2014
National Bank plans 3 billion euros in corporate loans this year - eKathimerini
"Greece's largest lender, National Bank, plans to make 3 billion euros ($4 billion) worth of corporate loans this year to support businesses and assist the economy's recovery, its chief executive said on Thursday.

That represents a substantial increase over the almost 1 billion euros of total loans the bank made in the first nine months of 2013. Lending figures for the full year are not yet available."
---
February 5, 2014
EU May extend Greek loans by 50 years - Bloomberg
"The plan, which will be considered by policy makers by May or June, may also include a loan for a package worth between 13 billion euros ($17.6 billion) and 15 billion euros, another official said. Greece, which got 240 billion euros in two bailouts, has previously had its terms eased by the euro zone and International Monetary Fund amid a six-year recession.

"What we can do is to ease debt, which is what we have done before through offering lower interest or extending the maturity of loans," Dutch Finance Minister Jeroen Dijsselbloem, who heads the group of euro finance chiefs, said yesterday on broadcaster RTLZ. "Those type of measures are possible but under the agreement that commitments from Greece are met."
---
February 4, 2014
Greece Has a Budget Surplus, a Respite That Could Be Short-Lived - NY Times
"Greece's top administrative court declared in mid-January that wage cuts imposed two years ago on police officers, firefighters and military personnel under a sweeping austerity plan were unconstitutional.

Welcome as it was to the employees, the news could not have come at a worse time for Prime Minister Antonis Samaras. After years of sacrifice by Greeks, he was preparing to announce last week that his country had scored a rare victory in its long-running economic crisis, posting its first primary surplus — a budget in the black, before debt repayments — in more than a decade.

The back pay by itself is not a big number. The government might be forced to repay up to 300 million euros, or about $405 million.

But it could blow a hole in Mr. Samaras's projected surplus, which itself is only about 1 billion euros ($1.35 billion). The repayment is a reminder of the continued fragility of Greece's public finances — and Mr. Samaras's continuing challenge of trying to appease the populace while also struggling to please the country's international creditors.

Not only is his coalition government under pressure domestically, but he has been hoping that Greece's fiscal discipline might persuade its international lenders to ease the burden of the €240 billion ($324 billion) in bailout loans that it is obliged to pay back."
---
February 2, 2014
3rd Rescue loan on the horizon - UK Guardian
"...The new loan, outlined in a five-page position paper by Berlin's finance ministry, would be worth between €10bn to €20bn, according to the German weekly Der Spiegel, which was leaked the document.

Such an amount would chime with comments made by the German finance minister, Wolfgang Schäuble, who, in a separate interview due to be published on Monday insisted that any additional aid required by Athens would be "far smaller" than the €240bn it had received so far.

...The renewed help follows revelations of clandestine talks between Schäuble and leading EU figures over how to deal with Greece, which despite receiving the biggest bailout in global financial history, continues to remain the weakest link in the eurozone.

The talks, said to have taken place on the sidelines of a Eurogroup meeting of eurozone finance ministers last week, are believed to have focused on the need to cover an impending shortfall in the country's financing and the reluctance Athens is displaying to enforce long overdue structural reforms. The lack of progress is at the root of stalled talks between Greece and its "troika" of creditors, the International Monetary Fund (IMF), European Central Bank and EU."
---
Greece behind on 153 implementations - eKathimerini
"Greece is behind in the implementation of 153 actions demanded by its lenders, according to a timetable compiled by the Finance Ministry, Kathimerini has learned.

Of the outstanding actions, 57 are the responsibility of the Finance Ministry, 17 fall to the Development Ministry, another 17 to the Labor Ministry and eight to the Administrative Reform Ministry. The rest are divided among other ministries.

Among the Finance Ministry's key tasks is to scrap third-party levies.

...A number of the actions have yet to be completed as the government remains in discussions with the troika about the measures. Inspectors are expected to return to Athens later this month but a date has not yet been fixed."
---
Golden Dawn plans rebranding if banned - UK Guardian
"After months of lying low, Greece's neofascist Golden Dawn party has returned to the streets, vowing to contest local and European elections under a new name to circumvent a possible ban.

The Greek far-right party, Europe's most violent political force, announced members would form a new outfit called National Dawn if they are prevented from participating in the poll because of an ongoing inquiry into alleged criminal activities.

"Patriots will have a party to vote for in the next election if [authorities] go ahead with the coup to ban Golden Dawn," Ilias Kasidiaris, an MP and leading light of the party, told thousands of black-clad supporters gathered in central Athens."
---
January 29, 2014
Troika success story or a warning against too much austerity? EU Parliament Web Site
'Greek public debt averaged just under 104% of its gross domectic product (GDP) during 1994-2009 and reached 148.3% in 2010, the year when Greece asked the EU for help. However, austerity seems to have made the situation worse. The European Commission estimates Greek public debt to have reached 176.2% of GDP in 2013 and forecasts it to fall to 170.9% in 2015.

According to Eurostat, the Greek economy has shrunk for six years in a row.The worst reduction was in 2011 when the GDP decreased by 7.1%. This year a 0.6% increase is expected, followed by 2.9% growth next year.

Unemployment rate is expected to remain at around 25% for the next couple of years. When Greece asked for help in 2010, it was only 12.6%.

...Over the last few years MEPs have often questioned how efficient the Troika's policies have been. When EP President Martin Schulz visited Greece in February 2012, he commented: "As representatives of the peoples of Europe, we are convinced that budgetary consolidation must not imperil social justice."
---
EU lawmakers probe bailout enforcers - Hearst SFGate
"Government and opposition party officials are meeting with a European Parliament delegation visiting Athens to investigate whether international bailout enforcers caused unnecessary hardship among Greeks.

The seven-member delegation led by a conservative Austrian lawmaker, Othmar Karas, met with Finance Minister Yannis Stournaras and left-wing opposition leader Alexis Tsipras."
---
66% sell off of ADMIE aproved by Parliament - eKathimerini
"Greek lawmakers on Wednesday voted in favor of a bill for the privatization of Greece's Independent Power Transmission Operator (ADMIE).

The bill foresees the sale of a 66-percent stake in the state-owned company, with the minimum 151 of the House's 300 MPs approving the decision.

...Sources told Kathimerini in December that the Chinese State Grid (SGCC), the biggest network company in the Asian country, and Italian power transmission operator Terna are in contact with the government for the acquisition of the controlling stake. "
---
January 28, 2014
More pressure for meeitng budget timetables - NY Times
"European officials sought on Monday to keep the pressure on Greece to honor its previously agreed spending and privatization targets as they wrestled with the need to help Athens bridge a funding gap that could reach €15 billion over the next two years.

A review of the Greek government's finances by the so-called troika of international lenders "is taking too long," Jeroen Dijsselbloem, the Dutch finance minister who acts as chairman of the Eurogroup of euro zone finance ministers, said before the group's monthly meeting. "It's been going on since September-October, and I think it's in the joint interest of us and the Greek government to finalize it as soon as possible."

Greece has already received two bailouts and is staring at a shortfall of €4 billion, or $5.5 billion, this year. A third bailout, estimated at €7 billion to €11 billion, will very likely be necessary next year, economists say. A team of inspectors from the troika — the European Central Bank, European Commission and the International Monetary Fund — is waiting for Athens to show progress on its commitments before lenders decide whether to release more money.

Wolfgang Schäuble, the German finance minister, said earlier Monday that he had seen data from the Greek government and was confident that a successful outcome would be reached. But at a news conference after the meeting of euro zone officials, Mr. Dijsselbloem suggested that Greek officials and the troika inspectors were at a virtual impasse."
---
January 27, 2014
Tension over budget - The UK Guardian
"The Greek economy minister, Yannis Stournaras, was steeling himself for a dressing down – even though he is chairing the session in Greece's capacity as current EU president – amid evidence of spiralling tensions between the debt-crippled nation and its international creditors.

The EU, European Central Bank and International Monetary Fund, which have already postponed completing their latest review of the economy, signalled that rescue funds will not be forthcoming if Greece fails to implement improved competition rules."
---
January 26, 2014
Earthquake of 5.8 hits Greece - Wunderground
"According to the U.S. Geological Survey, the quake struck at 3:55 p.m. local time (8:55 a.m. EST in the U.S.) and registered a magnitude of 6.0. The quake's hypocenter was 11.7 miles below the town of Lixouri on the island of Kefalonia (Cephalonia), along the nation's west coast on the Ionian Sea.

The USGS "Did You Feel It?" page indicated the quake was felt as far away as Athens, on the opposite side of Greece, as well as parts of Albania and the Salento peninsula of southeastern Italy."
---
January 20, 2014
Data from the General Secretariat for Greeks Abroad, item includes graphics and charts.
"The main countries in which the emigrant relatives of Greek citizens presently reside are, in order: Germany (38%), USA (29%), Australia (22%), Canada (12%) and the United Kingdom (11%).

Based on the geographical region of their residence, Greek citizens with relatives abroad are concentrated more in the islands of the Southern Aegean (61%), in Western Macedonia (55%), Eastern Macedonia-Thrace (51%) and Western Greece (50%)."
---
January 7, 2014
6700 donations for restoration work for 'Victory of Samothrace' at Louvre - Global Post
"It said about 6,700 individual donors had contributed over the last four months, with the rest of the projected total cost of four million euros ($5.5 million) coming from sponsors.


...The statue was discovered on the Greek island of Samothrace in 1863 and then taken to Paris for exhibition at the Louvre where it overlooks the so-called Daru staircase."
---
January 6, 2014
Military procurement bribery scandal - ABC News
"The Defense Ministry in crisis-hit Greece pledged Friday to overhaul arms procurement procedures following the arrest of former weapons contract negotiators accused of paying bribes for major government contracts.

Defense Minister Dimitris Avramopoulos said the ministry was working on plans to place arms contracts under increased parliamentary oversight to "guarantee the reputation of the armed forces."

Prosecutors are investigating the alleged payment of bribes worth millions of euros to former senior defense officials to secure weapons deals under Socialist governments in the late 1990s and early 2000s following tension with regional rival Turkey.

The Socialists are currently the minority party supporting the rickety, conservative-led coalition government.

Greece is struggling through its worst financial crisis in more than half a century, and has been kept from bankruptcy by international bailouts. Harsh austerity measures imposed in return for the money have led to a public backlash against alleged corruption in public office and spurred multiple investigations by the judiciary."
---
January 2, 2014
Can Greece repair its reputation? - UK Telegraph
"Is Greece, the country that nearly brought Europe to its knees, fit to take over the EU presidency?

Brussels bureaucrats are not known for their humorous side, nor indeed are German politicians or Eurozone finance chiefs. But anyone wandering through Syntagma Square in Athens these days could be forgiven for thinking that someone in the EU hierarchy clearly has a sense of mischief.

In recent weeks, after five years as a battleground between Greek police and anti-austerity protesters, the square has been undergoing repairs to its marble. The refurb marks not the end of Greece's austerity years – far from it – but the start of what many might otherwise assume was a drunken New Year's prank by someone in Brussels' protocol and scheduling department.

Why else, after all, would debt-ridden, feckless Greece be taking over the presidency of the European Union after five years in which it has nearly brought the whole European project to its knees?

The answer, like most other things in Brussels, is a bureaucratic one: the Presidency of the Council of the European Union is a rotating affair, passing between the members of the 28-nation bloc every six months.

...Others, however, see a Greek presidency as akin to making the bad boy at the back of the class the school monitor. "It's a delicious paradox," says Daniel Hannan, the Tory MEP and leading Eurosceptic. "The EU reckons that Greece is incapable of governing itself, and has placed it under the troika [the European Commission, the ECB and IMF]. Yet now Greece is presiding over the EU."
---
Maria Callas birthday logo at Google.com - Dec 2, 2013
Image appeared on the google.com websites December 2, 2013 to mark the birthday of famed Greek soprano opera singer Maria Callas.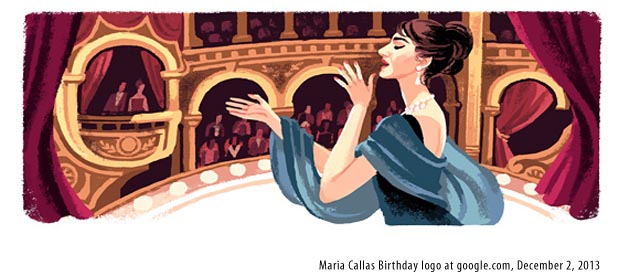 ---
Greece is 'intermediate'
Greece, said Artistotle, is geographically intermediate, between Europe, apparently incapable of civilisation, and south-west Asia, where where only the King of Persia was fully a free man; and the Mean, or medium, to him was the best. Modern geologists add that the Aegean basin is a slab of the earth's crust which has sunk and tipped, leaving only a rim (the Greek peninsula and Crete) and mountain tops (the other islands) above sea-level.
Greece can therefore support a population, on its small though fertile plains, only much smaller than that of the adjacent slab of Asia Minor; a fact which affects the whole of Greek history. Greater wealth must be found overseas, by trade of colonization; and when adjacent powers in Italy or Asia are strong, Greece is threatened. Persia attempted conquest; Rome, the Franks and Turkey achieved it.
On the other hand, Greece enjoys, with its variety of scenery, clear air and summer heat tempered by north winds, an intensely stimulating environment; and when free, three times it has produced great art: the bronze-age Minoan-Mycenaean, the Classical and the Byzantine; all completely different, all unique."
From The Living Past of Greece: A Time-traveller's tour of historic and prehistoric places, by A. R. and Mary Burn. Published by Little, Brown and Company. 1980. Quote from page 9.
---
Byzantine Church of the Holy Apostles
---
---
See the main archive index of all collected news articles and pages on Athens Greece Now.