Greeece and the IMF
: Joined the IMF on Dec 27, 1945.
---
Current amount of IMF/EU loans to Greece
: €240 billion (US $397bn).
---
Greek Account Deficit 2012
2.9% of GDP
Greek Account Deficit 2011 9.9% of GDP
Greek Account Deficit 2008 14.7% of GDP
---
GDP estimate
(4th quarter 2012):-6.0%
GDP estimate (3rd quarter):-7.2%
GDP estimate (2nd quarter):-6.3%
---
Greek foreign exchange reserve
Dec 2012: €5.5 Bn
---
Unemployment
Oct 2012: 26.8%
---
Import Price Index
- Greece is heavily dependent upon import items. Increase of 2.4% calculated between June 2012 and June 2011.
---
Demographics:
ELSTAT
put the population of Greece ("registered population") at 9,903,628 for 2011.
Population of Athens:
Municipality: 655,780
Metropolitan: 3,737,550
Urban: 3,074,160
2012 estimates non-Greek immigrants at over 800,000 (legal) and 350,000+ (illegal) in Greece.
---
---
Where to Flee.com - Time for a new place to live?
---
---
TOP PAGES:
RSS FEED
---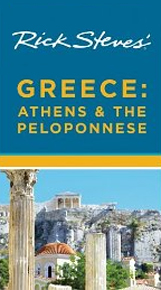 Rick Steves' Greece: Athens & the Peloponnese amazon.com
---
Credit Ratings around the world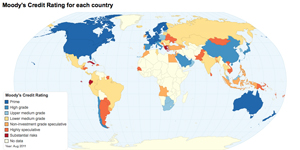 Nice interactive world map that shows the credit ratings for sovereign nations around the planet. That's right: Greece has a burning red "substantial risk" rating at present.
With national ratings and global banks all experiencing a phenomenon of credit rating 'adjustments', I don't know for how long this chart will be accurate.
Entire chart at chartbin.com
---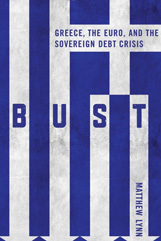 Bust: Greece, the Euro and the Sovereign Debt Crisis - By Matthew Lynn amazon.com
---

Greece's 'Odious' Debt: The Looting of the Hellenic Republic by the Euro, the Political Elite and the Investment Community - By Jason Manolopoulos amazon.com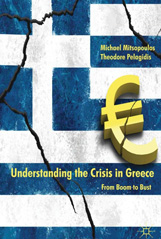 Understanding the Crisis in Greece: From Boom to Bust - By Theodore Pelagidis amazon.com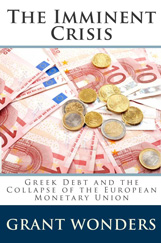 The Imminent Crisis: Greek Debt and the Collapse of the European Monetary Union amazon.com

Eyewitness Greece - Athens and the Mainland - 352 Pages
---
Greece and the economic crisis
November 24, 2014
Troika, Creditors and Greece meet in Paris Tuesday - Bloomberg
"Greek government officials will meet in Paris tomorrow with representatives of the so-called troika of international creditors in a bid to break a deadlock over freeing up the last tranche of the country's bailout.

Bonds gained today after the Greek Finance Ministry said in a statement that Greece and its creditors will discuss how to move forward with the current review and the framework for a post-bailout agreement. Two troika officials, who asked not to be identified because the talks are private, said one option might be extending the euro area-backed program beyond this year, a proposal that Greece has so far refused.

The European Commission said it's premature to talk about next steps until the current review is resolved. The Paris meeting will focus on the current review and no discussion on extending the program is scheduled, according to spokeswoman Mina Andreeva."
---
Final audit ahead for Greece / Troika - France 24
"Greek officials are gearing up for tough negotiations on Tuesday when they meet the country's international creditors in Paris for a final audit into reforms needed for a 240-billion-euro bailout.

The two-day meeting will "raise key points and get the audit going", said a spokesman of the European Commission -- one of Greece's three international lenders.

"Progress needs to be made on a certain number of measures before the mission can go back to Greece," another EU source told AFP.

"It's the last audit and it is therefore expected to be the most difficult," Sophia Voultepsi, Greece's government spokeswoman, told private television channel Skai.

Among thorny issues is Greece's budget for 2015, which has failed to win the approval of the international creditors -- who also include the International Monetary Fund and the European Central Bank."
---
Reform of operating permits eliminates 897 licensing requirements - Greek Reporter
"...In the future, businesses will simply have to submit their papers to the General Commercial Registry (GEMI) and then follow set guidelines.

Skrekas said this would save entrepreneurs two to three months in filling out paperwork and waiting for replies.

Food, paper, wood and clothing are some of the industries that will benefit from the new regulations. Electronics manufacturing, engineering, energy, repair services and retailers, as well as wholesalers are also included."
---
Namco to restart manufacturing? - Neo Kosmos
"Greece's national motor company Namco could be Greece's answer out of the economic crisis, according to its CEO Petros Kontogouris.

"This is the real backbone of the Greek economy," Mr Kontogouris said.

"Everything else, such as tourism, is all well and good, but it does not bring the same results to the economy."

However, there's a catch: this turn around may only be possible with the help of German investments.

Despite the rocky relationship in recent years between the two European countries due to economic instability in the eurozone, Namco are looking to mend the ties.

Started by the Kontogouris brothers in the 1970s, the company's ties with Germany date back to 1973 when companies such as Intelco and Fahr would supply their spare parts. The Greek and German union proved successful and popular through a simple formula - using highly durable materials, coupled with the simplification of the usually high-tech German designs. This led to the creation of almost indestructible SUVs, truck and military vehicles, making them popular in the African, Asian and South American markets.

"The engines were supplied by Citroën, Ford, Volkswagen and Deutz, and we took care of the body," Mr Kontogouris explained.

Currently standing as Greece's only car factory, their plant based in Thessaloniki has the capacity to produce between 6,000 to 8,000 cars per year - a significant figure for the Greek car manufacturer."
---
Painted figure art found in Amphipolis tomb - Discovery.com
"Painted human figures have been discovered at the mysterious, richly-decorated tomb in Amphipolis in northern Greece, according to a news announcement by the Greek Ministry of Culture.

Found on the door frames of the second chamber, the figures will be examined with lasers.

Pictures of the newly found paintings, as well as additional information, have not yet been released.

"We are not hiding anything. New findings are revealed slowly as the restoration process continues," Greek Culture Minister Kostas Tassoulas said."
---
November 22, 2014
Fitch Affirms Greece at 'B'; Outlook Stable - Yahoo News
"Fitch Ratings has affirmed Greece's Long-term foreign and local currency Issuer Default Ratings (IDRs) at 'B'. The issue ratings on Greece's senior unsecured foreign and local currency bonds are also affirmed at 'B'.

The Outlooks on the Long-term IDRs are Stable. The Country Ceiling is affirmed at 'BB' and the Short-term foreign currency IDR at 'B'."
---
November 21, 2014
Greece to Submit its Contentious Budget - Market Pulse
"..The coalition government led by Antonis Samaras has promised the budget will include no further austerity measures—on which its bailout is contingent— in an effort to combat the risk of snap national elections next year. The latest polls show that the anti-austerity left-wing opposition party SYRIZA would win an election, if it was held now.

Greek Finance Minister Gikas Hardouvelis will submit the final plan for 2015 to the President of the Parliament at 10 a.m. GMT on Friday. Negotiations in Parliament on the Greek budget for 2015 will then start December 4."
---
Greece-Troika talks are said to have ended in disagreement - Foxlive
"A conference call between Greek authorities and the Troika of officials representing IMF, ECB, EU Commission didn't reach agreement between the two sides"
---
November 20, 2014
Investors watchinge efforts Greece making - World Finance
"After four years of exile from market borrowing, Greece is back with a vengeance, but is the real economy discouraging investor sentiment? Representatives from Attica Wealth Management, Theodore Krintas and Dimitra Vassilakopoulou, shed light on the financial situation in their country."
---
Greece seeks US support on keeping F16s in the air - UPI
"Greece has asked the United States to continue sustainment support through the Foreign Military Sales program for its F-16 fighters.

Notification of the request, together with certification of approval from the State Department, was given to Congress by the U.S. Defense Security Cooperation Agency, which handles the FMS program.

"The government of Greece needs this aircraft support to ensure its F-16 fleet is properly sustained and modernized to maintain interoperability with the United States and other NATO countries," DSCA said. "The continued support and maintenance of Greece's F-16 fleet will ensure the effectiveness of its capabilities and ability to support future contributions to NATO operations."
---
November 19, 2014
Greece asks tourists to join Elgin Marbles debate - Yahoo AFP
"The Greek government is asking tourists at Athens airport to join the notorious debate over the return of the Elgin Marbles to Greece from London.

Faced with a picture of the famed Parthenon and its marble statues on an interactive screen, travellers are asked to reply "yes" or "no" to the question: "Do you support the return of the Parthenon marbles?".

The Greek government installed the airport polling system on Wednesday as part of a high-profile campaign -- including legal support from George Clooney's wife Amal Alamuddin Clooney -- to win back the artefacts which were taken to London two centuries ago."
---
November 18, 2014
20,000 join peaceful annual rally to US embassy, marking deadly uprising - Reuters
"More than 20,000 demonstrators have joined a peaceful rally in Athens marking the 41st anniversary of a deadly student uprising against the country's former dictatorship.

The annual rally to the U.S. embassy was policed by some 7,000 officers, deployed to prevent a potential repeat Monday of violence seen in previous years."
---
Earthquake shakes Athens - Straits TImes
"A strong 5.4-magnitude earthquake shook the Greek capital Athens early on Tuesday, the United States Geological Survey (USGS) said on its website.

The quake was centred south-west of the town of Prokopion on Evia, some 120km north of Athens, and was felt in the capital just past midnight."
---
November 17, 2014
Draghi says Greece reaping rewards from its economic reforms - Fox Business
"European Central Bank President Mario Draghi said Monday that the bank stands ready to buy government bonds if inflation in the 18-country eurozone fails to rise as anticipated, a hint that helped shore up stock markets and put pressure on the euro.

Addressing lawmakers of the European Parliament on Monday, Draghi said the bank's governing council remains unanimous in its commitment to using additional unconventional instruments within its mandate.

...The ECB is tasked with ensuring price stability across the 18-country eurozone, which it defines as annual inflation of just below 2 percent. In the year to October, inflation stood at only 0.4 percent. Draghi said the bank continues to expect inflation will remain at current levels for a few more months but that it will start rising again next year.

Though the ECB has cut interest rates to record lows and backed the purchase of some types of private-sector bonds, it has refrained from following other central banks such as the U.S. Federal Reserve and the Bank of England in buying government bonds — so-called quantitative easing, or QE."
---
November 16, 2014
Greece upgrading maritime reconnaissance aircraft - Strategy Page
"The U.S. has agreed to upgradesix Greek P-3B maritime patrol aircraft to the current P-3C standard and refurbish components of the aircraft to extend their use for another 15,000 flight hours. All this will cost about $84 million per aircraft. Four of the P-3Bs are currently on active duty while the other two are in storage. The P-3Bs are over twenty years old and near the end of their useful lives, unless refurbished. Greece wanted to replace the P-3Bs with newer aircraft, but that would cost two to three times more than refurbishing the P-3Bs. Greece has to consider the cheaper option because it is still suffering from a banking crises caused by decades of getting by on borrowed (often illegally) money."
---
November 13, 2014
Greece, Cyprus and Israel Ministrial meetins coming - Famagusta
"Foreign Affairs of Greece Evangelos Venizelos has said that a trilateral meeting between Greece, Cyprus and Israel, at ministerial level first and later on at head of states` level, will take place the soonest possible in Athens."
---
Skeleton found in Alexander-era tomb - Yahoo News
"Archaeologists are holding their breath that a skeleton found in a mysterious, richly-decorated tomb from the time of Alexander the Great will solve the riddle of who ancient Greece's biggest burial mound was built for.

Having dug their way past huge decapitated sphinxes, broken through a wall guarded by two caryatids and emptied out an antechamber decorated with stunning mosaics, experts have finally found the body it was all built for, the Greek culture ministry said Wednesday.

The bones were found scattered around a wooden coffin in the third room of the vast mound near Amphipolis in northern Greece."
---
Greece warns Turkey of legal action over warship move - World Bulletin
"Evangelos Venizelos made the remarks at the Greek Parliament in Athens. He was referring to Turkey's recent move to send a warship to monitor a Greek Cypriot oil-and-gas exploration mission off the coast of Cyprus.

Turkey and the government of the Turkish Republic of Northern Cyprus have strongly opposed any unilateral move by the Greek-Cypriot administration to explore any hydrocarbon resources around the island, saying its natural resources should be exploited in a fair manner under a united Cyprus.

Venizelos said the political reaction from the Greek side might take form of a legal course."
---
Lignite: the dirty, dangerous job that powers Greece - Mashable
"It takes a lot to power a country — and though it's small, Greece is no exception.

Lignite is a soft, crumbly form of brown coal that has low carbon content, high water content and causes more pollution than black coal. Still, it accounts for more than 50% of Greece's electricity supply, and is mined primarily at the Lignite Center of Western Macedonia, the largest such facility in the Balkans. The center belongs to the second biggest public-power corporation in Europe, according to the European Pressphoto Agency."
---
November 11, 2014
Maniatis: Greece to Become a Pole of Stability in the Region - Greek Reporter
"...the Greek Minister underlined that the country is endowed with resources that can reduce its energy dependence from abroad. He also announced that the Hellenic Republic Asset Development Fund (HRADF) will immediately proceed with a tender for the creation of gas storage in the deposit of South Kavala, in Macedonia, Greece. "The storage will be one of three possible supply sources of the Greek-Baltic vertical pipeline, which, according to estimates from the Greek side, can be operational as of 2017, as it does not require major investments but only the linking of the existing networks of the region's countries," Maniatis explained, adding that the two other sources are the TAP pipeline and the floating LNG plants located in Northern Greece."
---
Greek military replacing armored vehicles - Janes.com
"By the end of 2014 the country will also receive 320 Oshkosh Heavy Expanded Mobility Tactical Truck (HEMTT) family of vehicles.

...All are being forwarded to the 301 Military Depot in Athens and the 308 Military Depot in Thessaloniki for inspection, minor repairs and repainting, before delivery to armoured and mechanised infantry units."
---
November 8, 2014
Egypt, Greece, Cyprus challenge Turkey- Economic Times
"Cypriot President Nicos Anastasiades said in Cairo that the three countries "discussed boosting cooperation in the field of energy, with the belief that the discovery of hydrocarbons in the eastern Mediterranean can contribute to supporting regional cooperation for stability and prosperity."

The meeting in Cairo between Anastasiades, Egyptian President Abdelfattah al-Sisi and Greek Prime Minister Antonis Samaras demonstrated deepening ties between the three states, who are challenging Turkey's efforts to chart gas deposits in areas of the east Mediterrean claimed by Cyprus."
Related:
Egypt, Greece, Cyprus condemn Turkey Violation - GreekReporter
Greece, Cyprus to represent Egypt's interests in EU - Egypt News Daily
---
Germany and Greece sign 'reconciliation' agreement - Euroactiv
"In an attempt to bridge cultural differences and break down national stereotypes among young people, Berlin and Athens have decided to establish a Greek-German Youth Institute. EurActiv Greece reports from Germany.

The "reconciliation" agreement was signed on 12 September between the ministries of education of Greece and Germany. It includes a variety of activities like internships, school and youth exchanges as well as visits to places where the Nazi atrocities took place.

According to sources, the Institute will be established as an international organisation and will cost approximately €6 million. It will be funded by both the Greek and German government. "
---
86-year-old Serb guards over WWI dead in Greece - Intelligencer
"...Some 7,500 Serbs are buried in Thessaloniki, where sections are also reserved for the French, Italians, British and Russians who died there. Mihailovic is caretaker only for the Serb area.

Serb visitors typically get a tour of the grounds and a shot of fiery plum brandy from Mihailovic, whose role over the decades has shifted from listener and collector of stories to guide and raconteur.

Many are eager to listen to Mihailovic's stories of how soldiers traversed freezing Greek mountain passes to bypass enemy artillery, or how a shattered army survived a typhoid outbreak when it reached Greece and was taken to the island of Corfu. Many Serbian visitors to the island still refuse to eat fish there, out of respect to the thousands of soldiers buried at sea.

Mihailovic, who has two daughters, knows that his family tradition will die with him, and is training a younger apprentice appointed by Belgrade."
---
November 5, 2014
Does Greece need more debt relief? - Reuters
"The euro zone is reconsidering whether Greece needs the additional debt relief it has been hoping for, because its economic reforms and improved prospects have changed the arithmetic, officials say.

Describing a rethink by some of Greece's partners, euro zone officials told Reuters that no decision would be taken until a new analysis of whether Athens can service its debts has been completed.

"It has not been decided, but it has not been ruled out, either," one euro zone official said.

A provisional offer of further debt relief was made two years ago, when the euro zone extended maturities and cut interest on its bailout loans."
---
An end to micro-management? - Economic Times India
"Greece expects an interim period of up to a year of limited EU/IMF supervision when it quits its bailout programme at the end of the year, without the current "micro-management" by lenders, the finance minister told Reuters on Wednesday.

The comments by Gikas Hardouvelis in his office overlooking Syntagma square were the first time Athens has spelled out its expectations for the post-bailout era starting next year, including the sensitive issue of foreign supervision.

Faced with snap elections if it loses a key presidential vote next year, the Greek government has staked its survival on exiting the austerity-laden bailout programme a year early."
Related: KARE video on "Greece ready to go it alone?"
---
November 4, 2014
Big 3rd quarter losses at Alpha Bank - NY Times
"...Earlier this year, Alpha, traditionally Greece's most conservatively run bank and the only Greek lender that fully passed the European Central Bank's recent stress tests, launched an early retirement scheme aimed at reducing its staff head count in Greece by a fifth...

After facing six years of recession, Greece's financial crisis and an unprecedented sovereign debt restructuring, Greek banks are struggling to nurse their balance sheets back to health. Alpha, along with Greece's three other big lenders— National Bank of Greece SA, Piraeus Bank SA, Eurobank Ergasias SA —are staggering under a mountain of bad loans that collectively add up to about €80 billion and make up roughly a third of banking system loans.

However, amid signs of a recovery in Greece's economy, the rate of new bad loans has been slowing and is expected to peak later this year or early next year. That, in turn, has allowed the banks to gradually reduce the level of provisions they have had to set aside. In the third quarter, Alpha reported impairment losses of €337 million, down from €348.5 million in the second quarter and down sharply from €490 million a year ago."
---
November 3, 2014
Greece eyes relief for mortgage holders - Salt Lake Tribune
"Dendias [development minister], who said the government was in talks with banks on the scheme, made the announcement after submitting legislation to parliament to provide debt relief for small businesses, which have been hard hit by austerity measures demanded by international rescue lenders.

Greece has already achieved a major restructuring deal for its privately-held sovereign debt and has been promised a further improvement in repayment terms for bailout loans.

But the conservative coalition government is anxious to provide some relief for ordinary Greeks as it faces the threat of an early general election in March.

"The model we are examining ... is for a 30 percent reduction on the value of purchase," Dendias said."
---
Greece will need more aid after IMF's current bailout - Spyghana
"Greece will need further financial support when its European bailout programme ends in December, an EU official predicted Monday, despite the unpopularity of the conditions attached to the international aid disbursed to date.

Greece"It seems as if a completely clean [bailout] exit is highly unlikely," the official said on condition of anonymity, referring to the possibility of the Greek bailout ending without strings attached.

Athens is keen on a clear end to the 240 billion euros (300 billion dollars) in rescue packages it has received since 2010, which have come with strict requirements that have led to unpopular tax hikes, salary reductions and pension cuts."
---
October 30, 2014
UNWTO Commends Greece on Record Tourist Arrivals - Greek Reporter
"The number of international visitors to Greece in the first half of 2014 grew by 17%, driven by the strong demand from key European outbound markets such as Germany and the United Kingdom. These figures are well above the growth registered in Southern European destinations (+7%), consolidate the very positive performance of 2013 and confirm the importance of the tourism sector as a stronghold of Greece´s economy. In 2013, international tourists in Greece reached 18 million (+16%) generating 16 billion USD (+13%)."
---
October 29, 2014
Greece increasing naval presence in the east Mediterranean - Fox News
"Evangelos Venizelos said Greece would be sending a navy frigate and submarine, denying it was in response to an ongoing Turkish survey mission in waters where Cyprus has already licensed companies to drill.

Cyprus has been split along ethnic lines since 1974, and Turkey only recognizes the breakaway Turkish Cypriot north where it maintains a strong military presence. The internationally-recognized government is in the Greek Cypriot south."
Related:
Greece, Egypt, Cyprus urge Turkey to quit gas search - Reuters/UK Daily Mail
---
October 28, 2014
Bank of Greece Sinks On EU Stress Test - Barrons
"The latest European bank stress test failed 24 banks, but the added visibility provided by the rigorous scrutiny is positive for the industry.

So says a team at Jefferies. Tell that to National Bank of Greece (NBG) shareholders. The stock is down nearly 7%, having made the list along with Piraeus Bank and Eurobank. Thing is, the test was based on 2013 data. Today, following €18 billion raised in 2014, and restructurings, the three Greek banks and two of three in Cyprus, had adequate reserves.

Shares of Bank of Greece are now down 45% year to date, and have lost 9% of their value just in October. "
---
October 27, 2014
Economic and Political Traps in Greece - NY Times
"The €240-billion- bailout agreement with our creditors (the troika of the European Commission, the European Central Bank and the International Monetary Fund) did not consider the political and social implications of forcing major change on people while putting them under severe economic pressure. Most citizens tried to keep up but were overwhelmed, and opposition parties, particularly marginal ones on the extreme left and right, benefited from this discontent. Meanwhile, the parties in government were unable to revoke their past behavior and push through all the necessary reforms.

Center-right New Democracy and center-left Pasok, in a coalition since elections in June 2012, have alternated in power for 40 years, and have shouldered the blame for past policies and also for the current, troika-mandated ones. With 155 seats in the 300-seat Parliament, the two have little room to maneuver between the demands of Greece's creditors and the political cost of further change.

Now they have to face their greatest challenge: President Karolos Papoulias's second five-year term ends in March and the Constitution demands that a president is elected by at least 180 members of Parliament. Failing this, national elections must be held. Opposition parties have said they will back no candidate proposed by the coalition. If the government cannot marshal enough votes from the Parliament's 23 independents, and get others to break ranks, elections will have to be held by March."
---
October 26, 2014
Greece's anti-bailout party leads conservatives in latest poll - Reuters
"Syriza, ahead by 8.5 percentage points, is deeply opposed to the international bailout that helped Athens avoid a debt default in return for tough measures to repair its finances and make its economy more competitive.

Samaras, looking to bolster his support at home, has said he wants to pull Greece out of its bailout program by the end of December -- a year ahead of schedule -- despite uncertainty about how the country where the euro zone debt crisis began would finance itself.

Parliamentary elections are not due until June 2016. However, a presidential vote in February or March could trigger early elections next year, because Samaras's coalition government does not have enough backing to push through its nominee for head of state."
---
Winners and losers in Europe's bank stress test - Money CNN
"Italy suffered the worst count: nine of the country's 21 banks examined failed the test. Italy is Europe's fourth-largest economy.

Greece and Cyprus, southern European countries that required international bailouts, were next. In each country, three of four banks examined did not pass muster.

Five of the Italian banks and one Greek bank have since covered their shortfalls."
---
October 25, 2014
Greece hit by heavy flooding - Yahoo News
"Greek authorities Saturday assessed the damage from severe flooding in the southern Attica region, which includes Athens, in the after-effects of a Caribbean hurricane.

...Firefighters received more than 850 calls, with cars blocked by rising water in the port city of Piraeus and in the northern Athens suburb of Ilion.

Around 300 cars were swept away in floodwaters after 14 centimetres (5.5 inches) of rain fell in some 90 minutes.

"It was like a sea raining down," Andreas Pachatouridis, the mayor of Peristeri, the seventh largest town in Greece, told state-run news agency ANA."
---
October 23, 2014
Sphinx head found in Amphipolis - IBN News
"Archaeologists excavating the tomb of Amphipolis in northern Greece have uncovered the head of one of the two sphinxes that guard the entrance to the site which dates back to the time of Alexander the Great.

The head was found in the third chamber of the tomb in a marble threshold at a depth of 15 cm, the Greek culture ministry said on Wednesday.

The piece is largely intact and only has a small fracture in the nose. It is marble, measures 60 cm and is from the eastern sphinx."
---
Greek surprise for Brussels in Euro elections - euronews
"The European Elections in Greece have marked a turning point in its relationship with Europe. Voters largely split themselves between eurosceptic parties: Syriza on the far-left and neo-Nazi Golden Dawn who won three seats. However, Alexis Tsipras' party got the lion's share of the vote.

...In light of the result Tsipras wasted no time in calling for general elections saying the outcome robbed the government of any "political or moral legitimacy" as euronews correspondent Nikoletta Kritikou in Athens explains:

"Syriza's supporters received the results of the European as well as the regional elections with great enthusiasm. They strongly believe that their victory will entail rapid political developments in the country."
---
Recycling Bank Funds sought - Bloomberg
"The Greek proposal would see a new financial tool combining unused funds from its existing program with the profits that euro-area central banks made on their Greek bonds portfolio, said the people, who asked not to be identified because they are not authorized to speak publicly on the matter. That would give Greek officials a backup plan should they struggle to sell bonds and also allow them to avoid the conditions tied to existing facilities.

The pitch epitomizes Prime Minister Antonis Samaras's balancing act as he tries to convince voters that Greece is regaining its economic independence while reassuring investors that Europe's most indebted state can still refinance its liabilities without the international lifeline which has kept it afloat since 2010.

The size of the envelope might reach 15 billion euros ($19.2 billion) through 2016, one of the people said. That figure includes about 11.5 billion euros of bank recapitalization funds and about 3.7 billion euros of profits that euro-area central banks made on Greek bonds and have committed to returning to Greece."
---
October 22, 2014
US investors must worry about Greece: strategist - CNBC
"Is a new Greek drama on tap for markets?

It was two years ago that a potential Greek exit from the Eurozone became the market's prime concern. But fresh concerns emanating out of Greece could once again have dire implications for global markets, Larry McDonald warns.

In February, 180 members of the 300-seat Greek parliament need to vote for the Greek president. If the support of these 180 members cannot be garnered, then a snap parliament election is held. This could lead to a victory for the Greek far left, which is opposed to European Union bailout measures. The political moves of a newly empowered left could thus lead to a Greek exit from the euro zone."
---
October 21, 2014
Syriza leading in latest polling - Reuters
"Greece's radical leftist Syriza party would beat Prime Minister Antonis Samaras' New Democracy party if an election were held now, but its lead has slipped, an opinion poll showed on Saturday.

Syriza is deeply opposed to an international bailout that has allowed Greece to avoid a debt default in return for a package of tough austerity measures and economic reform.

A Metron Analysis survey for Parapolitika newspaper said support for Syriza was running at 32.9 percent against 26.1 percent for New Democracy and 4.7 percent for the Socialist PASOK party, which is in Samaras' coalition government.

A previous Oct. 6-8 poll showed backing for Syriza at 34.1 percent, while New Democracy was at 26.2 percent."
---
Hardouvelis says no surprise in ECB stress test - Reuters
"Greek Finance Minister Gikas Hardouvelis said in an interview published on Saturday he did not expect the European Central Bank's health checks to show major surprises for Greek banks.

Violent swings on financial markets in the past week have deepened investors' anxiety about what Europe's review of the health of its banks will reveal later this month."
---
October 20, 2014
November target for free wi-fi across Greece - Argophilia
"For a country proclaimed to be so "down and out" of it all after the 2008 economic bomb hit, Greece has proved especially resilient when compared to many other nations. We know from our own experience with the Greek National Tourism Organisation (GNTO), instead of folding their arms and drowning beneath a staggering debt, the Greeks have swum back to the surface these recent months. But free national WiFi? Come on, it can't be true.

Apparently though, the words of Networks Minister Michalis Chrysochoidis back in March are about to come true in the form of some 4,000 first phase locations. Towns and sites across Greece will be empowered with connectivity, according to officials. Phase two will add countless other locations like hospitals, universities, public transport, and so on. There's even plans been WiFi connectivity added to more than 1500 buses and trolleys.

While some remain skeptical Samaras' promise will come true in time for the deadline next month, other evidence shows the PM's digital gift to locals and visitors to Greece is well underway."
---
DAVID EINHORN: Long Greece, Short France - Business Insider
"David Einhorn just finished presenting at the annual Robin Hood Investor Conference, and he recommended a Europe trade — long Greece, short France.

Einhorn recommended going long Greek banks, Alpha Bank and Piraeus Bank using warrants, our source says. "
---
October 18, 2014
Huge Stock Rally In Greece - Yahoo News
"Stocks in Greece staged a huge rally on Friday, gaining 7.5% to finish the week.

It was still an ugly week for the Greek stock market, as the Athens Stock Exchange fell 7.3% this week despite the huge rally on Friday.

Greek bank stocks gained 6.4% on Friday, but overall lost 7.8% this week."
---
October 17, 2014
Seeking Precautionary Credit Line - Wall Str Journal
"Greek financial markets rallied Friday, following a week of heavy selling pressure, with share prices closing 7.2% higher and Greek government bond yields down almost 100 basis points from a day earlier.

"Greece has explained that we don't need a new [loan agreement]. But a precautionary credit line, that would protect our country from possible turmoil in the markets, is a part of the negotiations," Mr. Samaras said.

Greece and its creditors agree the country should continue with its reform program, he added, and that talks were now focused on "the first transitional period" after the end of the current program.

Greece's coalition government—made up of Mr. Samaras's center-right New Democracy party and the socialist Pasok party—is aiming to leave the current bailout program at the end of the year, 18 months earlier than the rescue plan now calls for.

By doing so, the government hopes to scale back the degree of oversight now exercised over Greece by a troika of international inspectors."
---
Free Press in Greece faces extreme government opposition - Alaska Dispatch
"For months in 2012, everyone in Greece knew about the "Lagarde list," but few had actually seen it.

The list contained the names of 2,000-plus possible Greek tax evaders who held Swiss bank accounts, and was given by former French Finance Minister Christine Lagarde to her Greek counterparts in October 2010, during the worst of Greece's economic crisis.

But government officials claimed to have lost the list – first by misplacing the CD it was on, then by losing the USB drive they copied it to – and then dragged their heels for months.

Then, in the fall of 2012, Greek investigative journalist Kostas Vaxevanis got a copy of the list and published it in his magazine Hot Doc. He named politicians, their relevant family members, and business moguls. Suddenly, the government sprang into action. In less than 24 hours a warrant was issued and 50 police officers were deployed to arrest Mr. Vaxevanis, not the tax evaders.

... Without domestic laws to protect free press and free speech, journalists are left vulnerable and open to intimidation. As a result, the country has fallen steeply on the press-freedom index compiled by the watchdog group Reporters Without Borders, from 31st place in 2008 to 70th in 2010 and 99th this year.

"...Practically all of the country's major television and radio stations, newspapers, and magazines, as well as major web portals, belong to a handful of extremely wealthy and well-connected media and business moguls," says Michalis Nevradakis, a Ph.D. student at the University of Texas at Austin and expert on Greek media. "[They] use their media outlets to exert pressure on the government of the day and to present an almost completely one-sided [version of] their own political point of view."
---
October 16, 2014
New Immunity Laws Raise Questions on Will to Fight Corruption- NY Times
"...In a rare public complaint, the Association of Greek Judges and Prosecutors has also condemned not only the change to the penal code in the omnibus bill but also three other new immunity provisions.

One offered protections for officials who had handled disbursements from a pension fund. Another protected officials who had overseen school building expenses. The third prohibited prosecution of high-level officials who had been working in the Health Ministry but had received postgraduate study benefits.

In a statement, the prosecutors said they were seeing "law change after law change" often "inconsistent, incoherent and fragmentary," a trend that raised suspicions about whether the laws were meant to "serve purposes beyond the national interest."

...a wide range of experts and law enforcement officials in Greece agree that the retroactive immunity established by the passage of the omnibus bill still stands and remains problematic.

Despite repeated queries, the Justice Ministry offered no comment. Some experts say that without some of the new immunity provisions, Greece would be unable to attract top-flight officials.

"In order to get people — in many cases Greeks who have lived and worked elsewhere — to come here and take these jobs, you have to say that they will not be held responsible," said Nicos C. Alivizatos, an expert in constitutional law at the University of Athens. "These laws are not so much to cover scandal but to allow government to function."
---
October 15, 2014
Elgin Marbles debate at UN - Yahoo News
"After more than a century of fruitless lobbying, Greece is now pinning its hopes of reclaiming the 5th-century B.C. Parthenon Sculptures from Britain on a mediation effort backed by the U.N. cultural agency.

...The marble sculptures were removed to Britain — illegally, according to Greece — from the Parthenon temple on the Acropolis in the early 19th century.

The British Museum, where they are displayed, and the British government say the works are better off in London."
Related:
Alamuddin Clooney takes up case for return of Elgin Marbles to Greece - GMA
Amal Clooney Tackles Her Big New Case (Stylishly!) in Athens, Greece - People
Amal And George Clooney Make Greece's Case For The Elgin Marbles - Forbes Magazine
---
Market collapse hits Greek stocks - Norwich Bulletin
"The stock market is down over 9% on Wednesday, which is about as big as crashes come.

And the banks are getting absolutely smashed.

Greece, which had been calm for a while, is now being wracked by two separate but related things. One is the rise in the political popularity of left-winger Alexis Tsipras, the leader of the Syriza party, who if he ever got elected to power would take a much more confrontational stance with the rest of the eurozone with regards to austerity.

Meanwhile, a rift is growing between the current Greek government and the rest of the EU as Greece is keen to exit its bailout program. The EU is not so sure."
---
Greece sells 812.5 mln euros of 3-month T-bills, yield steady - Reuters
"Greece sold 812.5 million euros ($1.03 billion) of three-month treasury bills on Wednesday to roll over a maturing issue, the country's debt agency PDMA said.

The T-bills were priced to yield 1.70 percent..."
---
October 14, 2014
Greece: Rally in solidarity with Syrian Kurds in Kobane - Demotix
"Hundreds of protesters took to the streets of Thessaloniki, Greece' second largest city, in solidarity with Syrian Kurds in Kobane, the town that have been under attack by ISIS since mid-September."
---
European Commission: Indebtedness in Greece Stands at Same Levels - Greek Reporter
"According to the report, in the period from 2008 to 2013, double-digit increase in indebtedness occurred in Cyprus and Ireland, while in Spain, France, the Netherlands and Greece the increase exceeded 10 percentage points."
---
October 12, 2014
Roman wreck off Greece yields treasures - Herald Net
"Archaeologists armed with top-notch technology have scoured one of the richest shipwrecks of antiquity for overlooked treasures, recovering a scattering of artifacts amid indications that significant artworks may await discovery under the seabed. Lying 164 feet down a steep underwater slope off Antikythera Island, in southern Greece, the Roman commercial vessel's wreck was accidentally located by sponge divers more than a century ago. Using primitive suits and assisted by the Greek navy, they raised marble and bronze statues, luxury tableware and the so-called Antikythera Mechanism, an entrancingly complex clockwork computer that tracked the cycles of the Solar system and could predict eclipses to a precise hour on a specific day.

For years too deep for proper investigation, the wreck is now accessible through modern applied science.

Over the past three weeks, a U.S. and Greek-led team comprehensively mapped the seabed, despite being hampered by strong winds that only allowed archaeologists a single day's use of their star gadget — an Iron Man-like diving suit, likened to a wearable submarine, that can take its wearer more than 985 feet deep without the dangerous and time-consuming process of decompression.

The Greek Culture Ministry said Thursday that divers raised sample artifacts — a bronze spear probably belonged to a larger than life-sized statue, metal fittings from the 1st century B.C. wooden ship, a pottery flask that may have contained wine or oil and a metal leg from a bed."
Related:
Stunning New Discoveries at Site of Ancient Shipwreck off Greece's Antikythera Island - Weather Channel
---
Less haste, more focus - eKathimerini
"I recently spoke with an experienced politician who has a very clear picture of political developments in Greece. He raised a very interesting question: "I find it hard to understand," he said "why [Alexis] Tsipras is in such a hurry to become prime minister. Is he ignorant of what this would entail?"

I in turn asked the politician what he would do if he were in the opposition leader's shoes. "I would step forward after the European Parliament vote and tell the public that, although I have won this race, I will not block the election of the next president because I believe that elections must take place at the end of the four-year term or in the event that the government has lost its mandate," he said.

The politician then went on to remind me of the time when PASOK's George Papandreou shot himself in the foot in 2009 when he kept asking for snap elections...

Similarly, Tsipras and his senior aides in leftist SYRIZA simply refuse to consider any option that could be seen as distancing the party from the end-goal, which is to become government..."
---
October 11, 2014
Coalition wins confidence vote with own 155 MPs - eKathimerini
"The government breezed through a confidence vote that took place after midnight on Friday as it gained the support of its own MPs but no other members of Parliament.

The final results saw 155 MPs back the coalition, two lawmakers vote "present" and 131 deputies vote against the government.

....SYRIZA leader Alexis Tsipras insisted that the government would soon be removed from power as it would be unable to elect a president in February."
---
Greece poised to sell some of its F-16 fighters to Bulgaria - Focus
"Athens. Greece is in talks with the US and Bulgaria about selling some of its old F-16 fighter jets to Sofia and leasing new ones from Washington, Kathimerini understands, Greek eKathimerini writes.

NATO asked Bulgaria in February to update its air force's capability and the country's defense officials have approached Athens about the possibility of buying between six and eight Fighting Falcon planes, sources said. The issue was first discussed when the country's two defense ministers met in March. Athens has approached Washington with regard to this issue and has received a positive response."
Related:
Greece Requests P-3B Aircraft Overhaul and Upgrade - Indian Defence
---
October 10, 2014
Greece Seeks $508 Million by Securitizing Real Estate - Bloomberg
"The Greek fund charged with selling state assets will attempt to raise 400 million euros ($508 million) by securitizing real estate in a move designed to attract investment to the debt-stricken country.

The Hellenic Republic Asset Development Fund will sell shares in a company with about 300 properties ranging from retail, office and tourism-related real estate including land for development, Andreas Taprantzis, the fund's executive director, said in an Oct. 8 interview in his Athens office. The company will then sell debt backed by the properties.

"This transaction is important for investment in Greece and for society, not just because of the immediate returns it will generate, but this will bring multiple sums of money into the real economy of Greece," Taprantzis said.

The privatization fund is tapping into renewed investor demand for Greek assets as the country emerges from a six-year economic crisis, which enabled it to return to bond markets in April after a four-year exile. The fund has completed 1.9 billion euros of real estate transactions over the last year."
---
Elstat revises 2013 GDP - down -3.3 - Reuters
"Greece revised data on last year's gross domestic product on Friday, showing its economy shrank by 3.3 percent for the year as a whole, less than a previous estimate of a 3.9 percent contraction."
Recent Statistics [Sept 2014]
| | | |
| --- | --- | --- |
| ELSTAT | Period | Rate |
| Consumer price index | Sep 13/Sep 12 | -0.8 |
| Harmonized Index Consumer Prices | Sep 13/Sep 12 | -1.1 |
| Gross Domestic Product (GDP) | Q2 2014 | -0.3% |
| Unemployment rate* | Q2 2014 | 26.6% |
| Industrial Production (non-construction) | Aug 13 / Aug 12 | -5.7% |
| Turnover Retail Trade | July 13 /July 12 | 1.5 |
| Producer Price Index Industry | Aug13/Aug12 | -0.6% |
| Building (volume) | June 13 / Jun 12 | 39.9% |
| Population count 2001 | 10,815,197 | |
| (2008 Eurostat Estimate Population) | 11,262,000 | |
| Registered Population 2011 | 9.903.268 | |
| Main Employment | 10.815.286 | |
---
Lagarde wants Greece to keep credit line - Greek Reporter
"Speaking at an annual IMF event in Washington, Lagarde acknowledged the desire of Greek officials for an early exit from its loan program with the European Commission, European Central Bank and IMF. But she indicated that the country would still require help to see the crisis through. "In order to deliver a continuous satisfactory outcome, the country would be, in our view, in a better position if it had precautionary support," she said. "So we are talking about evolution in the relationship. But we believe that the relationship can still be extremely helpful for the country to move on."

Her comments came a week after ECB President Mario Draghi said Greece must stay in some form of support program if Greek banks' asset-backed securities are to be eligible for the ECB's ABS program.

Lagarde's comments came immediately in the wake of Samaras' claims that Greece can cover its funding needs by tapping bond markets.

...The European arm of Greece's loan program ends in December. But the IMF's part is set to continue until the spring of 2016, with some 15 billion euros remaining to be disbursed."
Related:
IMF chief says Greece should keep credit line - Neokosmos
---
Greece's recovery continues to stutter as industrial production falls - Forex TV
"Greece's industrial production fell 5.7% y/y in August following a 2.1% drop in July. It had managed to stick its nose into positive territory a couple of times this year but is back on the slide."
---
Greece rattles investors' nerves in quest for bailout exit - CNBC
"Greece's prime minister is braced for a confidence vote on Friday to force lawmakers to back his plans to exit an international bailout program early.

Antonis Samaras' government is hoping to win today's vote and thus dispel investors' fears of political instability in the country. Samaras' government has been plagued by the prospect of snap elections early next year if the prime minister fails to gain the support of opposition lawmakers for his candidate for president in elections early next year. A promise to exit the painful program early could be key in securing that backing.

A potential early exit from the bailout program -- which imposed tough austerity measures on the country -- has already rattled investors' nerves however.

Greek bond yields rose to a six-month high this week ahead of Friday's confidence vote in parliament. The yield on 10-year paper currently stands at around 6.6 percent.

Greece is hoping to be able to meet its funding needs through the debt markets, rather than call on the Troika of lenders – the European Commission, European Central Bank (ECB) and International Monetary Fund (IMF)."
---
Top Ten Destinations of Greece - Go Greece
Their Top Five:
Athens - The Acropolis
Athens - The National Archaeological Museum
Near Athens - Temple of Poseidon at Cape Sounion
Island of Santorini
Island of Mykonos
---
October 9, 2014
Greek lawmakers launch confidence debate, vote expected on Friday - eKathimerini
"Between his conservative New Democracy and Socialist PASOK junior partner, Samaras has the backing of 154 deputies in the 300-seat parliament and should win the vote without trouble, buying him time ahead of the presidential vote in February.

It should also allow his government to present a cohesive front as it tries to negotiate the early bailout exit with EU/IMF lenders, a move Samaras hopes will help him lure independent and opposition lawmakers to his side in the presidential vote.

But that has failed to reassure investors, who have taken fright at the prospect of a prolonged period of political paralysis as Greece could be forced to hold an early general election if gridlock in parliament means lawmakers are unable to elect a president.

Deputy Prime Minister Evangelos Venizelos warned political uncertainty was undermining the Greek economy as it begins to emerge from its worst economic slump in decades.

"Five years of efforts, five years of hard sacrifices, could be destroyed in five days," Venizelos said in a speech on Tuesday, referring to the February presidential vote.

"Five days are enough to take us back to 2009: budget deficits, no future, the collapse of competitiveness."
---
October 3, 2014
Staying w/ 2015 budget surplus target – ministry official - Reuters
"What's being reported in the media that the primary surplus target will be much lower than 3 percent is not true," the official said.

The target is one of several agreed with the European Union and International Monetary Fund as part of the country's 240-billion-euro aid package. Greek media have reported Athens could cut it to about 2.3 percent to give the government the leeway to introduce steeper tax cuts.

Athens has been trying to convince its EU/IMF lenders to move away from austerity measures and focus on efforts to revive the economy and preserve fragile political stability in a nation struggling through a six-year austerity-fuelled recession.

Greece will submit its 2015 budget to parliament on Monday amid a review by the "troika" of inspectors from the EU and IMF lenders who are in Athens for what is expected to be their last review under the bailout."
---
Officials Say They Uncovered a Terrorist Plot - NY Times
"Greek authorities said Thursday that they had thwarted a terrorist attack planned for Saturday, possibly against political or business targets.

...suspect had a notebook identifying several possible targets, including the headquarters of New Democracy, the conservative party that leads Greece's fragile coalition government, as well as the names of shipowners, a leading businessman and the chairman of a soccer club, said Police Chief Dimitris Tsaknakis."
---
700-million-euro plan which will aim to create 10,000 new job placements - Ansamed
"The Greek Minister of Environment, Energy and Climate Change Yannis Maniatis has announced a 700-million-euro plan which will aim to create 10,000 new job placements in waste management over the next six years..."
---
October 1, 2014
Samaras Calls Confidence Vote - Bloomberg
"The move was preemptive because the government expected the opposition to file a no-confidence motion next week, a senior government official said today by phone. It was also designed to demonstrate that the coalition has no plans to call a snap election before the president's term expires in March, the official said on condition of anonymity in line with policy.

"Polls show that support for the government is weakening and public opinion wants elections," John Loulis, an Athens-based political analyst and communications strategist, said by phone today. "The move to ask for a confidence vote is an attempt to cluster support from its lawmakers and show that it still commands power."
More at:
AP News : Greece's govt to call confidence vote

Fox News: Greece's troubled coalition government to call confidence vote
---
Sept 29, 2014
Who's Buried In The 'Magnificent' Tomb From Ancient Greece? - NPR
"Early last month, on a hill outside a tiny, windy village of almond and tobacco farmers in northeastern Greece, veteran archaeologist Katerina Peristeri announced that she and her team had discovered what is believed to be the biggest tomb in Greece.

The "massive, magnificent tomb," Peristeri told reporters, is likely connected to the ancient Greek kingdom of Macedonia, which, in the fourth century B.C. produced Alexander the Great.

Speculation over who is buried in the tomb has drawn a steady stream of visitors to nearby Mesolakkia, where the village's president — Athanassios Zounatzis, a silver-haired, retired tobacco farmer — now doubles as a tour guide.

"....Modern Greeks are very insular, inward looking and extremely traumatized by the financial crisis," she says. "I think they will feel really cheated if it's not Greek."

Peristeri, the lead archaeologist in Amphipolis, insists that the site is Greek, beyond a doubt.

That's also the sentiment back at Mesolakkia, where the townspeople remember a Greek archaeologist named Dimitris Lazaridis, who first discovered the Amphipolis mound in the 1950s but ran out of money to excavate it. Lazaridis said he also suspected that the tomb contained a major Macedonian tomb."
---
Sept 28, 2014
Fearing political crisis, Greece plots escape from bailout - Reuters
"In Berlin earlier this week, Samaras for the first time publicly acknowledged that Athens hoped to wean itself off a 240-billion-euro ($305-billion) EU/IMF aid package a year before its scheduled end in early 2016.

He offered no details, but Athens is calculating that declaring an end to the reviled bailout could be just the political game-changer it needs, with the end of bailout funding from the European Union in December offering a logical moment to seal the exit of the International Monetary Fund as well.

"It makes political sense, completely 100 percent," a source familiar with the discussions said. "The IMF is not pushing to leave, the government is pushing for it." Pulling this off, however, will almost certainly require Athens to notch up rapid-fire successes on several fronts - a swift end to its current bailout review, securing debt relief and the backing of European partners for going it alone."
---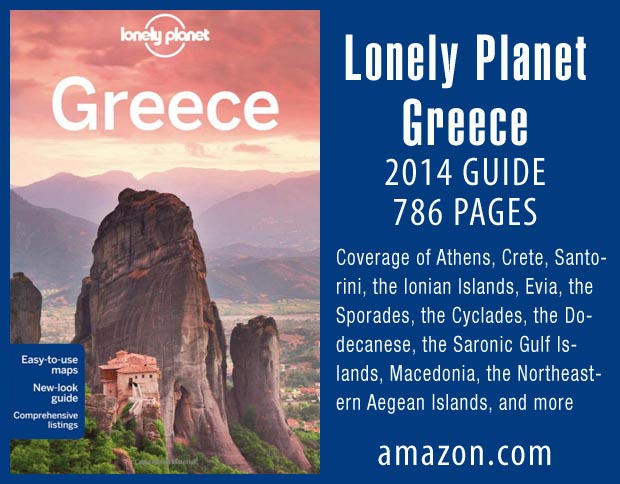 ---
Sept 27, 2014
Bad debt blocking recovery? - Bloomberg
"...Non-performing loans at Greece's banks have reached almost 80 billion euros, according to the country's Growth and Competitiveness Minister Nikolaos Dendias. To top that, Greek households and corporations had overdue taxes of 69.2 billion euros in August, data from the public revenue secretariat show. Also, "collectible" social arrears to pension funds exceed 14.5 billion euros, according to labor ministry figures.

"Some of this debt can never be recovered and should be written off," said Panos Tsakloglou, a professor at the Athens University of Economics and Business who was Greece's representative in the working group of senior euro-area finance ministry officials until June.

...The Greek government may need to address the country's private-debt crisis before it can convince its external lenders to give it additional relief measures.

The government is seeking an early bailout exit after the end of the next compliance review by the troika -- the International Monetary Fund, the European Commission and the European Central Bank. It also wants to ask for a further easing of repayment terms on the emergency loans it received from the euro-area crisis fund.

Before getting there, however, it needs to convince the bodies that it is complying with commitments -- one of them being effectively dealing with bad private debt."
---
Sept 24, 2014
Greece Merits Austerity Break, Samaras Tells Merkel - WSJ
"...Ms. Merkel seconded that view. "I am very pleased that there are quite positive signs coming from Greece," Ms. Merkel said. The "first tender shoots" of Greece's economic success are visible, she said.

Greece has secured two international bailouts totaling around €240 billion ($310 billion) from the so-called troika of international lenders. The troika, consisting of the European Commission, the European Central Bank and the International Monetary Fund, has insisted that Greece fix its finances and restructure its economy in exchange for emergency financing.

Greece needs some breathing space to ensure the economic recovery proves durable, Mr. Samaras said.

"If we generate a growth climate, we can achieve much more," he said. "That is why we need some breathing time to be able to support reforms differently."
---
Sept 18, 2014
Greece Third Country to Criminalize Denial of Armenian Genocide - Armenian Weekly
"While Turkey was pressuring the French president not to support a bill criminalizing denial of the Armenian Genocide, it had to cope with Greece, yet another country that just adopted a law making it illegal to deny genocides, including the Armenian Genocide. Greece is the third European country, after Slovakia and Switzerland, to pass such a law. The Swiss law, however, is under review by the European Court of Human Rights (ECHR) for violating a Turkish defendant's freedom of speech.

The French Parliament (2011) and Senate (2012) adopted a similar law to punish genocide denial that was overturned by the French Constitutional Council. To replace the failed law, French Deputy Valerie Boyer submitted a new bill to the parliament last week. President Francois Hollande has also pledged to back the criminalization of Armenian Genocide denial.

Despite legal uncertainties regarding such laws in Europe, the Greek Parliament on Sept. 9 adopted by a vote of 54 to 42 an anti-hate crime law—"Combating Discrimination, Xenophobia, and Racism"—making it illegal to deny the Jewish Holocaust and genocides recognized by international courts or by the Greek Parliament..."
---
Greece may not participate in Eurovision 2015 - GB Times
"Time may be running out for the Greek public broadcaster NERIT to persuade the European Broadcasting Union - the producers of the Eurovision Song Contest - of its eligibility for EBU membership.

The formal deadline for each country to confirm participation expired on September 15. NERIT's officials state they sent their application in on time but the EBU says Greece's application cannot be taken into consideration before its public broadcaster is officially an EBU member.

It is worth noting that NERIT has been Greece's new public broadcaster since the summer of 2013, when after an abrupt governmental decision the former broadcaster ERT was shut down sparking worldwide attention."
---
Athens wins 5th in innovative cities contest - Post Journal
"Barcelona, Spain, has captured the 5 million euro ($6.5 million) grand prize in a competition that spurs cities to develop novel approaches to improve urban life.

The Mayors Challenge is run by former New York City Mayor Michael Bloomberg's foundation, Bloomberg Philanthropies.

Four other cities won 1 million euros ($1.3 million) each: the metropolitan area of Kirklees, England; Stockholm; Warsaw, Poland; and Athens, Greece."
---
Turkey supports Macedonia's bid to join NATO - Zeenews
"Turkey supports Macedonia for NATO membership and will continue to do so. We also support Macedonia for EU membership. We hope that one day we will be in the European Union together," Davutoglu made the remarks at a joint press conference with visiting Macedonian Prime Minister Nikola Gruevski in the Turkish capital of Ankara.

...Greece is opposed to the use of the name Macedonia by its northern neighbour, saying that it implies territorial claims to Greece's northern province of the same name.

As a result, Greece is blocking Macedonia's bid to join NATO and the EU, saying that Macedonia can be a member only if a solution to the name dispute is reached.

In November 2008, Macedonia brought Greece to the International Court of Justice(ICJ) accusing Athens of violating a 1995 agreement by thwarting Macedonia's efforts to join NATO at a summit of the alliance in April 2008."
---
Sept 17, 2014
Greece gets three bids in mobile phone spectrum sale
"Greece's biggest telecoms operator OTE, Vodafone and Wind Hellas submitted offers to buy mobile radio frequency rights within the 800 and 2,600 MHz band, telecoms regulator EETT said in a statement. The deadline for offers expired on Monday.

The auction is part of Greece's 22 billion euro ($28 billion) privatisation plan agreed with its international lenders, the EU and the IMF, under a 240 billion euro bailout."
---
Sept 13, 2014
Greece will not need third bailout, PM Samaras tells paper - Reuters
"After nearly crashing out of the euro zone two years ago, Greece has managed to bring its finances back on track and post a budget surplus before interest payments last year.

Athens has relied on a 240 billion euro EU/IMF financing package since the second half of 2010 to stay afloat. Bailout funding from its euro zone partners ends in December while IMF aid will run out in the first quarter of 2016.

"Greece does not need new loans and could not sign a new bailout for money it does not need," Samaras told the paper in an interview.

"We are exiting the bailout for good, and our goal is to never again need to go into such a (bailout) programme, asking for loans to make it through the year."
---
Lagarde: Talking About Greece and its Taxes Got me Death Threats - Greek Reporter
"Lagarde only commented on taxation in Greece and raised the burning issue of tax evasion. When asked about past comments regarding tax evasion by the wealthy Greeks, she said: "I better not say too much because, you know, when I have talked about Greece and its taxes before, I got death threats and we had to increase security," adding, "but is the shipping industry really paying its taxes? Are others? I don't think so."
---
Sept 11, 2014
Five-year bonds set at about 1 billion euros - Business Recorder
"T-bill holders of the above maturities [T-bills maturing between Sept.19 2014 to March 6, 2015] can also exchange the short-term paper for five-year bonds due in 2019 at exchange ratios of 95.805554 to 95.297785 percent. The offer starts at 0600 London time (0500 GMT) on Thursday and expires at 1700 (1600 GMT). Alpha Bank, Eurobank, National Bank and Piraeus Bank are the dealer managers. Settlement is expected on Sept. 16. "
---
Unemployment drops to 27 percent in June - Reuters
"At more than double the euro zone average of 11.5 percent in July, Greece's unemployment rate remains near record highs despite signs of recovery in the economy, which is expected to emerge from recession and expand by 0.6 percent this year."
---
Greek Intelligence services tracking Jihadists moving through Greece - Los Angeles Times
"Greece's National Intelligence Service said Tuesday that it was at "a heightened state of vigilance" for suspected militants, keeping close tabs on radical Muslims, and had detected at least six foreign fighters with the terrorist group Islamic State transiting through the country in recent months.

The surveillance operation comes amid concern that the militant group, formerly known as Islamic State of Iraq and Syria, or ISIS, will retaliate for increased U.S airstrikes in Iraq and possible strikes in Syria.

About 300 Albanian fighters have joined Islamic State and the militant group Al Nusra Front, which is also fighting in Syria, according to the International Center for the Study of Radicalization and Political Violence, a think tank based at London's King College. Forty of them were arrested and tried last month in Kosovo, among the poorest states in the Balkans.

"More than half of them were released because they had no idea what they were getting into," said Jeta Xharra, director of the Balkan Investigative Reporting Network in Pristina, the capital of Kosovo. "Many new recruits do not know either. They are just replying to Internet ads that are pouring in from Turkey, promising money in exchange for a year of adventure, like a gap year after college."
---
More Than 80 Jihadists are Believed to Be in Greece - Greek Reporter
"Greek authorities are in constant contact with intelligence agencies in the US, France and the UK, as it is estimated that there are about 80-100 jihadists in the country, who either live or currently visiting Greece in order to go to Syria. Some are under police surveillance, while European countries inform Greece about Syrians and Iraqis living in the country who have family or friendly relations with jihadists who live mainly in Britain and France. Until today, three jihadist extremists of French nationality have been arrested.

According to The Los Angeles Times, the surveillance operation comes amidst concerns that ISIS will retaliate for increased US airstrikes in Iraq and possible strikes in Syria.

"...The threat level originating from Greece is very low because there are no verified indications of either dormant or active ISIS cells or splinter groups within the country," a senior intelligence official said. "We are, however, at a heightened state of vigilance now, exchanging intelligence from the United States, Britain, France and others," the LA Times report said.

...In recent months, Greek intelligence has detected six ISIS recruits traveling through the country, including a 23-year-old French national carrying a memory stick with instructions for making bombs.

"...Since the start of the year, Greece has deported more than 300 Syrians and Iraqis suspected of terrorism-related activities. What's more, with Greece neighboring Albania, the biggest source of Islamic State recruits in the Balkans, investigators warn that the passage of militants through this country could increase," the LA Times report said."
---
New Law Bans Holocaust Denial in Greece - The Table
"While Western Europe has claimed much of our attention this summer for its overt displays of anti-Semitism (see: Paris; Berlin; London), Greece's small but historic Jewish community is witnessing the legitimization of the Golden Dawn party, whose leaders routinely use Nazi imagery and deny the Holocaust. (One member of the group, a Greek doctor, was arrested in March for posting a 'Jews Not Welcome' sign outside his practice.)

While the neo-Nazi group's political ascent in modern-day Greece is a frightening prospect, outlawing hate speech is itself a controversial legal practice. Still, according to JTA, the local Jewish community has been pressuring lawmakers to take legislation action on their behalf for a while now. The ban on Holocaust denial, it appears, is for them a step in the right direction."
---
Sept 9, 2014
Half of businesses evading taxes - eKathimerini
"The Finance Ministry's force inspected 2,639 businesses across Greece in the six-month period, finding more than 390,000 tax code violations at 1,872 of them, or 54 percent. "
Ethnos.gr page on the same story
---
Greece to privatise 14 regional airports - Sofia Globe
"The management of 14 regional airports throughout Greece is set to be sold to private investors in the next two months, according to the Hellenic Republic Asset Development Fund (HRADF) schedule."
---
Can Greece be rescued? - The Commentator
"With vast levels of unemployment and a slump in the size of the economy of over a quarter since 2008, Greece looks in dire shape

...The minor problem is that there hasn't been nearly enough structural reform of the welfare state in Greece. For long-run fiscal recovery, it's very important to save money by reducing handouts that create dependency, while also shrinking the country's bloated bureaucracy. By comparison, it's less important (or perhaps even harmful) to save money by letting physical infrastructure deteriorate.

The major problem is that controlling government spending is just one piece of the puzzle. There are five major factors that determine economic performance, with experts assigning equal importance to fiscal policy, trade policy, regulatory policy, monetary policy, and rule of law."
---
Sept 8, 2015
Survivors of 1999 Earthquake Still Living in Prefab Homes - Greek Reporter
"Fifteen years ago, a 5.9 magnitude earthquake shook the Parnitha region in Attica, Greece. It was one of the largest and deadliest earthquakes to hit Greece in the last 50 years.

...fifteen years later, Greek newspaper "Ta Nea" reports that some of these people are still living in those prefabricated camps. Most of them are unemployed or do not have enough money to rent a proper home. They are forced to live in 23-square-meter iso-boxes with no electricity or running water."
---
Sept 7, 2014
Samaras announces tax cut plan - Reuters
"Samaras, whose conservative party trails the anti-austerity, radical leftist Syriza party in opinion polls, said a heating oil consumption tax would be cut by 30 percent and a "solidarity tax" would also be reduced.

...Greek officials brought up the issue of tax relief at talks in Paris this week with the lenders to review the progress of the bailout, but there was no confirmation that they had agreed to the package. Samaras said details of the tax cuts would be presented in the draft budget when it is announced in October.

He also said he was working on a taxation "road map", in which the top rate of income tax would be cut in stages to 32 percent from 42 percent and the corporate tax rate reduced to 15 percent from 26 percent. A deeply unpopular property tax would also be reduced, he said, without providing any details."
---
New sculpture discoveries at Amphipolis site - Fox News
"Archaeologists excavating a burial mound in northern Greece have found two marble sculptures of female figures and a large, colored marble panel in what appears to be the antechamber of the main room.

...The 60-centimeter (2-foot) female figurines are on a wall leading to the yet unexplored main room. The marble panel, 4.2 meters (14 feet) long by 1 meter (3.3 feet) wide, is carved with geometric shapes and painted dark red and yellow. It is located up a wall in the 6.5-meter (21.3-feet) high antechamber."
---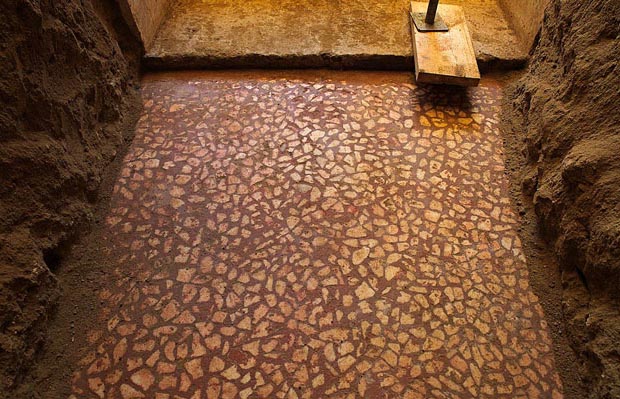 Mosaic from Amphipolis - Softpedia
"There's a lot of commotion going on at an archaeological site in Greece these days. Thus, researchers are busy excavating an Alexander the Great-era tomb, and are unearthing stunning artworks every day.

The tomb in question is located in Amphipolis, a municipality in Greece's Serres regional unit. It is encircled by a massive 1,600-foot (500-meter) wall made of marble, and has not yet been explored in its entirety.

Information shared with the public says that the entrance to this ancient tomb is guarded by two lion sculptures. This opening leads to an antechamber, which in turn guides visitors to the actual tomb, Live Science informs.

It is in this antechamber that archaeologists found a stunning mosaic that, like the tomb, dates back to the 4th century BC. The mosaic covers the antechamber's floor, and researchers say that, given its age, it is in excellent condition.

A photo of this mosaic was released to the press by the Greek Ministry of Culture, and is available next to this article. As easily noticeable, the mosaic comprises bits and pieces of white marble fitted onto a red background."
---
Sept 5, 2014
Greece 'danger zone' from rush of Syrian, Iraqi refugees - Reuters
"A surge in people fleeing violence in Africa and the Middle East has increased the pressure on the euro zone's most indebted country, a major gateway into the EU for migrants who attempt risky boat crossings through porous sea borders.

The latest influx was driven mainly by wars in Syria, the Gaza Strip, Libya and northern Iraq, Shipping and Maritime Minister Miltiadis Varvitsiotis told reporters.

"We are facing a great challenge," Varvitsiotis said, adding that there was a pool of more than two million migrants - half of whom are Syrian and other migrants now in neighboring Turkey - who could attempt to enter the EU via Greece."
NeoKosmos - Greece seeking additional funds for border-refugee management
---
Is 2014 the year Greece begins to grow again? - CNBC
"After six years of crippling recession, Greek officials are hopeful that the country's economy will grow in 2014—despite continuing sky-high unemployment and falling prices.

"I feel quite comfortable overall about the prospects of the Greek economy. We've succeeded after about six years to establish positive growth," Kyriakos Mitsotakis, the Greek Minister of Administrative Reform, told CNBC on Thursday.

Greece was first hit hard by the global financial crisis in 2008 and then ran into trouble paying down its debt in 2010. The country was bailed out by the rest of Europe and the International Monetary Fund, but hopes to graduate from its loan program in 2016 without further assistance—just as Ireland and Portugal did this year."
---
Debt talks coming end of September - Yahoo News
"Representatives from Greece and the "troika" of the European Central Bank, European Commission and International Monetary Fund had thrashed out sensitive details over three days of talks in Paris that Greek officials had hailed as "positive".

...The representative of the European Commission, Declan Costello, said the three days of talks had led to "a greater understanding of the most significant problems."

"We are preparing the next discussions scheduled for later in the month," he said.
---
Sept 3, 2015
Greece to issue new seven-year bond this year - UK Daily Mail
"Greece will issue a new seven-year bond by the end of the year, a government official said on Wednesday, as the aid-dependent nation seeks to capitalise on two successful forays into the bond market this year on the back of a recovering economy. It also plans to exchange three- and six-month Treasury bills with new 18- and 24-month T-bill issues by the end of the year to stretch out the repayment period, the official said.

Athens has a stock of about 15 billion euros of outstanding T-bills and refinances them on a monthly basis."
---
Parliament drafting new anti-racism laws - IFEX org
"Parliamentary review of a draft anti-racism law in Greece, which began in November 2013, has resumed following a nine-month interruption and is expected to be debated in parliament's recess section on September 2 and 5, 2014. Members of parliament should amend the draft to include measures to combat racist violence and protect free speech, Human Rights Watch said today.

The current version of the bill, if approved, would toughen criminal sanctions for incitement to hatred, discrimination, and violence. It would also criminalize denial of genocide, war crimes, and crimes against humanity."
---
Sept 2, 2014
Greece sells six-month treasury bills worth 1.1 bln euros - Hispanic Business
"Greece sold 1.1 billion euro (1.44 billion U.S dollars) worth of six-month treasury bills on Tuesday as part of its regular monthly treasury bills auction program, the Public Debt Management Agency (PDMA) said.

According to the announcement, the treasury bills were priced to yield 2 percent, marginally lower than a 2.02 percent achieved in the previous similar sale in August."
---
Byzantine Church of the Holy Apostles
---
---
Greece is 'intermediate'
Greece, said Artistotle, is geographically intermediate, between Europe, apparently incapable of civilisation, and south-west Asia, where where only the King of Persia was fully a free man; and the Mean, or medium, to him was the best. Modern geologists add that the Aegean basin is a slab of the earth's crust which has sunk and tipped, leaving only a rim (the Greek peninsula and Crete) and mountain tops (the other islands) above sea-level.
Greece can therefore support a population, on its small though fertile plains, only much smaller than that of the adjacent slab of Asia Minor; a fact which affects the whole of Greek history. Greater wealth must be found overseas, by trade of colonization; and when adjacent powers in Italy or Asia are strong, Greece is threatened. Persia attempted conquest; Rome, the Franks and Turkey achieved it.
On the other hand, Greece enjoys, with its variety of scenery, clear air and summer heat tempered by north winds, an intensely stimulating environment; and when free, three times it has produced great art: the bronze-age Minoan-Mycenaean, the Classical and the Byzantine; all completely different, all unique."
From The Living Past of Greece: A Time-traveller's tour of historic and prehistoric places, by A. R. and Mary Burn. Published by Little, Brown and Company. 1980. Quote from page 9.
---
See the main archive index of all collected news articles and pages on Athens Greece Now.