Greece and the economic crisis
April 26, 2015
Varoufakis hints at strained EU relations: 'I welcome their hatred' - UK Guardian
"The gulf between Greece and its creditors widened yet further on Sunday with the crisis-hit country's finance minister brazenly tweeting that he has become a target of hate.

The intervention appeared to confirm reports that Varoufakis had received an excoriating dressing-down from exasperated eurozone counterparts in Riga on Friday. One participant felt fit to describe the celebrity finance minister as "a time-waster, a gambler and an amateur".

The increasingly ugly game of brinkmanship intensified as the Greek prime minister, Alexis Tsipras's, radical-left Syriza coalition – elected on a pledge to end the painful cuts enforced on Athens in return for aid – warned of the risk of default if creditors continued to "asphyxiate" Greece by starving it of liquidity.

...While the vast majority of Greeks agree that austerity is self-defeating, there is a growing sense that the gridlock in talks is also counter-productive. Tensions with lenders have spurred a mini-run on Greek banks, with the real economy coming to a standstill. A Kapa research poll published in the Sunday Vima newspaper showed that 72 per cent wanted the country to strike a deal with creditors, versus 23 per cent who were in favour of a clash."
---
If Greece goes down, no one wants their prints on the murder weapon - Business Insider
"Euro zone governments are preparing the ground to blame the novice government of Prime Minister Alexis Tsipras for having blustered, obstructed, failed to meet commitments and evaded hard choices while Athens burned.

"We are doing everything we can to save Greece from itself, but in the end, it's up to them," is the message pouring out of Berlin, Brussels and IMF headquarters in Washington.

Tsipras and outspoken Finance Minister Yanis Varoufakis tried at first to mount a coalition against Berlin, touring France, Italy, Britain, Brussels and media studios after their election. They found no allies outside the media.

Tsipras revived demands for reparations for the Nazi German occupation of Greece in 1941-44, which his government put at 279 billion euros ($303.5 billion) — more than its 240 billion euro bailout from the euro zone and the International Monetary Fund.

Berlin responded that it had already compensated victims and a 1990 agreement with the four victorious World War Two powers on German unification had put an end to war claims."
---
Greece Boils Over - Investing
"The inevitable in Greece gets closer and closer. Looking back, I wonder how many rabbits in the hat there were. More importantly, how many still remain?

I believe the answer to the latter question is zero. "
---
April 25, 2015
Greece Urged to Present Overhaul Plans - WSJ
"At Friday's meeting, the last before a tentative, end-of-April deadline to agree on the planned overhauls, several finance ministers expressed frustration with the lack of progress.

"I am already quite annoyed with this issue," said Austrian Finance Minister Hans Jörg Schelling, when he arrived for Friday's meeting. "We're getting explanations on how the world works, but we like talking about figures and facts," he said after the discussion.

"The atmosphere was intense," Greek Finance Minister Yanis Varoufakis said, describing his meeting with the other ministers.

Greece's Mr. Varoufakis, who participated in Friday's meeting, rejected his colleagues' complaints. "We look at the last few weeks and what we see is convergence," he said, pointing to narrowing differences of opinion on privatizations and an independent commissioner to oversee tax collection.

Mr. Varoufakis also ruled out the possibility of not reaching a deal with Greece's creditors—a situation that could herald the country's exit from the eurozone. "We have no right not to achieve this agreement," he said, later adding that "it is clear that the cost of a nonsolution would be huge to everyone."
---
EU frustration over Greece boils over at eurogroup meeting - Financial Times
"The antagonism between Mr Varoufakis and other ministers became so severe during the eurogroup session that Slovenia's finance minister suggested if bailout talks did not progress more quickly the eurozone should prepare a "Plan B" to deal with a Greek default.

According to three eurozone officials, other ministers from smaller, vulnerable economies expressed similar sentiments. The comments prompted a sharp rebuke from Mr Varoufakis, who accused his Slovenian counterpart of being "undignified" for raising the scenario and suggested the remarks were "profoundly anti-European"."
---
April 24, 2015
Blame Germany for Greece's uphill euro zone struggle - UK Globe and Mail
" ...Given Greece's increasingly dire financial state, you would presume that the game has finally ended. It seems inevitable that Greece will default, crash out of the euro zone, reprint the drachma and, after a suitable period of economic mayhem, pull its act together, as Argentina did after it defaulted more than a decade ago.

Forget it. Greece will get a deal of some sort that will keep it within the euro zone, preserving the notion that the euro is "irreversible," to use the description beloved by European Central Bank president Mario Draghi. But would that be good news for Greece? On the contrary, it might well doom it to an eternity of misery and hard work that goes nowhere, like Sisyphus, rolling his boulder to the top of the hill, only to have it roll down again.

...Germany fears a Greek exit because Greece, on its own, would no doubt install tariffs and other barriers designed to shield its economy from ruthless exporters. Germany needs to protect its surplus model, which depends on European free trade. Never mind that guaranteeing the German success model means turning Greece into Sisyphus."
---
Euro zone warns Greece no cash till full reform deal - Reuters
"Euro zone finance ministers delivered a stark warning to Greece on Friday that its leftist government will get no more aid until it agrees a complete economic reform plan, as Athens lurches closer to bankruptcy.

After a tough morning of talks with Greek Finance Minister Yanis Varoufakis, the chairman of the Eurogroup of finance ministers, Jeroen Dijsselbloem, slammed the door on a request for early cash in return for partial reforms.

Before the tense meeting he had offered some concessions in an effort to secure new funding before Athens runs out of money, saying in a blog post he was open to some privatizations and to a commission to supervise tax collection that would be independent of the government.

But he rejected any more wage or pension cuts and said creditors must agree on a realistic target for the primary budget surplus before debt service."
---
At this point, only a miracle can save Greece from disaster - Fortune
"By the middle of May, Greece will need to refinance $3 billion of its Treasury bills. Typically, Greek banks buy most T-bills, but the European Central Bank has placed restrictions on these purchases. As a result, Greece is faced with the burden of covering $756 million worth of new T-bills, as well as repay $836 million to the International Monetary Fund (IMF) on May 11. That's a total of about $1.6 billion, which doesn't include paying salaries, pensions and other government expenses.

...By far, the best solution is for Greece to strike a reasonable deal with its European Union and IMF creditors. The creditors would provide new cheap financing (present EU/IMF financing is at 1.82% interest rate) and Greece would implement government cuts, restart privatizations, allow competition in closed sectors (such as trucking), and liberalize the labor market to make the economy more competitive. The present government, Syriza, was elected on a platform that promised exactly the opposite of what is required today. But a sharp U-turn is necessary for Greece not to go bankrupt."
---
Denialism - eKathimerini
"Every leader who has an idea of what direction he wants to go in ought to speak truthfully about where the country really stands and the compromises which are required in order to stay in the eurozone. We have already seen what Beijing, Moscow and Washington had to offer. We are faced with European leaders, the International Monetary Fund and Washington calling for a compromise that a section inside SYRIZA will find very hard to swallow. Sure, Noam Chomsky and Joseph Stiglitz may be on our side, but their contribution means nothing in terms of financial support.

Prime Minister Alexis Tsipras has a very clear idea of what is going on and what is at stake. Greek voters are starting to realize that this brief grace period is running out. The country is in for a rough landing in the coming weeks. The pilot must choose whether he will let the passengers remain ignorant or whether he will warn them about what is to come."
---
Dombrovskis - talks with Greece should be finished by 'May or so' - MSN
"European Commission Vice President Valdis Dombrovskis said on Thursday that he does not expect an agreement in technical talks with Greece in April, saying debt negotiations could last until next month and thus beyond an April 30 deadline for a deal.

"We've got to conduct the technical talks further and finish them perhaps in May or so," Dombrovskis told German TV network ARD. He said it is important that all sides, including Greece, stick to their obligations. He also said: "The talks are going on. Progress is not good."
---
Greece Debt and Who's on the Hook in a Default - Value Walk
The link shows a couple of charts visually explaiing default risks and how much of the coming payment schedule for Greek debt servicing is dominated by the second bailout.
"Who hurts the most if Greece defaults? Bloomberg's economist Maxime Sbaihi has a great breakdown that looks at exposure to Greek debt by its individual creditors as a percentage of GDP and in total euros."
Additional coverage:
Greece's Scary Calendar of Debt Payments Due - Bloomberg
---
The Armenian genocide and Hagia Sophia - eKathimerini
"Pope Francis's declaration that the slaughter of Armenians by Ottoman forces 100 years ago was "the first genocide of the 20th century" will hasten the conversion of the Hagia Sophia museum into a mosque, the top Muslim official in Ankara responded. The Turkish government has long wanted to turn the symbol of Orthodox Christianity into a mosque...

...Turkey is at the crossroads between East and West, between autocracy and democracy, between tolerance and bigotry. In next June's parliamentary elections, the AKP party which Erdogan founded and still controls, could triumph with about 50 percent of the vote, according to recent polls. After the election, Ergodan aims to strengthen the office of the presidency and will do all that is necessary to achieve this. Converting Hagia Sophia into a mosque will please the AKP's religious voters and also make clear that the secular regime founded by Ataturk is dead..."
---
April 23, 2015
Merkel - must prevent Greece running out of cash before deal - Reuters
"German Chancellor Angela Merkel said on Thursday everything must be done to prevent Greece running out of money before it reaches a cash-for-reform deal with its international creditors amid heightened concern that Athens is nearing the brink.

...Berlin has insisted that Athens must carry out commitments made by a previous conservative-led government to reform labour markets, pensions and sales tax to unlock urgently needed bailout funds, although it accepted in February some leeway to lower the primary budget surplus.

EU officials said earlier that Merkel would deliver a message that she wants to keep Greece in the single currency area and avoid a catastrophic default, but Tsipras' government must commit in technical talks to detailed, costed measures to make public finances sustainable."
---
Greece can still put together finance deal before money runs out, eurozone says - UK Guardian
"[Greece will] ...be forced to either capitulate to Brussels or quit the euro"

"There is still time for Greece to stitch together a deal with Brussels before it runs out of money, according to eurozone finance ministers speaking privately at last week's International Monetary Fund spring conference. And the betting must be that crisis-plagued Athens will eventually find a way to retain its membership of the eurozone with a messy compromise.

But the odds are getting slimmer with every passing week. On Friday, finance minister Yanis Varoufakis meets his counterparts in the Latvian capital Riga in what many analysts believe is the penultimate gathering to work out a deal before Athens's coffers run dry.

With only an outline sketch of an agreement on the table, many of Europe's most senior policymakers are of the opinion that a crisis point will be reached and Athens's radical left Syriza government will be forced to either capitulate to Brussels or quit the euro.
---
Greece threatened with international suspension by UEFA - Fox Sports
"UEFA's general secretary Gianni Infantino has warned that there will be no choice but to suspend Greece from international football unless the country's government rescinds proposed new laws.

The Greek government has put forward a bill which could see sporting events cancelled due to incidents of crowd violence and teams prohibited from playing in European competition.

UEFA and FIFA say that is direct government interference in football and have threatened to suspend Greece."
---
Long and Painful Odyssey of Greece - WSJ
"On April 23, 2010, George Papandreou stood in front of a camera on Kastelorizo, the tiny eastern-Aegean island farthest removed from the Greek mainland. With its idyllic harbor as an incongruous backdrop, he announced that Greece had requested a bailout from the European Union and the International Monetary Fund. It was the beginning of a long and painful odyssey...

A policy disaster of this magnitude was entirely avoidable. In the fateful days leading up to that first bailout, investment bankers from Lazard had prepared a plan for rescheduling Greek debt. But the Papandreou government abandoned that idea under pressure from the European Central Bank, Germany and France, which were afraid of the effects a restructuring would have on the banking system....

...It wasn't until 2011—as it became clear the privatization program wouldn't raise revenues as expected, and citizens occupied Constitution Square in Athens and violent demonstrations broke out—that talks began in earnest about the need to restructure Greece's debt. Mr. Papandreou nearly resigned in June of that year, as opposition from the center-right New Democracy party persisted. He finally removed himself from office that November.

By that point, the relatively easy paths were blocked."
---
April 22, 2015
On Greece, Europe Bluffs Itself - WSJ
"Greece's new leader and his ministers are behaving like fools in their debt showdown with the European union. So claims much of the punditry and you won't find an argument here.

They've taunted Germany about war reparations, threatened to open their borders to jihadists trying to enter Europe and cozied up to Vladimir Putin.

...they certainly have been acting as if they believe the European Union is bluffing and will ultimately write them a blank check to keep Greece in the eurozone.

Europe is not bluffing, the media tell us, because European leaders believe the eurozone would survive quite nicely a Greek departure. There would be no contagion. France and Spain might even welcome a Greek departure as a warning to their own emerging radical parties. A Greek meltdown might be a fillip to Europe's long-stalled competitive reforms.

But what if Europe is wrong? "
---
Why Greece's economy will get worse before it gets better - Fortune Mag
"The core problem of the negotiations is that the new Syriza Party government in Greece views the world very differently from the governments in the rest of Europe. "Syriza" is a Greek acronym for "The Party of the Radical Left" and those last two words should be taken very seriously. Long-term members of Syriza, such as most of the members of Parliament, are suspicious of, or even actively hostile to, capitalism and the European system of economic governance.

They do not see why Greece should follow a path of "reforms" that read to them like a right-wing wish list...

... Germany and much of the rest of Europe, believes that giving into what they see as unreasonable demands by a newly elected radical left government will guarantee that such governments arise in Spain (where Podemos is very much like Syriza) and eventually in other countries. This political contagion could be very damaging, leading to far worse risks than just Greece leaving the Euro.

...My fear, and best guess, is that negotiations will have to break down and trigger damaging economic consequences in Greece and the rest of Europe before the two sides have the incentives and political rationale to agree to what should already have been agreed."
---
April 21, 2015
Wary of brinkmanship, euro zone won't set more deadlines for Greece-official - Reuters
"Euro zone finance ministers will not be setting any deadlines for Greece because they lead to brinkmanship in negotiations on what reforms Athens needs to do in exchange for more funding, a senior euro zone official said on Tuesday.

Greece, which is quickly running out of cash, and the euro zone agreed in February that by the end of April Athens would agree with its euro zone creditors on a comprehensive list of reforms to get 7.2 billion euros remaining from its bailout."
---
EU crushes any hopes of Greek deal this week - Guardian UK
"Helena Smith reports that mayors attending an emergency meeting of the Central Union of Greek Municipalities (KEDE) hurled abuse at the deputy finance minister Dimitris Mardas when he announced that the "internal loan" would be enforced "for at least two months."

"Is this your democracy?" protestors were heard saying. Media outlets quoted several of the mayors as telling Mardas:

"the money is ours and we will do with it what we want."

Municipalities are demanding that the order be immediately revoked.

...EU officials have told reporters in Brussels that Friday's eurogroup meeting of finance ministers is extremely unlikely to deliver a deal over Greece."
---
Tsipra and Merkel meet Thursday - ethnos.gr
"With German Chancellor Angela Merkel will meet Alexis Tsipras Thursdayat the extraordinary Summit convened in Brussels on immigration."
---
Will ECB Push Greece off Euro By Closing Down Banks - Forbes
"The Greek financial markets have tumbled again today as news leaks that the European Central Bank is thinking of tightening the Greek banks' access to liquidity. The importance of this is that while it could be just a small tightening of conditions, one that could be justified purely on prudential grounds, it's also the way that Greece is most likely to have to leave the euro. Simply because the banks fall over, they've got to be recapitalised and the only way to do that would be outside the euro.

...the most likely path (most people are still saying that the cumulative probability of all paths to Grexit is still less than 50%, I'm not so sure myself, but this bank financing route is the most likely of those paths) to Greek exit from the euro is that financing for the banks does dry up. At which point, in order to have any semblance of a financial system, a sine qua non for having a functional economy, the Greek government needs to recapitalise the banks. Which it cannot do with euros as it doesn't have the power to create them (or have many of them). Thus, in order to recapitalise the banks Greece issues drachmas and thus the country is out."
---
White House adviser says 'Grexit' carries major risks - Reuters
"A Greek exit from the euro zone would carry significant risks for the global economy and no one should be under the impression that financial markets have fully priced in such an event, the chairman of the White House Council of Economic Advisers said.

The comments by Jason Furman in an interview with Reuters in Berlin are among the strongest by a senior U.S. official and are at odds with those of German Finance Minister Wolfgang Schaeuble, who told an audience in New York last week that contagion risks from a so-called "Grexit" were limited."
---
2 out of 3 employees have delayed wages - ethnos.gr
"...the average waiting time longer reaches five months. In two years increased from 17% to 45% the percentage of private sector workers who get less than 751 euros per month.

... in some cases the delay reaches two years.

A coming Labour Ministry bill would increase the minimum wage for over 25 employees from 586 to 650 euros in October. Increasing the minimum wage for young people from 510 to 650 euros in October."
[translation via google]
---
Gov't Orders Public Entities to Store Cash in Central Bank - WSJ
"Greece's government issued a decree Monday requiring public bodies such as state-owned companies and public pension funds to transfer their cash reserves to the central bank as the country's cash reserves continue to dry up.

The decree, published in the government gazette late Monday, came as no surprise, the government having telegraphed the move last week. But it still represents evidence of an escalating cash squeeze amid renewed concerns of Greek default.

... this decree makes the transfer of state bodies' cash reserves to the Bank of Greece compulsory, excluding the country's social-security funds.

...It remains unclear when Greece will actually run out of cash, but ratings agency Standard & Poor's last week predicted that Greece's cash reserves could run dry by mid-May.

In order to meet its obligations to the IMF and its European creditors, and to pay public-sector wages and pensions, Greece has been slipping deeper into arrears with suppliers of goods and services to the public sector."
Further coverage:
Greece asks public agencies to hand over reserve cash - BBC
---
April 20, 2015
IMF says Greek talks gaining momentum as default looms - Cityam
"Greek finance minister Yanis Varoufakis has warned of the contagion costs surrounding a "Grexit".

"Anyone who toys with the idea of cutting bits of the Eurozone hoping the rest will survive is playing with fire," he told La Sexta, a Spanish TV channel, in an interview recorded 10 days ago.

"Some claim that the rest of Europe has been ring-fenced from Greece and that the ECB has tools at its disposal to amputate Greece, if need be, cauterize the wound and allow the rest of [the] Eurozone to carry on."

"I very much doubt that is the case. Not just because of Greece but for any part of the union."

"Once the idea enters peoples' minds that monetary union is not forever, speculation begins ... who's next? That question is the solvent of any monetary union. Sooner or later it's going to start raising interest rates, political tensions, capital flight."
---
Endless nightmare? Why Greece is on the brink - Economic Times
"Don't you think they want us to fail?"

That's the question I kept hearing during a brief but intense visit to Athens. My answer was that there is no "they" - that Greece does not, in fact, face a solid bloc of implacable creditors who would rather see default and exit from the euro than let a leftist government succeed, that there's more goodwill on the other side of the table than many Greeks suppose.

And I came away from the visit fearing that Greece and Europe may suffer a terrible accident, an unnecessary rupture that will cast long shadows over the future."
---
Greece's far-right Golden Dawn leaders snub court as criminal trial begins - euronews
"The leaders of Greece's far-right Golden Dawn party refused to show up at court on Monday at the start of a landmark trial in which the elected politicians are accused of forming a criminal gang.

The trial was adjourned soon after starting. It will convene again on May 7 and is expected to drag on for months. If found guilty, the defendants face up to 20 years in prison.

...Large numbers of witnesses, lawyers, journalists and dozens of police packed the rowdy courtroom inside the heavily guarded Korydallos prison, near Athens. Dressed in a cream-coloured suit, Giorgos Roupakias, who confessed to the stabbing, was led in handcuffed.

But Mihaloliakos and the party's senior officials were absent and represented by their lawyers."
---
Europe Braces for Messy Greek Endgame - WSJ
"It's still possible that Greece can remain in the eurozone—though that is no longer the base case for many policy makers. At the very least, most fear the situation is going to get much, worse before it gets any better. No one now expects a deal to unlock Greek bailout funding at this week's meeting of eurozone finance ministers in Riga—originally set as the final deadline for a deal. The new final, final deadline is now said to be a summit on May 11.

But among European politicians and officials gathered in Washington DC last week for the International Monetary Fund's Spring Meetings, there was little optimism that a deal will be agreed by then.

...The bottom line is that Athens won't get any money unless it can reach a deal that satisfies the IMF that Greek debt is on a sustainable path and that it has a medium-term funding plan in place. The eurozone won't disburse its own bailout funds without a deal that carries this IMF seal of approval."
---
April 19, 2015
ECB's Mario Draghi Makes A Dreadful Mistake Over Greece And The Euro - Forbes
"....Syriza insists that Greece deserves a new debt deal: they might well be right on that too. However, they also want that deal on their terms, not those the Eurogroup wants to impose upon them. Specifically, the Eurogroup wants to see substantial moves towards structural reform of the economy. And the specific ones that they want are anathema to a hard left party like Syriza. At which point that Great Big Cluebat is needed. For if Greece doesn't agree to those structiral reforms then there won't be a new debt deal. And that, almost inevitably, will lead to default. But default, in and of itself, isn't all that large a problem. No one is saying that it would be fun or simple but, well, Greece has been in default on its foreign debts for some 50% of its existence as an independent country. It's something that can be managed. And Greece is also around and about running a primary budget deficit so it could default and not have to impose monstrous austerity if it did so.

...look at what Draghi is saying: there's no leaving the euro. Thus the threat of turfing Greece out of the euro (if anyone wanted to do it it would be by stopping EULA, the way in which the Greek banks are propped up) if it does default doesn't exist. At which point, Greece gets something it might not mind all that much, default, without getting what it really doesn't want, exit from the euro."
---
Greece wants EU/IMF deal but impasse could bring referendum - Yahoo
"Ongoing talks are not expected to produce a deal for the approval of euro zone finance ministers at their next meeting in Riga on April 24 as progress is painfully slow. "Our objective is a viable solution inside the euro," Yannis Dragasakis told the paper. "We will not back off from the red lines we have set." Asked whether the government had thought of calling a referendum or even going to the polls if talks become deadlocked, Dragasakis said this could be a possibility, although the government's goal was to reach an agreement. "
---
Greek default necessary but Grexit is not - Financial Times
"The big question — whether Greece will leave the eurozone or not — remains unanswerable. But I am now fairly certain it will default.

...The economic case for a debt default is overwhelming. It is hard to see how Greece can ever service its debts as agreed. Even in the creditor countries few people are under illusions about Athens' long-term debt-servicing capacity. Full servicing would require huge primary surpluses — that is, surpluses before payment of interest on debt. It would leave Greece trapped in a debt depression for a long time. The scheduled primary surplus for 2016 is 4.5 per cent, which is bordering on the insane. Athens absolutely needs to default.

...On whom could, or should, Greece default? It could default on its citizens by not paying public-sector wages or pensions. That would be morally repugnant and politically suicidal for the Syriza-led government. In theory, it could default on the two loans it received from its EU partners, though it is not due to start repaying the first of those until 2020, and the second in 2023. It could also default on the remaining private-sector bondholders but that would not be a good idea. Greece might need private sector investors later.

It could also default on the IMF and the European Central Bank. The IMF is expecting a series of repayments. The ECB wants its money back in the next few months on debt it holds on its books. Defaulting on the IMF and ECB is the only option that would bring genuine financial relief in the short term. Nobody has ever done that. It might trigger Grexit.

Then again, it might not. Default is not synonymous with exit. There is no EU ruling that says you have to leave the eurozone when you default on your debt."
---
April 18, 2015
Russia to loan Greece 'up to $5bn' to join Turkish pipeline - RT
"Russia is planning to pay Greece a large multibillion advance against future profits from operating a gas pipeline that would pump Russian fuel through Turkey and Greece to the rest of Southern Europe, German magazine Spiegel reported.

The energy deal may be signed as soon as Tuesday next week, said a report citing a senior source in the Greek government. Figures quoted range from $3 billion to $5 billion."
---
EU sets 'decisive' 11 may deadline for Greece - Euro observer
"Forget the 24 April Eurogroup meeting in Riga. The new deadline to find an agreement between Greece and its lenders is now the next Eurogroup planned on 11 May.

In an interview with the Financial Times Friday (17 April), EU commissioner for economic and financial affairs Pierre Moscovici said Greece must "speed up" work on reforms and that the 11 May meeting "certainly must be decisive".

"The April 24 meeting in Riga must not be a wasted moment; it must be a useful moment in which we see concrete progress in catching up with those reforms". This is the first time a top EU official has clearly indicated a date for an agreement on Greek reforms to unblock a €7.2 billon loan to the cash-strapped country."
---
Greece seeks Chinese, Russian cash - Bangkok Post
"Greek officials are pulling out all the stops — including feelers to China and Russia — to find 15 billion euros (US$16.2 billion) to avoid default, according to Greek media reports.

The weekly newspaper Karfi quoted government officials as saying that the country hoped China would lend 10 billion euros, in the form of a prepayment for future use of the port of Piraeus and as an advance on its investment in Greece's railway operator.

The country is also hoping for an additional 3 billion to 5 billion euros from Russia, according to the weekly Agora, also quoting officials. That would serve as an advance payment for fees linked to a planned gas pipeline dubbed Turkish Stream. The pipeline would bring Russian gas to the Greek-Turkish border.

Greek Prime Minister Alexis Tsipras spoke with Russian President Vladimir Putin earlier this month about extending the pipeline onto Greek territory so the gas could then be shipped on to Central Europe.

...However, questions linger, such as whether the European Union would approve the deal to bring the pipeline into Greece and whether there is a way to release money for a project that has yet to receive such approval."
---
April 17, 2015
Greece scrapes bottom of barrel in hunt for cash to stay afloat - Reuters
"Officials from Greece and the lenders are meeting in Brussels on Saturday for a new round of negotiations ahead of a key euro zone finance ministers' meeting in Riga on April 24.

"This is the last bit of cash that the Greek state has," a senior finance ministry official, who requested anonymity, told Reuters.

Euro zone officials have voiced scepticism about previous Greek warnings of empty coffers, although even they acknowledge a crunch is nearing.

For months, the government has been borrowing from different parts of the state administration, including the Athens subway system, to pay the wages and pensions of public sector workers. Now, however, it is reaching the end of the line."
---
Greece running out of time to avoid collapse - CNN Money
"Markets are beginning to freak out over Greece, again.

Greece needs about 1.7 billion euros to pay pensions and wages by the end of April, and one billion for payments to the International Monetary Fund by May 12.

There is still 7.2 billion euros left in the 240 billion euro Greek bailout fund -- a lifeline the country needs to avoid "Grexit," or crashing out of the euro.

But the money will only be released if Greece's creditors are happy with its plans for economic reforms -- and there are still big differences over the labor market, pensions, sales tax and privatization."
---
---
---
Greek words and phrases:
mi-la-ka-nis ang-glee-ka [Does anyone speak English?]
then mi-lo el-lee-ni-ka [I don't speak Greek]
---
The Socialists Revenge in Athens, Greece, 2004
Greek War for Independence: How the Ottoman's empowered the Greek Revolution
Greek identity after the War of Independence: Hellenic Place-names
Vote-Rigging and the quasi-feudal system in Greece: Patronage in Post-Independence Greece
---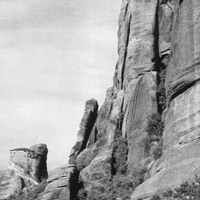 Photo of Thessaly Greece; Meteora mountains 1938. Click to view enlargement.
---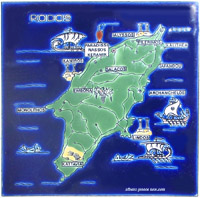 Scan of Rhodes Island Souvenir tile, circa 1976. Click to view enlargement.
---
---