Greece and the economic crisis
July 4, 2015
Greek banks prepare plan to raid deposits to avert collapse - Financial Times
"Greek banks are preparing contingency plans for a possible "bail-in" of depositors amid fears the country is heading for financial collapse, bankers and businesspeople with knowledge of the measures said on Friday.

The plans, which call for a "haircut" of at least 30 per cent on deposits above €8,000, sketch out an increasingly likely scenario for at least one bank, the sources said.

A Greek bail-in could resemble the rescue plan agreed by Cyprus in 2013, when customers' funds were seized to shore up the banks, with a haircut imposed on uninsured deposits over €100,000."
---
Ministry of Finance denies FT Report for plan to 'haircut' deposits - ethnos.gr
"The Ministry of Finance made a statement denying the FT report and stating that the false report was made to undermine the referendum Sunday and the Greek popular verdict."

Greek Banks Association Louka Katseli, has categorically denied "this morbid news '. Speaking this morning at Mega, the president of the Greek Banks Association called the plan "completely non-existent" and recommended FT not to proceed with "doomsday scenarios".

Finance Minister C. Varoufakis has denied the "malicious rumors" using his Twitter account.
[Greek language via Google Translate]
---
Fearing return to drachma, some Greeks use Bitcoin to dodge capital controls - ekathimerini
"There is at least one legal way to get your euros out of Greece these days, to guard against the prospect that they might be devalued into drachmas: convert them into Bitcoin.

Although absolute figures are hard to come by, Greek interest has surged in the online "cryptocurrency," which is out of the reach of monetary authorities and can be transferred at the touch of a smartphone screen.

...the value of a Bitcoin, a web-based digital currency invented six years ago that floats freely and is not backed by a government or central bank, has been highly volatile.

It peaked at over $1,200 (roughly Rs. 76,000) in late 2013 before crashing almost 70 percent in less than a month after a hacking attack on the Tokyo-based Bitcoin exchange Mt. Gox in early 2014. "
---
Germany suggests Greece could exit eurozone 'temporarily - UK Telegraph
"German finance minister floats idea of temporary Greek exit from the eurozone as Yanis Varoufakis, Greece's finance minister, accuses creditor powers of "terrorism"
---
50,000 tourists cancel holidays each DAY as food RUNS OUT and cash is GONE - UK Express
"Supermarkets have been emptied of vital goods as worried families stockpile food, while cash reserves have almost completely disappeared since Greece's banks closed on Monday.

Holiday bookings have plummeted by 50,000 a day since Sunday's historical vote on a new bailout deal was announced a week ago, a drop of almost 60 per cent, according to the Greek Tourist Association.

Guests at all-inclusive resorts could be left hungry by next week because hotels can't pay overseas firms for the supplies needed to function, due to the controls on the movement of money that have been introduced.

Many ATMs have completely run out of cash, despite a withdrawal limit of €60 that was also put in place, after people queued for hours on end to take out money.

Unable to import materials, Greek businesses have also ground to a total halt and people have not been paid."
---
Greeks deeply divided heading into crucial vote - eKathimerini
"His opponents accuse Tsipras of gambling Greece's future with a rapid-fire plebiscite that a major European rights watchdog says falls short of international standards of fairness.

Three opinion polls published on Friday had the "yes" vote marginally ahead; a fourth put the "no" camp 0.5 percent in front, but all were well within the margin of error.

"We know that the lenders will close the door if we say no, but we must fight," said 65-year-old pensioner Irini Stavridou, attending the "no" rally.

"We must fight not only for Greece but all the people in Europe, for those who just have a different opinion."

On Syntagma, patriotic songs blared out over loud speakers. At the "yes" camp, thousands rallied in front of the old Olympic Stadium to Beethoven's Ode to Joy, the anthem of the European Union. There appeared to be fewer people than in the "no" crowd.

"I prefer to vote 'yes', have a few more years austerity and give my child a better future," said jobless economist Marina Peppa, 45. "It's not going to be easy, but if 'no' prevails we'll have Armageddon, total poverty."
---
Poll shows 2 sides neck and neck before referendum - MSN
"The survey conducted by ALCO found 41.5 per cent will vote "Yes" on Sunday and 40.2 per cent saying they will vote "No," with 10.9 per cent undecided. The rest said they would abstain or leave their ballots blank.

When discounting those who say they will case blank ballots or abstain, those intending to vote "Yes" came to 44.8 per cent compared to 43.4 per cent who will vote "No" and 11.8 per cent undecided.

The survey interviewed 1,000 people nationwide on June 30-July 1 and has a margin of error of 3.1 per cent.

The referendum campaign will wrap up Friday evening with rallies by the two sides, to be held 800 metres (875 yards) apart in central Athens. Tsipras is set to speak at the "No" rally in the capital's main Syntagma Square outside Parliament, while the "Yes" rally will be held at the nearby Panathenian Stadium, where the first modern Olympics were held in 1894."
---
Mendicant Greeks will try to blackmail Europe - AFR Australia
"...If Greeks follow Tsipras' urging and vote no then Greece will, most probably, depart the eurozone, heralding a period of unrest, if not complete chaos as the country accommodates itself to life without the euro.

...Those glibly arguing for Greece to be cut loose tend not to consider, or at best brush over, the geopolitical consequences of Greece's exit from the eurozone, leaving aside lessened risks of financial contagion.

However, beyond risks of contagion – these are both economic and political in the sense Syriza stands as a model for strengthening anti-austerity movements across Europe – is the spectre of a shifting, multi-polar world in which powers are rising, and falling.

...In that context, consider these irresponsible remarks by Greece's Defence Minister Panos Kammenos that sounded suspiciously like blackmail: "If Europe leaves us in crisis, we will flood it with immigrants.

"And it will be even worse for Berlin if in that wave of millions of economic immigrants there will be some jihadists of the Islamic State, too," he said."
---
9 photos show the chaos in Greece right now - Dodge City Daily Globe
Photos and narration of the crisis in Greece and the protest groups, both OXI and NAI signs arguing their viewpoints of how to achieve a better future.
---
July 3, 2015
New opinion poll shows Yes vote slightly ahead in Greece - Yahoo
"Previously, the only full survey to be released since the referendum was announced showed the "No" vote ahead, but falling sharply after the announcement that banks would be shut.

The latest poll was published a day after the International Monetary Fund delivered a stark warning of the huge financial hole facing Greece.

The IMF, part of the lenders' "troika" behind successive international bailouts, said Greece needed an extra 50 billion euros over the next three years, including 36 billion from its European partners, to stay afloat. It also needed significant debt relief.

The assessment, in a preliminary draft of the IMF's latest debt sustainability report, underlines the scale of the problems facing Athens, whatever the result of Sunday's referendum on the bailout offered by creditors last month."
---
Voters perplexed, rival campaigns rush to deliver message - FoxBusiness
"The popular 40-year-old prime minister is gambling his government on a call to voters to reject austerity measures demanded by bailout lenders, despite coming close to a deal last week.

A strong "No" vote, he argued, would help Greece win a new deal with the eurozone's rescue mechanism that would include terms to make the country's 320 billion euro national debt sustainable.

After the vote, he insisted, a deal could be struck "within 48 hours."

Opponents don't believe him and say he is risking the country's future — asking voters to weigh in on a bailout offer that expired at midnight on Tuesday."
---
The Lessons Greece Didn't Learn - WSJ
"Greece right now has no liquidity. As a last resort, Athens had been relying on €89 billion in Emergency Liquidity Assistance from the European Central Bank. The ELA money had helped replace the deposits that were anxiously fleeing the banks. On Sunday, the ECB decided not to provide further ELA. If Greece votes "no," not only will further loans be unlikely, but deposits will certainly not return. At the moment, the banks can barely afford even the €60 per person daily withdrawal limit for more than a few weeks.

Worse, the ELA money was lent through the Bank of Greece to the Greek commercial banks and is secured by those commercial banks' best assets. A default on the €3.5 billion due to the ECB on July 20 will mean that the Bank of Greece and all the Greek banks will become insolvent. If that happens, depositors would be vulnerable despite a €100,000 deposit guarantee because Greece's deposit-insurance scheme is underfunded.

In this sense, the Greek experience will be worse than what happened in Cyprus. After Cyprus defaulted, the ECB, the European Commission and the International Monetary Fund provided money to Nicosia to help ease the pain. If Greece votes "no," no creditor will provide money to help the Greek banks."
---
Greece's self-inflicted tragedy and the catharsis to come - Reuters
"Tsipras has made several overtures to Russia, which is unlikely to bail him out (it has its own problems, with Western sanctions and a still-low oil price). But Russia could take Greece under its wing; it could encourage it to take "revenge" on the West by refusing to agree to actions by the North Atlantic Treaty Organization — especially against Russia — and could raise problems over use of its NATO bases.

Greece could revert to a more aggressive policy against Turkey, a fellow NATO member but a traditional enemy. An angry Greece would be weak but could cause trouble for the West, of which it has been a part. Were it to do so, the European Project would have failed to gain a member – Ukraine – but instead effectively lost one – Greece.

A 'No' vote would show that, for all the tragic effects since Syriza was elected and took power in January, Tsipras retains enough credibility to have his strategy "?" followed. That question mark is there because if there is a strategy, it's deeply mysterious. On Tuesday, he sent a letter to the EU saying he would accept most of the demands in the last offer. On Wednesday evening, he went on TV and called for a rejection of the offer."
---
Greece's hideous choice: More austerity or collapse - CNN Money
"If Greece can't get more bailout money from Europe soon, it will have to pay pensioners and public sector workers with IOUs -- perhaps within weeks. Its banks would have to stay shut or get new funding from somewhere.

That's when Greece would be forced to start printing its own currency. The new drachma would be worth much less than the euro, making crucial imports much more expensive for ordinary Greeks.

Things would get worse very quickly for most Greeks, who are already feeling the pain of six years of recession. The economy could shrink by another 25% in just two years. Political and social unrest may follow.

Europe is already talking about providing humanitarian aid, such as medical supplies, showing just how desperate things could get."
---
July 2, 2015
Greek banks down to €500m in cash reserves as economy crashes - UK Telegraph
"Greece is sliding into a full-blown national crisis as the final cash reserves of the banking system evaporate by the hour and swathes of industry start to shut down, precipitating the near disintegration of the ruling coalition.

Business leaders have been locked in talks with the Bank of Greece, pleading for the immediate release of emergency liquidity funds (ELA) to cover food imports and pharmaceutical goods before the tourist sector hits a brick wall.

Officials say the central bank will release the funds as soon as Friday, but this is a stop-gap measure at best. "We are on a war footing in this country," said Yanis Varoufakis, the Greek finance minister.

...The fast-moving events come amid signs of deep dissension within the coalition over the wisdom of the country's referendum this Sunday. The vote was originally intended to secure a stronger negotiating mandate for a showdown with Europe's creditor powers, but it is rapidly turning into an "in-or-out" decision on euro membership and the survival of the Syriza government.

Four members of the nationalist Independent Greeks party (Anel) - the junior partners - said they would break ranks and vote "Yes" to creditor demands - though no offer is now on the table - admitting that they were aghast by the closure of the banking system and the drastic events of recent days."
---
This Is the Method in the Greece Madness - Time Magazine
"The world's financial elite think that Greek prime minister Alexis Tsipras is insane for holding a referendum on the country's economic future. But there is method in his madness. Greece's crisis has gone on for too long and caused too many innocent people too much pain. It's time to end it. If Europe's lenders can't come to terms with the simple fact that Greece has borrowed too much and can't pay it back, then Greece has to come to terms with it for them.

The conventional wisdom holds that the 40-year-old Tsipras is irresponsible, impulsive, and volatile. He sure looked that way last week when he walked away from Europe's latest offer, which was for Greece to slash spending and raise taxes in return for the cash to make a $1.7 billion debt payment to the International Monetary Fund (IMF) on June 30. Tsipras responded by closing the country's banks, defaulting on that debt payment, and abruptly calling an election: Greek voters will decide Sunday whether to accept Europe's terms. University of Athens economist Aristides Hatzis called the decision to hold a vote "irrational."

...Greek citizens are suffering because their government promised them more than it could afford— and they may suffer more. But there's no good reason why Greece's creditors shouldn't suffer more, too, because Greece's government also promised them more than it could afford."
---
'Please - we need holidaymakers to come to Kos' - UK Telegraph
"'I hope you've not come for the refugee crisis...' Elias Sifakis, the deputy mayor of Kos summoned a weary smile. 'No? Good. You must be here for the economic crisis then.'

The word crisis is, of course, Greek in origin – krisis, first used it is believed by Hippocrates, to describe the critical point at which an illness turns either for the better, or worse: Hippocrates, who came from Kos, and whose tree under which he sat (or so the tourist brochures say) was only 100 yards from the town hall where Mr Sifakis and I were sitting.

'But honestly,' Mr Sifakis continued. 'If you look around you can you see a crisis? For the Greek people, yes. But for visitors coming here, I promise you not.'

...Seasoned visitors, they always come well furnished with Euros. 'But that's because there's only one ATM on the island,' explained Mr Bone, 'and it's not working half the time anyway.'

Of course, things aren't quite so serene for the restaurant owners, the people offering boat excursions, the gift shop proprietors sitting in the shade hoping to catch the eye of passing tourists. Greece is studious in its policy of not soliciting. 'Illegal client solicitation; don't make yourself a victim', says a sign outside one shop, stating that touting for business is 'a shame for Greece and our islands' and urging visitors to 'fight this "third world" phenomenon. IGNORE THEM!'
---
Greece: IMF report justifies Greek debt stance - SF Gate
"Greece's government says the International Monetary Fund's report on Greece "completely justifies" Greece's position on debt sustainability. In a report released Thursday, the IMF says Greece needs both debt relief and 50 billion euros ($56 billion) in new financing from October through 2018.

...The senior party in Greece's ruling coalition thinks the Greek media is being biased in its reporting ahead of the country's austerity referendum on Sunday.

Syriza, the left-wing party of Greek Prime Minister Alexis Tsipras, is appealing to the country's media watchdog to get private TV and radio stations to stop from what it called an "incomprehensible and unprecedented" campaign in favor of a "yes" vote.

In a letter Thursday to the Greek National Council for Radio and Television, Syriza said the pro-'yes' media campaign is devoid of any impartiality and fans talk of impending doom that threatens to undermine social stability.

Syriza asked the council to make Greek media allocate equal time to both sides as required."
---
Tsipras May Be About to Do Exactly What He Said He Wouldn't - WSJ
"In 2013, Mr. Tsipras–then a contender to be Greece's next prime minister–sought to reassure eurozone creditors, the U.S. and the International Monetary Fund he wouldn't lead the country out of the eurozone.

Two years later, Mr. Tsipras's six-month tenure as prime minister has put Greece teetering on the edge of a financial maelstrom and pushed it to the brink of a eurozone exit. The country has become the first advanced economy to default to the IMF. Athens has failed to win new bailout cash from its eurozone creditors, and has been forced to institute financial martial law after the European Central Bank set limits on the amount of emergency financing Greek banks could receive."
---
Greece's hideous choice: More austerity or collapse - WBALTV
"Greece is facing a hideous choice: A third massive international bailout with strict austerity attached, or economic collapse.

Greeks are preparing to vote Sunday in a referendum on whether to accept a bailout offer from Europe and the International Monetary Fund. Prime Minister Alexis Tsipras is urging people to reject the proposal, saying that would strengthen his hand in negotiations.

...If Greece can't get more bailout money from Europe soon, it will have to pay pensioners and public sector workers with IOUs -- perhaps within weeks. Its banks would have to stay shut or get new funding from somewhere.

That's when Greece would be forced to start printing its own currency. The new drachma would be worth much less than the euro, making crucial imports much more expensive for ordinary Greeks."
---
July 1, 2015
Greece's Tsipras digs in against bailout - Reuters
"Lagarde declined to be drawn out on whether she viewed Tsipras was a reliable negotiating partner after his latest switch, although she did say the Fund wanted to see evidence of reforms before talks about any new potential debt package.

"We have received so many 'latest' offers, which themselves have been validated, invalidated, changed, amended, over the course of the last few days, that it's quite uncertain exactly where the latest proposal stands," she said.

...Greece has shut its banks this week, imposed capital controls and limited teller machine withdrawals to prevent the public from emptying the banks.

On the third day of the closure, the costs were biting deeper for ordinary Greeks, with long lines forming at many ATMs and limited amounts of cash being doled out to pensioners. Even with a withdrawal limit of 60 euros a day, there were signs of banknote shortages, with bankers saying 50-euro and 20-euro notes were running low."
---
Europe just wants to punish Greece - Neo Kosmos
"In my more than 30 years writing about politics and economics, I have never before witnessed such an episode of sustained, self-righteous, ruinous and dissembling incompetence — and I'm not talking about Alexis Tsipras and Syriza. As the damage mounts, the effort to rewrite the history of the European Union's abject failure over Greece is already underway. Pending a fuller postmortem, a little clarity on the immediate issues is in order.

...But I haven't mentioned the biggest distortion of all. Noticing for the first time that Greece has EU citizens within its borders, Juncker addressed them directly on the subject of the July 5 referendum. Greeks will be asked whether they accept the offer presented by the creditors — an offer, by the way, that the creditors say no longer stands. "No [to the offer that no longer exists] would mean that Greece is saying no to Europe," Juncker explained. President Francois Hollande of France clarified: The vote would determine "whether the Greeks want to stay in the euro zone."

Nonsense. There's no doubt that Greeks want to stay in the euro system — though I find it increasingly difficult to see why. If Greece leaves the system, it won't be because Greeks decide to leave; it will be because Europe decides to kick them out."
---
Tsipras insists on referendum after offering concessions - eKathimerini
"Just a few hours after submitting a new Greek proposal to creditors that offered some concessions in an apparent bid to reach a deal, Prime Minister Alexis Tsipras on Wednesday gave a televised address underscoring his commitment to proceed with a referendum on a proposal tabled by creditors to Greece last week.

The speech by Tsipras fueled confusion as his defiance opposite Greece's creditors was clear in his insistence that he would proceed with a referendum.

... An aide close to Tsipras told Kathimerini that, in the event that the "Yes" vote prevails on Sunday, Tsipras will go to Brussels to tell creditors that the people decided to accept their proposal. Asked whether Tsipras's government would enforce the creditors' proposals, the aide indicated that it would not and would call snap elections for the fall without explaining how cash-strapped authorities would finance the period between next week and the fall. In the event of a "No" victory, "then things will be simple," the official said without elaborating. "
---
Greece Wanted to Reframe Europe's Austerity Debate. It Failed. - NY Times
"Alexis Tsipras, the Greek prime minister, has spent the last six months, since his left-wing Syriza party came to power, trying to shift the entire political framework of his country's bailout negotiations. That effort has failed. By indicating that his government could accept much of what Greece's creditors demanded as conditions for a bailout extension late last week, Mr. Tsipras seems to have finally acknowledged this failure to reset the terms of debate over austerity and democracy in Europe.

For five years, the simple trade-off offered by the richer European countries and the European Central Bank has been this: If Greece accepts massive austerity — like pension cuts and layoffs of government employees — it can remain in the eurozone with the help of bailouts, with central bank credit extended to Greek banks, and so on. Austerity was the price to be paid for keeping the monetary stability created by the euro currency.

...The Greek government was surely hoping that by walking away and calling a referendum, the creditors would rethink their intransigence, fearful of the economic and geopolitical consequences of letting Greece leave the eurozone. If anything, it pushed Germany and France, as well as Spain and Italy, closer together, full of exasperation with the Greeks' negotiating style and aggressive demands."
---
Tsipras defiant as bank controls bite - BBC
"In his address on Wednesday Mr Tsipras thanked Greeks for their "calm" in the face of bank closures and said their salaries and pensions would "not be lost".

He angrily denied he had a secret plan to take Greece out of the euro, calling those who accused him of this "liars".

...BBC Europe correspondent Chris Morris says that as well as seeking further amendments to the creditors' proposals, Mr Tsipras's latest offer is tied explicitly to agreement on a request for a third bailout lasting two years and amounting to €29.1bn.

In other words, Mr Tsipras is attaching new conditions to any agreement on economic and structural reforms, our correspondent says."
---
Compromise Bid Faces Resistance After Trust Eroded - Bloomberg
"This is not quite the climbdown it seems," said Peter Chatwell, a strategist at Mizuho International Plc in London. "I strongly doubt Europe will accept this proposal and if Europe sticks to its guns and waits for the referendum, the greater the chance that the government fails."

Merkel and her finance minister, Wolfgang Schaeuble, burned by five months of brinkmanship, said there would be no immediate talks."

...If Greece votes "yes," it might be able to win approval for a third bailout package in the next few weeks. If there were a deal in principle, it's possible Greece could get quick disbursement of 3.3 billion euros ($3.7 billion) from central-bank profits on bond purchases -- money that was set aside for the second bailout and then taken off the table on June 30.

If voters say "no," the pressure on its banking system would ratchet up quickly, leaving Greece little choice but to consider printing its own money.
---
Conditions of Greek referendum fall short of international standards - eKathimerini
"The head of the Council of Europe, Europe's top human rights institution, says Greece's referendum would fall short of international standards if held as planned on Sunday.

...Greece's referendum on whether to accept creditor demands in return for bailout funds was called Saturday, and there has been confusion as to whether the result of a "no" vote as the government recommends would lead the country out of the 19-nation eurozone.

The vote "has been called on such a short notice, that this in itself is a major problem," Jagland said Wednesday by phone from Lisbon, Portugal. "And also the fact that the questions that are put to the people ... are not very clear."
---
How Greece went bust - Economic Times
"The participants looked tired, their body language was stiff. The meeting did not last long. Tsipras, according to Greek officials close to the negotiations, had already decided to call an emergency meeting of his cabinet in Athens for that evening. Even as he spoke with Merkel and Hollande, he was preparing to hand the decision over Greece's fate to the nation's voters. The day before he had decided, after months of talks, that he and Greece's creditors were unable to agree a deal.

As he flew home to Athens later that day on a government plane, the young Greek leader settled on the idea of a referendum, according to the Greek officials. Staging a full-scale election would take too long, he had been advised. But a referendum could express the will of the Greek people.

...On June 26, Tsipras met Merkel and Hollande in the small room in the French delegation offices in Brussels. Merkel and Hollande dangled the prospect of more than 15 billion euros of loans in instalments over the next five months if Tsipras agreed to creditors' proposals. Almost all of that money, though, would simply go to meet Greece's debt repayments, and none of it was new cash not already committed under the bailout programme. Greeks would still face years of austerity and economic reform."
---
TRUMP: The US shouldn't worry about Greece because if Germany doesn't save it, Russia will - Business Insider
"Real estate developer and presidential candidate Donald Trump thinks the US needs to stay out of Greece's problems.

..."We have enough problems," he said. "Germany will ... take care of it. Frankly, Putin probably comes in to save the day if Germany doesn't."

Trump added, "So I think that Greece is going to be in better shape than people think."
---
Perissa Beach, Santorini
---
---
---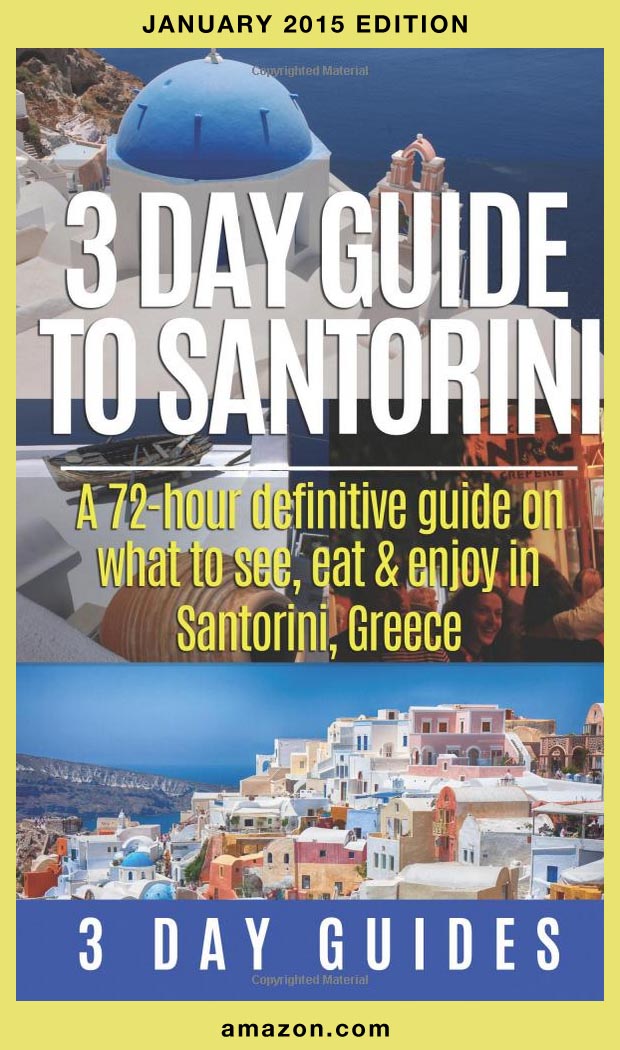 ---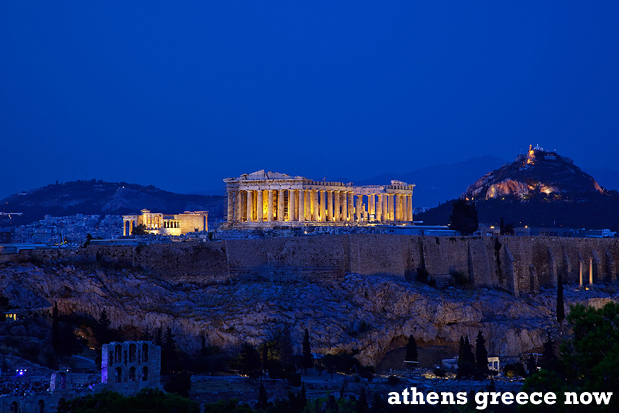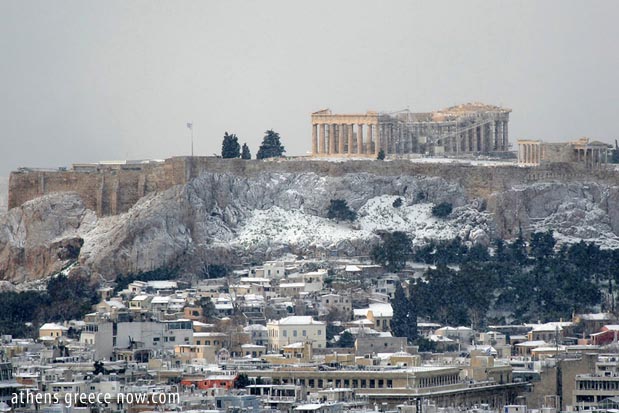 ---
Greek words and phrases:
mi-la-ka-nis ang-glee-ka [Does anyone speak English?]
then mi-lo el-lee-ni-ka [I don't speak Greek]
---
The Socialists Revenge in Athens, Greece, 2004
Greek War for Independence: How the Ottoman's empowered the Greek Revolution
Greek identity after the War of Independence: Hellenic Place-names
Vote-Rigging and the quasi-feudal system in Greece: Patronage in Post-Independence Greece
---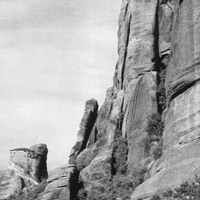 Photo of Thessaly Greece; Meteora mountains 1938. Click to view enlargement.
---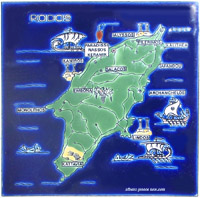 Scan of Rhodes Island Souvenir tile, circa 1976. Click to view enlargement.
---
---