Current amount of IMF/EU loans to Greece
: €240 billion (US $397bn).
---
Greek Account Deficit 2012
2.9% of GDP
Greek Account Deficit 2011 9.9% of GDP
Greek Account Deficit 2008 14.7% of GDP
---
GDP estimate
(4th quarter 2012):-6.0%
GDP estimate (3rd quarter):-7.2%
GDP estimate (2nd quarter):-6.3%
---
Greek foreign exchange reserve
Dec 2012: €5.5 Bn
---
Unemployment
Oct 2012: 26.8%
---
Import Price Index
- Greece is heavily dependent upon import items. Increase of 2.4% calculated between June 2012 and June 2011.
---
Demographics:
ELSTAT
put the population of Greece ("registered population") at 9,903,628 for 2011.
Population of Athens:
Municipality: 655,780
Metropolitan: 3,737,550
Urban: 3,074,160
2012 estimates non-Greek immigrants at over 800,000 (legal) and 350,000+ (illegal) in Greece.
Where to Flee.com - Time for a new place to live?
---

TOP PAGES:
RSS FEED
---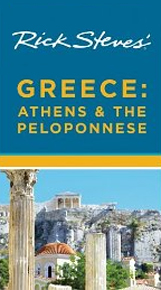 Rick Steves' Greece: Athens & the Peloponnese amazon.com
---
Credit Ratings around the world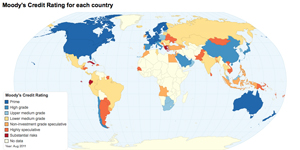 Nice interactive world map that shows the credit ratings for sovereign nations around the planet. That's right: Greece has a burning red "substantial risk" rating at present.
With national ratings and global banks all experiencing a phenomenon of credit rating 'adjustments', I don't know for how long this chart will be accurate.
Entire chart at chartbin.com
---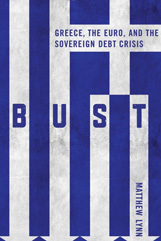 Bust: Greece, the Euro and the Sovereign Debt Crisis - By Matthew Lynn amazon.com

Greece's 'Odious' Debt: The Looting of the Hellenic Republic by the Euro, the Political Elite and the Investment Community - By Jason Manolopoulos amazon.com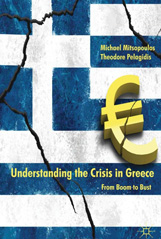 Understanding the Crisis in Greece: From Boom to Bust - By Theodore Pelagidis amazon.com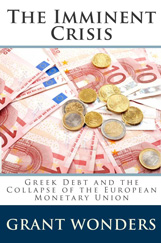 The Imminent Crisis: Greek Debt and the Collapse of the European Monetary Union amazon.com

Eyewitness Greece - Athens and the Mainland - 352 Pages
---
---
Greece and the economic crisis
Dec 2, 2013
Moody upgrade leads to fight with Troika - UK Guardian
"A growing spat between Greece and its lenders has taken the shine off the first good report card the debt-laden country has received from an international rating agency in years, amid mounting concerns over Athens's deteriorating relations with the bodies keeping its economy afloat.

A two-notch upgrade by Moody's was eclipsed over the weekend by the news that monitors representing the European Union, European Central Bank and International Monetary Fund had put off a planned visit that was due to begin on Monday.

"We haven't worked things out, we still differ over certain issues," the Greek finance minister Yannis Stournaras told reporters. "There are differences over two or three structural reforms," he said, adding that the fraught negotiations with the organisations would be pushed back another week.

On Friday, Moody's announced it had rare good news for Greece – it was upgrading its credit rating from C to Caa3 because of improved results in the country's economic adjustment programme."
---
Maria Calls birthday logo at Google.com
Image appeared on the google.com websites December 2, 2013 to mark the birthday of famed Greek soprano opera singer Maria Callas.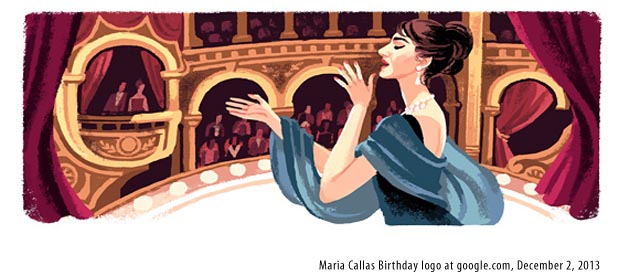 ---
November 28, 2013
Over-regulation costing Greece billions - WSJ
"Overregulation in Greece costs businesses and consumers billions of euros each year, a new report said Wednesday, urging the government to sweep away hundreds of rules that hobble the country's private sector and undermine competition.

The report, published by the Organization for Economic Cooperation and Development, identifies restrictions deemed unwarranted on everything from the shelf life of milk products and the sale of vitamins to cruise industry cabotage laws.

The scope of restrictions underscores how Greece's structural reforms still remain very much a work-in-progress after years of haphazard efforts to pry open the economy. Although Athens has made strides in balancing its public finances under its combined euro-zone and International Monetary Fund bailouts, many analysts say Greece is still struggling to overhaul its hidebound bureaucracy."
---
November 25, 2013
Relief in site for Greece - Deutsche Welle
"There are going to be no more measures for pensions or for wage cuts," he said, adding that his country has made considerable progress. "With our budget and structural reforms, we've reached our goal - and have even gone beyond it in some areas."

The prime minister was particularly proud that Greece's government this year will - if interest payments excluded - will take in more money than it pays out. It will, in other words, run a surplus. "I'd like to recall that this surplus wasn't set as a goal for this year, but for 2014," Samaras said.

New loans, therefore, are not necessary. "I believe we are going to soon have a recovery, and that will fully eliminate our budget deficit," he said.

"... There's a light at the end of the tunnel," Merkel also said. One has to also have "just a bit of trust" and not always assume the worst.
---
Targeted measures needed says Poul Thomsen of IMF - eKathimerini
"Greece will need to adopt new cost-cutting measures for the 2014-16 period, though they will need to be carefully targeted rather than across-the-board in order to protect more vulnerable social groups, the head of the International Monetary Fund's mission for Greece, Poul Thomsen, said in an interview with Kathimerini's Sunday edition.

Though he praises Greece for the huge fiscal adjustment it has achieved so far, Thomsen adds that the government must crack down on waste. He also insists on reducing the size of the civil service as well as removing restrictions on mass dismissals in the private sector, arguing that this would attract more investment, boost business activity, generate new jobs and ultimately lead to growth."
---
National Bank of Greece seals $880 mln property deal
"National Bank of Greece, the country's largest lender, said on Monday it has agreed to sell a majority stake in its real estate arm Pangaia to private equity firm Invel Real Estate in a 653 million-euro ($882 million) deal.

The sale, which was revealed last week, is part of a restructuring by National Bank (NBG) aimed at boosting its capital base.

Greece's top four banks are being overhauled under plans agreed with the European Union and the International Monetary Fund...

...Pangaia's real estate portfolio includes office buildings, branches operated by NBG and other property recently acquired from the country's privatisation agency."
---
Was offline for travel and funeral. AGN is now back in action. Thanks to all who use this website.
---
November 15, 2013
Hard winter lies ahead for Samaras - Economist
"IT IS the bad-news season," says an adviser to Antonis Samaras's struggling coalition government. He means the onset of winter, when cash-strapped Greeks start worrying about the price of heating fuel. A new property tax in next year's budget, due to be presented to parliament on November 21st, is another headache. Farmers are being asked to pay tax on their landholdings for the first time. Squeezed by five years of austerity, one-third of property owners claim they will be unable to pay up, according to a survey by the Athens chamber of commerce.

Mr Samaras's centre-right New Democracy party and its junior partner, the PanHellenic Socialist Movement (Pasok), narrowly survived a no-confidence vote in the early hours of November 11th. The motion was proposed by Alexis Tsipras, boss of Syriza, a hard-left opposition party, in an attempt to bring a fractious far-left faction of his party on board after he pledged in a speech during a trip to America that, if elected, he would not take Greece out of the euro."
---
November 13, 2013
Greece still on target for balanced budget - CBS News
"Greece's Finance Ministry says the crisis-hit country remains on target to balance its budget this year, helped by a recent recovery in tax revenues.

Deputy finance minister Christos Staikouras said Wednesday that Greece was expected to post a budget surplus of about 345 million euros ($463 million) before interest payments this year - a key target set by bailout lenders.

Staikouras said the January-October balance stood at 1.1 billion euros ($1.48 billion) after traditionally weak tax revenues came in 250 million euros ($335.8 million) above target, at 35.59 billion euros ($47.8 billion) for the 10-month period."
---
November 8, 2013
Austerity strikes hit Greece - Business Recorder
"Greek workers held a general strike and Portuguese rail employees disrupted train traffic on Wednesday in renewed protests over austerity measures cutting painfully into wages. The stoppages underlined the public anger in peripheral EU countries over budget belt-tightening imposed to rein in public debt and stabilise the eurozone.

The general strike in Greece occurred as EU and IMF auditors worked in Athens to finalise the recession-hit country's next budget, looking to eliminate a fiscal shortfall of two billion euros ($2.7 billion), most likely through even more unpopular cuts.

The report from the European Union, the International Monetary Fund and the European Central Bank is required for Greece to obtain a vital one-billion-euro loan instalment.

But many Greeks say swingeing cuts have already pushed them to the brink.

Wednesday's strike, the latest this year organised by the country's main unions, shut down the civil service as well as train and ferry services nation-wide."
---
November 7, 2013
Is Greece the next Weimar Germany? - Financial Times
"Since the 2012 summer elections, Greece has rumbled with echoes of the Weimar Republic. There was no doubt that the composition of the Greek legislature was the worst in modern history. Parliament now contains the full spectrum of authoritarians: neo-Nazis, Stalinists and Maoists together with radical leftwingers, populist rightwingers and numerous defenders of paranoid conspiracy theories.

Nevertheless, for more than a year the situation looked superficially bearable. Greece has a strong coalition government trying to implement reforms, cut government spending and restore our economy. But to keener observers, failures outweigh the successes."

...the fun ended last Friday. In a mafia-like hit, two professional assassins murdered two Golden Dawn members in front of their party offices in northern Athens. Was this a terrorist attack, a revenge for the murder of the rapper? Or was it literally a mob hit, having nothing to do with politics?"
---
November 4, 2013
Love affair with euro continues - Wall Street Journal
"Across Europe, there is now a broad consensus that the decision to allow Greece to join the euro was a mistake. Yet ironically, the one place where this view is not widely shared is Greece itself.

Even after six years of recession, a 26% slump in output and unemployment of 27%, the Greek government considers membership of the single currency an article of faith, while 69% of the public supports the euro, according to a recent poll by the Pew Research Center.

...The current crisis may be Greece's last opportunity to turn itself into an effective modern state.

Greece's ability and willingness to make this transition will be put to the test again on Monday when its official lenders return to Athens for the much-delayed latest review of progress with its bailout program. The government is running out of time to reach a new deal with the so-called troika—comprising the International Monetary Fund, the European Commission and the European Central Bank—to cover a projected shortfall of between €500 million ($674 million) and €2 billion ($2.69 billion) in next year's budget.

...Athens believes it has a strong case to be cut some slack. For the first time since the start of the crisis, Greek economic forecasts are being revised upward..."
---
October 30, 2013
Pangalos on claims Greece spied on US ambassadors - eKathimerini
"Pangalos, who was Greek foreign minister between 1996 and 1999, said the eavesdropping concerned Washington's apparent opposition to Cyprus's membership of the European Union without a prior peace settlement.

"At that time the EU was facing a dilemma of whether Cyprus should be accepted as a member without a solution to the political problem or, as the Turks – with fervent support from the Americans – wanted, give priority to Turkey over Cyprus," Pangalos said.

"...Why should Greece always be the victim?" Pangalos, a veteran socialist, told Vima radio on Thursday.

"We were tapping them because it was necessary to do so," he said.

"...The former foreign minister has no business saying these things," Health Minister Adonis Georgiadis said on Wednesday, reflecting the conservative-led government's frustration with Pangalos.."
---
From Athens in 1998 to Istanbul in 2013 - eKathimerini
"History goes in cycles and while this is one of its most charming features if you're a scholar, it is not so pleasant when you're actually experiencing it.

A few days ago I was in Istanbul to attend an event held in memory of the late Turkish journalist Mehmet Ali Birand. I remembered the expression on his face when he first visited Athens around 1998. He was impressed by the wealth, the dynamism and the air of Europe that was evident everywhere.

"Wow, you guys have really progressed. You've left us far behind," he told me after a long walk through central Athens. Had Birand been alive today, I may very well have uttered the same words to him about Istanbul.

Turkey today is a country that exudes confidence and has made marked leaps forward.

...On the other hand, while Turkey may be in its prime right now, it is also showing cracks that have many observers very concerned. Its overambitious foreign policy opened fronts that have no strategic advantages; its economy is at risk if the real estate bubble bursts and drags banks down with it; and democracy is being sorely tested, if the experiences of non-establishment journalists are anything to go by.

Given this uncertainty, we should not draw any conclusions about where Greece or Turkey will be in 20-30 years. Sure, Greece is at a very low point right now, but that is nothing new if viewed from a historical perspective. Turkey likewise has known growth before, but has also gone through long periods of decline."
---
October 26, 2013
Greek economic devastation ahead, according to Citi Group - UK Telegraph
"Greece continues to be a catastrophe. The alleged stabilisation will prove to be a false dawn. The economy will contract by a further 2.9pc in 2014, and 1.4pc in 2015, pushing unemployment to 32.4pc, and the debt to 201pc of GDP.

...If Citigroup is broadly correct, Europe faces a lost decade that is far worse than anything suffered by Japan, which will render the region marginal in coming world affairs, and is likely to have non-linear political consequences. The lesson of the 1930s is that you have to discredit both the moderate Left and Right in turn before voters turn to extreme parties en masse."
---
October 25, 2013
Greece can choose its government, but not its economic policy - eKathimerini
"...Kathimerini has reported at least seven times, over the last six months, that even if Greece exits its eurozone/IMF backed macroeconomic adjustment program, regains market access, and elects a different, "progressive" government, it will still not be able to follow an expansionary fiscal policy. This is because, following the outbreak of the crisis, all eurozone governments (including the Greek one) have bound their countries to follow a "Spartan" economic policy indefinitely, through a set of draconian pieces of legislation.

Of course, nothing is irrevocable in politics, but if a potential SYRIZA government wants to implement "Keynesian" policies - even assuming markets were willing to finance the deficits created by such policies - it would either have to convince all of its eurozone partners to agree on changing the current legislative framework, or leave the single currency.

Otherwise, if SYRIZA tries to diverge from Eurozone's "economic orthodoxy," then Greece will be taken to the European Court of Justice, asked to pay heavy fines...

But failing to comply is basically impossible for Greece...

...eurozone member-states, like Greece, which have sought financial assistance from the European Financial Stability Facility, will have the Commission standing over their finance ministers, until they repay most of these loans."
---
DNA identifies Maria child of Bulgarian Roma woman - The Star
"DNA tests have confirmed that a Bulgarian Roma couple are the parents of a mysterious girl in Greece known as Maria, authorities said Friday.

Genetic profiles of Sasha Ruseva and her husband, Atanas, matched that of the girl, said Svetlozar Lazarov, an Interior Ministry official.

Ruseva has said she gave birth to a baby girl four years ago in Greece while working as an olive picker, and gave the child away because she was too poor to care for her."
---
DNA test shows Maria in child abduction case is Roma - BBC
"DNA tests conducted in central Greece on a blonde-haired girl known as Maria have shown that the couple looking after her were not her biological parents.

...The UN children's agency Unicef has told the BBC that Roma communities are often used by traffickers because they are seen as "under the radar of society".

As many as 3,000 children in Greece are in the hands of child-trafficking rings originating in Bulgaria, Romania and other Balkan countries, Unicef says.

...Most cases are not thought to involve abduction but rather the buying and selling of children for a few thousand euros.

Part of the problem in Greece appears to lie in its localised and out-of-date child-registration system. And yet, ever since the mid-1990s, the European Union has tried to ensure all Roma communities across Europe are fully registered.

...The couple who registered Maria, according to the Greek authorities, used false identification and claimed to have had six children in under 10 months. And Greece's supreme court has called for an urgent investigation across the country into birth certificates issued since 2008."
---
October 24, 2013
Government suspendings state-financing from Golden Dawm - NY Times
"Wednesday's decision was another step toward draining Golden Dawn of power. Since it emerged from obscurity and entered Parliament in the summer of 2012, the party has received about 500,000 euros, or close to $700,000, in state financing.

Golden Dawn's coffers also reportedly received 200,000 euros, or about $275,000, from the salaries of its 18 members of Parliament, a 20 percent donation that Mr. Michaloliakos is said to have demanded.

Golden Dawn is thought to have benefited from at least an additional two million euros, or about $2.75 million, from other sources. The cost of maintaining its dozens of offices across the country and financing its "Greeks only" food distribution and blood donation campaigns is estimated at two million to three million euros, according to reports in the Greek news media.

This month, the country's Financial Crimes Squad started investigating Golden Dawn's finances over the past 12 years, looking for signs of money laundering or questionable donations."
---
A second Roma Abduction Case? - NBC News
"A Roma couple was arrested Wednesday in Greece on suspicion of abducting a two-month-old baby boy -- just days after authorities discovered a blond, blue-eyed girl known as "Maria" living with a duo who weren't her biological parents.

"The initial evidence strongly indicates that they are not the parents," a police official told NBC News, after a man and woman aged in their 20s after they were charged with child abduction on the island of Lesbos. Another person was arrested as part of the same case.

Municipal employees became suspicious when they tried to get a birth certificate for the baby, with a signed statement, as is possible in Greece, instead of producing hospital records, the official added.


After the Maria case hit the headlines, Greece's Supreme Court this week ordered prosecutors across the country to be alert for any discrepancies on birth certificates going back six years.

...Authorities also continued to search for Maria's biological parents of Maria. She was found living with Christos Salis, 39, and Eleftheria Dimopoulou, 40, in a Roma settlement near Farsala, a small town north of Athens.

DNA swabs taken from Maria showed that Salis and Dimopoulou were not her parents and did not match anyone in Interpol's global database of missing people, officials said Wednesday.

The international police agency also issued "Blue Notices" to all of the organization's 190 member countries in a bid for more information about Salis and Dimopoulou.

Reuters cited police as saying that there is evidence the couple used false IDs to register Maria as their own, saying she was born at home."
---
"Maria an investment" as abduction case ontinues - UK Daily Mirror
"The jailed foster parents of little 'blonde angel' Maria bought her as an "investment" to cash in on the biggest tradition of the gypsy world, police believe.

The youngster is thought to have been bought young, with the intention of making big money by selling her into a forced marriage at the age of just 12.

Police are investigating whether Maria, believed to be aged five or six, was being prepared for sale to a wealthy gypsy leader.

Marriage at the age of 12 is common practice in many traditional Roma communities, with the bride's family getting a pay-out from the new in-laws.

Because Maria was seen as a "white-skinned beauty" within the gypsy camp, she would be considered a "prize investment".

---
October 21, 2013
Privatization under attack - eKathimerini
"...economists are divided on the net effect of privatizations carried out under a tight time pressure and in a depressed market environment, with some critics fearing the potentially corrupting power of vested interests.

"The privatization of ports and airports will help build credibility, create positive investor sentiment and, more importantly, will start delivering benefits in terms of quality services to the population,» said Gikas Hardouvelis, chief economist at Eurobank.

"The net sum for Greeks will be negative,» countered Costas Melas, a professor of economics at Athens's Panteion University.

"When the troika leaves, the wealth of the Greek people will have sustained a major blow. Not only in terms of public corporations but also in terms of their own assets,» he said.

"Anything that moves, flies or walks in Greece has sustained a devaluation of 30 percent on average,» Melas told AFP.

The privatization program is far behind schedule and planned sales have repeatedly been delayed.

Athens recently revised its estimated asset sales for this year down to 1.6 billion euros from an initial target of 2.6 billion euros."
---
Roma camp blonde girl all over news - NBC News
"...the "mystery blonde girl," as she has been dubbed by the Greek media, remains in a hospital where a dental examination showed she is between five and six years old.

Authorities are trying to identify where she originates from.

The girl was spotted peeking out from under a blanket on Wednesday as police swept the Roma settlement for suspected drug trafficking near Farsala, a small town around 170 miles north of the Greek capital, Athens. Roma also have been called Gypsies, though that term is considered derogatory.

She speaks just a few words - in the Roma dialect, and in Greek - and police think she may be of northern or eastern European origin, possibly from Scandinavia or Bulgaria.

DNA tests show that the 40-year-old woman and 39-year-old man she was living with in the camp were not her biological parents."
---
October 16, 2013
Eurozone wants 2 billion in savings in 2014 - eKathimerini
"Greece's lenders are demanding that it will have to produce an extra 2 billion euros in savings in 2014 following a Eurogroup meeting in Luxembourg on Monday.

Kathimerini understands that Finance Minister Yannis Stournaras was told he will have to take more measures next year despite the government's hopes that it would avoid such a move.

Following the talks, Stournaras insisted that Athens would not opt for any more "horizontal" cuts, affecting pensions and wages. The Greek finance minister also challenged the assertion made by European Central Bank executive board member, Joerg Asmussen, that Greece faced a "significant fiscal gap" in 2014.

"There is no significant fiscal gap," Stournaras told reporters. "We do have fiscal challenges - always."
---
Provopoulos under investigation - NY Times
"In an era when central bankers like Ben S. Bernanke dominate the global economic stage, few hold as much power within their own country as Georgios A. Provopoulos, the governor of the Bank of Greece, who has played a crucial role in keeping Greece out of bankruptcy and in the euro zone.

"My actions will be judged in the future after the dust has settled and people are in a better position to assess the results."

But now Mr. Provopoulos faces one of the bigger challenges of his tumultuous reign: an investigation into whether he abused his position by clearing a banking deal involving his former employer and a business magnate who was subsequently charged with embezzlement and fraud.

In a confidential report issued last May, a senior Greek prosecutor said that Mr. Provopoulos approved the 71 million euro ($96 million) deal despite warnings from his staff regarding the buyer's finances. The report, parts of which were reviewed by The New York Times, hints at the scope of the investigation, about which little has been previously disclosed."
---
October 13, 2013
"The centre of the quake, which struck at at 1311 GMT, was 22.5 miles (40 km) below the seabed 43 miles (70 km) west of Chania on Crete, the U.S. Geological Survey said."
---
October 12, 2013
Ancient strip mall unearthed in Greece
"Along the scenic coast of the northern Aegean Sea, archaeologists have uncovered a Greek portico, which, 2,500 years ago, would have been a bustling public space, something like an ancient strip mall.

The seaside portico, or stoa, stretches 130 feet (40 meters) across with seven rooms inside, each bearing the distinct architectural touches of their ancient shop owners, the site's excavators say. Strewn about the ruins, archaeologists found coins, vases and other artifacts that hold clues to when and how people lived in the archaic city."
---
October 11, 2013
Major privatization finally completed - eKathimerini
"Emma Delta, controlled by Czech investor Jiri Smejc and Greek businessman George Melissanidis, paid 622 million euros ($841 million) for a 33 percent stake in OPAP. The fund will pay an additional 3 million euros a year for the next 10 years.

Selling state assets is a key condition of Greece's 240 billion-euro bailout and the government is aiming to raise 1.6 billion euros from privatizations this year."
---
Turkey and Greece argue over Athens Mosque, swaps - eKathimerini
"...Greece flatly rejected the idea of reviving two Muslim mosques in Athens in return for the reopening of an Orthodox clergy school in Turkey.

Mosques have been a thorny issue for a long time in Greece, where the population is predominantly Greek Orthodox. Athens is one of the few European capitals without an official mosque.

The Halki seminary has also been a subject of controversy. The Orthodox clergy used to train in the school located on an island off Istanbul but it was closed in 1971, after Turkey fell out with Greece over Cyprus.

Turkey, a country where Muslims make up 99 percent of the population, recently decided to give back to the seminary lands that had been seized in 1943, but there was no talk of reopening."
---
October 10, 2013
Greece Posts Primary Budget Surplus for Jan-Sep Period - WSJ
"The figures show that Greece is likely to secure a primary budget surplus for the year, for the first time in more than a decade, which could help the country's case for further debt relief form its creditors--the European Union, the European Central Bank and the International Monetary Fund.

The finance ministry said the primary budget surplus for the January to September period was 2.6 billion euros ($3.52 billion), or 1.4% of annual economic output, turning around a steep deficit of some EUR2 billion in the corresponding period a year earlier.

In a statement, Deputy Finance Minister Christos Staikouras said the government's target of winding up the year "with a small, sustainable" primary budget surplus has become more feasible."
---
Recent Statistics [OCT 2013]
Coloring is relative: If the category has improved since the last report, it is GREEN Worse numbers are BLACK . Data source is ELSTAT.
| | | |
| --- | --- | --- |
| Consumer price index | Sep 13/Sep 12 | -1.1 |
| Harmonized Index Consumer Prices | Sep 13/Sep 12 | -1.0 |
| Gross Domestic Product (GDP) | Q2 2013 | -3.8% |
| Unemployment rate* | Q2 2013 | 27.1% |
| Industrial Production (non-construction) | Aug 13 / Aug 12 | -7.2% |
| Turnover Retail Trade | July 13 /July 12 | -14.4 |
| Producer Price Index Industry | Aug 13/Aug 12 | -2.0% |
| Building (volume) | July 13 / July 12 | 0.0% |
| Population count 2001 | 10,815,197 | |
| (2008 Eurostat Estimate Population) | 11,262,000 | |
| Registered Population 2011 | 9.903.268 | |
| Resident Population 2011 | 10.815.197 | |
NOTE: In general, all the numbers are bad compared to a year ago, but the amount of decline (marked green) has slowed versus the last report, which is either a month ago or just last quarter.
---
Old arguments at IMF over Greece resurface - WSJ
"The International Monetary Fund proceeded with its record 2010 bailout of Greece despite deep internal divisions over whether it would work, according to confidential documents that contradict the fund's public statements.

The new details of the rift come as the crisis lender is now pressing European governments to forgive some of the country's debt in a fresh round of difficult talks. The idea is unpopular with Germany and other European nations because their taxpayers would take the hit. But it stands a chance because the IMF is now making future support conditional on significantly reducing Greece's debt burden.

The topic will be high on the agenda when finance ministers from around the world gather in Washington this week for the IMF's annual meeting."

"...The Greek bailout was not a program for Greece, but for the euro zone itself," one participant at the 2010 meeting says today.

The 2010 documents show that several IMF directors were deeply skeptical of the staff's economic projections from the beginning, calling them "rather optimistic," "overly benign," even "Panglossian."
---
Greece targets Golden Dawn leader's wife - Sky News
"Greek prosecutors have asked for the parliamentary immunity of Nikos Michaloliakos's wife to be withdrawn after she allegedly tried to give the Golden Dawn leader a bullet during a prison visit, a judicial source says.

Eleni Zaroulia, an MP with the neo-Nazi party led by Michaloliakos, smuggled a bullet into the prison in a travel bag when she visited her husband according to the Ana news agency.

He is in custody following his indictment last week for heading a criminal organisation."
---
Constitutional and Economic Reform Needed - Enet English
"A call for a internationally backed programme on the postwar Marshall plan to rescue the Greek economy will be made at a conference in London on Thursday which will be attended by business leaders from the country.

They will warn that without urgent action to address ineffective governance, the dramatic drop of the population's confidence in the state and its political system and the slump in output and soaring unemployment, Greece risks becoming a "failed state" threatening to destabilise its continental neighbours.

...The scale of the Greek economic collapse, despite the repeated bailouts funded by the troika, made up of the European Union, the ECB and the IMF, will be laid bare by Ikonomopoulos, who will highlight an unemployment rate of 28%, the highest in Europe, rising to a catastrophic 65% among young people."
---
October 9, 2013
Pressure continues for Germany to pay war reparations - National Post Canada
"Full Comment's Araminta Wordsworth brings you a daily round-up of quality punditry from across the globe. Today: Greece has a new plan to get rid of its debt — get Germany to cough up.

According to the government of Antonis Samaras, Athens is owed at least $230-billion in reparations for damage done by the Nazis during the Second World War. This includes a loan the Greek national bank was forced to make to the Third Reich.

That's roughly equivalent to 80% of Greek domestic product and would go a long way to satisfying current creditors.

The information comes from a "top-secret" report leaked to the media earlier this year, but knowledge of its existence will overhang the International Monetary meeting in Washington this week. Members will likely be asked for a third bailout for Greece, plus writing off some of the debt."
---
October 8, 2013
Why is investment staying away from Greece? - eKathimerini
...It is a well known fact that Greek private investors, who could be the first sponsors of investments, have parked their funds outside Greece and that beyond some individual company decisions (more recently by Hewlett-Packard, software giant SAP and Boehringer Ingelheim pharmaceuticals), foreign investors are similarly reluctant. Many firms have decided, in the recent past, to move their headquarters out of the country or leave altogether – Societe Generale and Carrefour are such examples. In the meantime, the Greek government has been relentlessly stressing that Greece offers good investment prospects. However, calls that are not backed by concrete actions usually tend to fall flat without effect.

The fundamental question that should rather be raised is why investors are staying away from Greece...

Greece today has a scattered number of innovative companies and certainly a fair amount of further investment opportunities. But most of them lack capital because the environment for innovation and investments was in a bad shape before the economic crisis and still is despite initial reform efforts. For instance, the lack of codification of Greece's legal framework often adds a substantial burden; lengthy procedures erect barriers to entry and, more importantly, obtaining or extending licences or permits, as well as excessive reporting duties stifle business. In addition, cost-effective ways to protect intellectual property rights are lacking.

In 2010, the World Bank's "Ease of Doing Business" report ranked Greece 109th out of 183 countries, far below any other eurozone economy (with Italy the second lowest at 78th). As the European Commission put it at the time, "the business environment suffers from obstacles to starting a business, the little protection given to investors and the difficulty to access finance."
---
PASOK's Tsochatzopoulos found guilty in bribery case - NY Times
"After a five-month trial — the highest-profile case against a Greek politician in more than two decades — judges convicted Mr. Tsochatzopoulos, 74, along with 16 other defendants, including his wife, his daughter and several business partners. All were found to have colluded with him to launder the bribe money using a network of offshore companies and property purchases.

Mr. Tsochatzopoulos was sentenced to 20 years in prison, said his lawyer, Leonidas Kotsalis, who added that his client would appeal.

Regardless of the sentencing decision on the money-laundering charges, Mr. Tsochatzopoulos will not escape prison. He was sentenced in March to eight years for concealing assets from the authorities, chiefly for failing to report the purchase of a house near the Acropolis, one of several properties connected to the money-laundering scheme.

...He is the most senior government official to stand trial since 1991, when former Prime Minister Andreas Papandreou was acquitted on charges of accepting bribes in return for forcing state companies to prop up a troubled private bank."
---
October 6, 2013
50-year bond issue to solve debt relief? - Reuters
"Greece is looking into swapping a big chunk of its bailout loans with a 50-year government bond as a way to achieve debt relief once it attains a primary budget surplus this year, an official close to the discussions told Reuters on Saturday.

Twice bailed out with 240 billion euros by its euro zone partners and the International Monetary Fund, Greece aims at a primary budget surplus this year, excluding interest payments, which will allow it to seek debt relief from its lenders.

...Euro zone countries provided Greece with 52.9 billion euros of loans in the first 110 billion-euro bailout, which included 20 billion euros of loans from the IMF. The remainder of the aid came from the EFSF rescue fund.

Repayment of these bilateral loans is set to begin in 2025. The swap would extend repayment by decades."
---
Samaras moved quickly on Golden Dawn - eKathimerini
"When it finally acted against the neo-Nazi Golden Dawn group, the government of Antonis Samaras surprised everyone with its speed and determination. The head-on confrontation was a long time coming; until the murder of anti-fascist rapper Pavlos Fyssas on September 18 by a man who confessed to being a member of Golden Dawn, the group had appeared to enjoy absolute impunity.

Now, however, we see that state authorities have been keeping an eye on the group for some time, and that over the course of the months its leaders and members have been implicated in a growing number of crimes.

...The stakes are high. Democracy has to show that when it defends itself against those who would undermine it, it does so with justice and transparency. The process must clearly show that it is crimes which are being prosecuted, not ideas (however foreign and distasteful they are to our society, as is the case here). It must also be clear that the authorities are doing the job well, that they will prove their case, otherwise the move against Golden Dawn may be seen as a political pogrom and work in favor of the group once its supporters' initial shock wears off."

---
Tips India can learn from Greece on tourism - India Times
"Greece, a country of some nine million people (to put that in perspective, Mumbai alone has 18 million), is battling a debilitating economic crisis, but it puts its best foot forward for tourists. ... The country drew in around 20 million tourists in 2012; the UK attracted 10 million more in that year.

Greece is a relatively difficult destination to reach from India compared to the UK, since it usually involves a layover in either a West Asian hub such as Dubai or Doha or in Europe (Frankfurt or Brussels). As a tourist destination, Greece is a country for people looking beyond the hordes of tourists on the 12-countries-ina-fortnight packaged tours.

You're unlikely to meet an Indian at every street corner (we met only a handful on our holiday) and those you do are happy rather than weary for your company. It helped immeasurably that we dodged peak tourist season ( June to August) and instead went in early to mid-September, when the crowds had thinned. Perhaps as a result of the endemic slowdown — or maybe they're just friendly — Indian tourists are welcomed and courted.

Across our 10-day tour of Athens, Mykonos and Santorini, hotel owners and managers weren't just courteous as expected, they whipped out maps, pointed out Metro stations and tourist attractions and routes to reach them. While we opted for three-star hotels (clean bathrooms, sheets changed daily), tourists staying at cheaper digs too can expect a helping hand from staff."
---
October 4, 2013
Cash-strapped Greece looks to Greek Americans for support - Washington Post
"On a typically humid summer day, Greek ambassador Christos Panagopoulos welcomed his guests for a salon performance of Opera Camerata of Washington at the Fairfax Embassy Row hotel. "I would have loved to host you at my residence across the street," he said, "but, like the economy of my country, it is under reconstruction."

The American-educated ambassador was putting on a brave face. Renovations on the 1906 Beaux-Arts building, the most impressive of the four that Greece owns around Sheridan Park, have been a low priority for his government given the country's strained finances. The building has been closed for three years.

...As the Greeks went on to make painful sacrifices that resonated even overseas, Greek Americans are finally ready to go home. The fastest, most direct form of relief is tourism. "Everybody should go to Greece and be, you know, a tourist!" Mossaidis said. "Spend your money and help the economy by investing or spending on hotels, buying things and so on."

Tourism is the biggest industry in Greece, accounting for 15 percent of its economy. The unrest scared people away; tourist arrivals and revenue dropped. This summer, as the protests waned and the danger of a euro exit faded, it was time to reopen the floodgates.

Instability in other destinations in the eastern Mediterranean redirected tourists to Greece. In a recent meeting with the editorial board of The Washington Post, Greek Prime Minister Antonis Samaras said that a record-breaking 19 million tourists were expected this year — "a rain of liquidity in a dehydrated soil," as he put it. "
---
Michaloliakos back in custody - NY Times
"The leader of the extreme-right Golden Dawn party was returned to custody on Thursday after appearing before a Greek magistrate on charges of setting up a criminal organization, part of the government's crackdown on a party described by Greek and European authorities as neo-Nazi and violent.

The magistrate's order to remand Nikos Michaloliakos, the first political party leader to face jail since Greece's seven-year military dictatorship ended in 1974, came a day after three of his fellow lawmakers facing similar charges were released from custody and told not to leave the country, and a fourth was ordered held pending trial.

Testifying in an Athens courtroom, Mr. Michaloliakos condemned the murder last month of a 34-year-old hip-hop artist and anti-fascist, Pavlos Fyssas, by a self-professed supporter of Golden Dawn, and said he did not know whether members of the party were involved in violence, according to a court official. "I condemn the murder, like I condemn violence in general," he was quoted as saying. "I am not a Nazi."
---
Greece: cooperatives wage war on recession and unemployment - euronews
"The country is now six years into a recession with a record unemployment rate of 27.6 percent. To survive the crisis a group of women have come together and formed an anti-crisis cooperative. Everyday 20 women, most of whom have no particular qualification, prepare traditional Greek dishes for sale in a downtown restaurant.

Since 2000, the money made by the cooperative has restored a local monastery and installed kitchens in it.

The turnover of 400,000 euros a years has been hit slightly by the financial crisis, but the jobs are intact.

Anna Darzenta, the president of the To Kastri cooperative, says: "as a result of the crisis, many of our members came to work in the cooperative, because their husbands had lost their jobs. Here the wages are about 20 percent higher than in the private sector."
---
October 2, 2013
A Glance at Greece's Golden Dawn Defendants - ABC News
ABC profiles the six GD personalities as if they're pop stars:
Nikos Michaloliakos - 56-year-old founder
Ilias Kasidiaris - 33-year-old special forces veteran... a swastika tattoo on his arm
Christos Pappas - staunchly loyal to Greece's 1967-74 military dictatorship
Ilias Panagiotaros - runs a sports goods and army surplus store
Yiannis Lagos - muscular physique and a handlebar mustache that he recently grew out into a full beard
Nikos Michos - 44-year-old is a close ally of Michaloliakos, avoids the limelight
---
The anti-debt-relief crowd is wrong - eKathimerini
"This is a new and more sophisticated twist to the usual argument against debt relief, which is that forgiveness risks encouraging chronically undisciplined countries to again run up their budget deficits, safe in the knowledge that whenever debts get out of control they won't have to pay. Both the old and the new arguments are wrong and fraught with risk.

The expectation that debt relief should follow the German elections was based on a number of immovable facts. The first is that Greece is in the grip of an economic depression that has lasted six years, wiping out 30 percent of its gross domestic product -- the same contraction the U.S. suffered during the Great Depression. Greece is bleeding profusely. The second fact is that after four years of austerity measures designed to reduce Greece's public debt, it has instead continued to grow to 175 percent of GDP. This is despite the 2012 restructuring of bonds held by the private investors, which shaved 30 percent of GDP worth of debt from what Greece owes.

The bulk of Greek debt is now in the hands of official creditors, and many thought that with elections in the rearview mirror Germany would show some flexibility -- after all, Merkel strongly opposed the private sector restructuring until she turned around and made it happen. In brief, the time has clearly come for creditor countries to forgive part of Greece's debt, because nobody believes that the government can bring it to a sustainable level on its own."
---
September 27, 2013
Venizelos - No 3rd bailout needed if we can return to bond mkt - Reuters
"Since the sovereign debt crisis of 2009, Greece has been shut out of international capital markets, resorting only to short-term borrowings, and has relied on two bailouts and a major writedown of Greek debt held by private investors.

Despite punishing fiscal measures and cash injections, it is expected to need an additional 10 billion to 12 billion euros in the next two years. The euro zone is likely to decide on a third bailout for Greece in November after international inspectors finish an assessment of its reforms.

Venizelos, a constitutional law professor and former finance minister who negotiated the debt writedown, said Greece was not looking for any more handouts but could cover its needs by returning to the bond market as early as next year and by renegotiating the interest and maturity of existing debt.

"Our point is not to transform the adjustment program as a more loose program, but to implement through a clever manner the existing program," he said."
---
September 25, 2013
Police investigated in Anti-Fascist Crackdown - NY Times
"The suspect has been linked to Greece's neo-fascist Golden Dawn party. Almost as chilling are accusations by some witnesses that a squad of police officers stood by as a group of burly, black-clad party members chased Mr. Fyssas down. A police spokesman denied that account, saying officers arrived right after the stabbing, in a gritty Athens suburb last Wednesday, and promptly arrested the suspect.

The killing of Mr. Fyssas has spurred the government to begin a risky crackdown on Golden Dawn, opening its first investigation into whether the police forces are infiltrated by sympathizers or members of the group, one of the most violent rightist organizations in Europe.

On Tuesday, officers raided three police stations on the outskirts of Athens. The sweep came a day after the government replaced seven senior police officials — including the chiefs of special forces, internal security, organized crime and the explosives unit — to ensure the investigation would take place with "absolute objectivity." In addition, two top members of the Greek police force resigned abruptly Monday, citing "personal reasons."

Such steps have the potential for volatile repercussions in a country where the security forces have had links to far-right organizations at various points since the end of World War II. They are likely to test the determination of the government and the public to turn back the influence of Golden Dawn, which has climbed steadily in opinion polls in the past year and has 18 of its members in Parliament."
---
Samaras attacks Golden Dawn state funding - UK Guardian
"As prime minister Antonis Samaras's government proposed that state funding for the far right group also be cut off if investigators found organisational links to the stabbing, Golden Dawn stepped up denials that it had any connection to the death. Its leader, Nikos Michaloliakos, insisted that the alleged killer was not a member of the party and had a tentative relationship with one of its 70 branches. "He was only passing through. I cannot control what everyone does," Michaloliakos told Kontra television in a rare interview.

Golden Dawn's spokesman, Ilias Kasidiaris, went further, accusing political parties, the government and the media of waging a dirty war against the organisation because of its growing appeal – despite one poll showing its support had dropped 2.5 points following the stabbing.

"Golden Dawn has been radically strengthened, it has passed 20% [in the polls] and in a few months it will lay claim to the biggest municipalities in the land. We will not stop. We have justice on our side and more than a million Greeks," Kasidiaris said.

Although surveys have shown the vast majority of Greeks expressing outrage at Golden Dawn's tactics in the wake of the killing, polls have also revealed the party maintaining steady ground in the areas most affected by the economic crisis."
---
September 23, 2013
Talks with creditors proceeds - USA Today
"Greece resumed talks with its creditors to review progress in stabilizing the indebted country's finances.

Finance Minister Yannis Stournaras met for more than four hours Sunday with representatives of the so-called troika of creditors — the European Commission, the European Central Bank and the International Monetary Fund. At stake is the continuation of the financing of Greece by the creditors, including a $1.35 billion (€1 billion) bailout installment to be paid in October.

In order to get this aid, Greece must finalize plans for the restructuring of three defense-related industries, which the EU wants liquidated; complete furloughs of around 12,500 civil servants by the end of September; pay back state debt to two major state-owned water companies that will later be privatized; and reform the lawyers' professional practice code, notably removing a requirement for a lawyer to be involved in the drawing up of contracts."
---
September 22, 2013
Troika talks resume in Athens - Fox News
"At stake in Sunday's talks with Finance Minister Yannis Stournaras is the continuation of the financing of Greece by the creditors, including a €1 billion ($1.35 billion) bailout installment to be paid in October. The discussion is expected to include the fate of Greece's defense industries, which the European Union wants liquidated; the furloughs for some 12,500 civil servants; and the ongoing privatization program."
---
Why Greece Is Not Weimar - NY Times
"The perfect political storm for violent extremism has descended on Greece. It consists of national humiliation, economic disaster, high immigration, political division and international tutelage. Look no further than Weimar Germany to understand its ingredients.

A typical confrontation occurred the other morning. Alex Soultos, who works in the jewelry business, was in a shouting match. A graduate of Northeastern University who returned to Athens from Boston in 2009, he was making his way through a crowd of strikers outside the Ministry of Administrative Reform and E-Governance when he lost it.

A group of women screamed abuse back at him. At our age, they demanded, where can we find jobs? They are among the 2,000 "school guards" who were ousted as the government scrambled to find 12,500 public employees it could shift by the end of this month to meet a deadline set by Greece's international creditors. "We have bills," Vespina Papadopoulou shouted.

But as Kyriakos Mitsotakis, the minister responsible for the cuts, explained to me inside the besieged ministry, the message from the "troika" (the International Monetary Fund, the European Commission and the European Central Bank) is clear: "If you don't do it, no more money!" Europe's requirement is: Reform or else."
---
September 18, 2013
Yiannis Vroutsis: no more cutting on pensions - NYT
Question: Can government resist push for more cuts?
"With a fresh inspection by Greece's foreign creditors looming next week and labor unions leading a new wave of strikes, the government here has drawn a red line: it will keep pushing economic reforms but vows to impose no more austerity measures on Greeks already battered from three years of tax increases and pension cuts.

"... Just let them try and cut our pensions again," said Maria Vassilopoulou, a 45-year-old nurse taking part in the protest. "They'll have a riot on their hands."

The Greek labor minister, Yiannis Vroutsis, denied over the weekend that pensions would be withheld or cut.

...But retirees are on edge. Stathis Meltakis, a 65-year-old car mechanic who retired this year, has been counting on a monthly payment of 850 euros from the country's biggest pension fund for private sector workers, IKA, which provides health coverage to 5.5 million people and pensions to more than 800,000. But last week, the union representing IKA workers warned of cuts of 10 to 30 percent in pensions next year.

"I've no idea when I'll get it or how long the checks will keep coming," Mr. Meltakis said. "You can't be sure of anything anymore."
---
Police raid Golden Dawn offices after stabbing incident - CBS News
"Police raided the offices of Greece's far-right Golden Dawn party Wednesday following a fatal stabbing by a man who authorities said admitted being involved in the party, the most serious instance of violence attributed to the extremist group.

Pavlos Fyssas, 34, a hip-hop singer identified by friends as an anti-fascist activist, died in a state hospital early Wednesday after being stabbed outside a cafe in the Keratsini area west of Athens. He suffered at least two stab wounds to the heart and ribs, authorities said.

A 45-year-old man who was arrested after being found in possession of a knife admitted to the attack, and to being involved in Golden Dawn, police said in a statement.

The party, whose senior members have expressed admiration for Adolf Hitler although they deny being a neo-Nazi group, won nearly 7 percent of the vote in general elections last year. Support has since risen to around 12 percent according to recent opinion polls."
---
Dramatic drop in Greek birth rate - UK Guardian
"The decline of more than 10% in the past four years is unparalleled in Europe and highlights the savage impact costcutting measures are having on the nation at the heart of the eurozone's financial woes.

"The falling fertility rate is a natural consequence of harsh austerity and record levels of unemployment, especially among the young," said Christina Papanikolaou, general secretary at the health ministry. "It is the mirror image of the 25% drop in our GDP since the start of the crisis," she said.

If further evidence was ever needed of the human cost of austerity, it is the effect budget-reducing policies are clearly having on childbirth in Greece. Figures released by the state-run Institute of Child Health show that the birthrate dropped from 118,302 in 2008 to 100,980 in 2012. "
---
September 13, 2013
Back to Work: Greece Deletes Computer Leave - WSJ
"...The bonus, known as "computer leave," applied to workers whose job involved sitting in front of a computer for more than five hours a day—basically most of the staff working in ministries and public services.

"It belongs to another era," Kyriakos Mitsotakis, the administrative reform minister, said. "Today, in the era of crisis, we cannot maintain anachronistic privileges."

Doing away with this bonus, which dates to 1989, represents "a small, yet symbolic, step in modernizing public administration," he said.

But the public-sector union Adedy said it would fight the decision in court."
---
'Greece in terrible state,' Oxfam warns - ekathimerini
"Greece is in a terrible state," Oxfam has said as a new report by the international aid agency warns that about 146 million Europeans, almost a third of the Continent's population, will be trapped into poverty by 2025 as a result of austerity policies across the region.

"...We were founded in 1942 because of the famine in Greece; no one would have believed we would be here more than 70 years later, saying, Greece is in a terrible state," Max Lawson, Oxfam's head of advocacy said in a statement.

"The UK, Greece, Ireland, Italy, Portugal, Spain – countries that are most aggressively pursuing austerity measures – will soon rank amongst the most unequal in the world if their leaders don't change course," he said.

...Austerity has helped Greece cut its primary deficit by 9.2 percent of gross domestic product in 2010-2012, one of the largest fiscal improvements recorded worldwide.
Oxfam is the "Oxford Committee for Famine Relief" begun in 1942 in the UK.
---
September 10, 2013
2013 surplus possible says Staikouras - eKathimerini
"Greece's central government had a primary budget surplus of almost 3 billion euros between January and August, the country's deputy finance minister Christos Staikouras said on Tuesday.

Excluding one-off revenues from European central banks, the surplus stood at 1.5 billion euros, the minister added. Greece continues to meet its budget targets and stay on course to hit a primary surplus at general government level at the end of the year, he said.

The ministry said that Belgium and Portugal rolled over their ANFA holdings of Greek government bonds in August."
---
September 9, 2013
How Greece and China are doing business - BBC
Greek exports to China are 1/20th of imports into Greece from China, but the rise of tourists from China to Greece has been increasing.
---
September 8, 2013
The worst is almost over : Samaras - UK Guardian
"If Greece kept up the progress – the condition of rescue funds worth €240bn from its "troika" of creditors at the EU, ECB and IMF – Samaras said the country would also succeed in shaving its debt mountain, at €320bn the biggest in the eurozone.

"After the end of the year, we will achieve a new lightening of the debt burden," he insisted reminding international lenders they had "committed to" making Greece's debt load sustainable if Athens posted a primary surplus [before interest payments on debt] by the end of 2013.

"A primary surplus will mean that the country can stand on its feet [and] will be the first decisive step towards exiting the policies of the memorandums," he said referring to the two loan agreements Athens has signed up to since the start of the crisis. By returning to capital markets and breaking free of creditors, Athens could use the surplus to "lighten the injustices" of Greeks on low pensions and public sector employees hit by cuts."
---
September 2, 2013
Financial support to go beyond 2014: Dijsselbloem - ABC News
"Greece will "very likely" need more financial aid beyond its current rescue loan programs, which end next year, the chairman of the eurozone finance ministers' meetings acknowledged Thursday.

Greece has been kept out of bankruptcy since 2010 with rescue loans worth 240 billion euros ($316 billion) from its eurozone partners and the International Monetary Fund. The possible need for further aid has proven a politically toxic issue in creditor countries like Germany.

"It's clear that despite recent progress, Greece's trouble will not have been completely resolved by 2014," Jeroen Dijsselbloem told lawmakers in the European Parliament.

He said "it's realistic to assume that additional support will be needed beyond the program," provided Greece complies with conditions set out by the eurozone finance ministers, collectively known as the Eurogroup. He says a decision won't be made before April of next year."
---
Greece will negotiate after achieving primary surplus, says Stournaras - eKathimerini
"Greece will embark on a major negotiation with its partners and creditors, known as the troika, after a primary surplus is achieved later this year, said Finance Minister Yannis Stournaras speaking on Skai on Wednesday.

While insisting the country was on the right track, Stournaras said Greece had to stick to its adjustment program.

A funding gap foreseen for summer 2014, which is expected to reach 10.5 billion euros, would be covered either through a return to the markets or a new loan, Stournaras said."
---
September 2, 2013
Greece rejects new oversight for privatization fund - DW-DE
"Greece's government has ruled out handing over the supervision of its privatization scheme to outside authority. This follows reports that the EU could push for new supervisors after lackluster sales of state property.

Both Greek Prime Minister Antonis Samaras and his finance minister, Yannis Stournaras, denied on Sunday that the government would even considering the idea of surrendering control of the Hellenic Republic Asset Development Fund (HRADF).

"HRADF will remain in Greek hands. End of discussion," Samaras told the left-leaning newspaper Eleftherotypia."
---
Samaras: Greece a"bastion of security" - Neoskosmos
"The prime minister's briefing of the president followed reports that Washington has asked Athens to provide permission for US military ships and aircraft to pass through Greek territory and use the Souda Bay and Kalamata military bases for an intervention in Syria.

The Defense Ministry rebuffed those reports earlier on in the week but the government sources that had briefed the Greek daily Kathimerini insisted that the prospect for Greek involvement in a US intervention has been discussed in view of Greece's experience in providing support for NATO's intervention in Libya in 2011.

Greece is monitoring the situation in Syria "with concern and composure" and is "trying to play its role as a factor for stability, peace and security", Foreign Minister Evangelos Venizelos said on Thursday, following a meeting he held with his cabinet colleague, Defence Minister Dimitris Avramopoulos."
---
Parallels between the decline of Detroit and Greece - Financial Times
"...if the talented people leave – which, in Ireland and Greece, they are doing – the chances of a return to growth diminish, especially in the absence of any form of stimulus. The permanent decline of a city such as Detroit is the price you pay for labour mobility. The middle classes there mostly left for nearby suburban areas, such as Oakland County in the north, one of the richest in the US. The population of Detroit has declined from a peak of 1.8m in 1950 to 700,000 in 2012.

Fourth, falling wages do not bring back equilibrium. As unionised jobs disappeared from Detroit, wages fell; yet unemployment remains extremely high. Unemployment peaked at 27.8 per cent in 2009 – virtually the same as in Greece today.

...Permanent decline is still not inevitable, neither for Detroit nor for Greece. The US city's house prices are so low that people are moving back to start businesses there, at least in the relatively safe areas. ...In Greece, it usually rests on some anecdotal story. One of my interlocutors recently witnessed the opening of a new shop in Athens, and drew wild conclusions about an incipient recovery.

....In Greece, the eurozone may yet accept a total debt write-off, and shift some investment into the country. If everything that went wrong in the past four years now turns right, it is conceivable that the Greek economy will resume growth after six years of recession. I do not think this will happen, but at least it is theoretically possible. Unlike Detroit, Greece also has the option of leaving the monetary union and adopting its own currency. But it is far from clear whether Athens would opt to do that – even if it were in the country's best economic interests – since political factors may prevail."
Greece is 'intermediate'
Greece, said Artistotle, is geographically intermediate, between Europe, apparently incapable of civilisation, and south-west Asia, where where only the King of Persia was fully a free man; and the Mean, or medium, to him was the best. Modern geologists add that the Aegean basin is a slab of the earth's crust which has sunk and tipped, leaving only a rim (the Greek peninsula and Crete) and mountain tops (the other islands) above sea-level.
Greece can therefore support a population, on its small though fertile plains, only much smaller than that of the adjacent slab of Asia Minor; a fact which affects the whole of Greek history. Greater wealth must be found overseas, by trade of colonization; and when adjacent powers in Italy or Asia are strong, Greece is threatened. Persia attempted conquest; Rome, the Franks and Turkey achieved it.
On the other hand, Greece enjoys, with its variety of scenery, clear air and summer heat tempered by north winds, an intensely stimulating environment; and when free, three times it has produced great art: the bronze-age Minoan-Mycenaean, the Classical and the Byzantine; all completely different, all unique."
From The Living Past of Greece: A Time-traveller's tour of historic and prehistoric places, by A. R. and Mary Burn. Published by Little, Brown and Company. 1980. Quote from page 9.
---
Byzantine Church of the Holy Apostles
---
---
See the main archive index of all collected news articles and pages on Athens Greece Now.