Greece and the economic crisis
---
January 23, 2017
Greece to rule on Turkish servicemen later this week - Fox
"Supreme Court judges are considering recommendations from senior Greek prosecutors not to sanction the extradition.

The six-month legal battle has further complicated ties between neighbors and NATO allies Greece and Turkey, which remain at odds over war-divided Cyprus and boundaries in the Aegean Sea."
---
Trump & Tourism: The Impact on Greece - GTP
"Greek tourism experts expect that newly-elected US President Donald Trump's policies once put in place will have a positive impact on sector figures, which are already on a robust trend."
---
Bringing Greece back to growth - Naftemporiki
"Why three programmes? – By the start of 2010, investors would no longer lend money to Greece. Private investors did not believe that they would get their money back. Athens had to ask for help. It was an unprecedented event. The EU had not foreseen a possible default of a euro area member. There were no European institutions to deal with such a crisis. Markets were speculating that the euro area could break up."
---
No increase in retirement age - Ta Nea
"The debate around the issue of the judiciary age can only be done with the ultimate goal of producing a proposal for the revision of the relevant provision of the Constitution. Any other solution you overturn provisions of the Constitution with clear and unconditional content ", said senior judges giving le without leaving any room for doubt or even a different interpretation of the constitutional provisions.
---
January 22, 2017
As Tsakalotos seeks to restart review, PM must keep lid on SYRIZA dissent - eKathimerini
"...since Germany's powerful Finance Minister Wolfgang Schaeuble made it clear that Berlin would not accept the withdrawal of the IMF, Athens has stopped the tough talk. Facing elections in the fall, Schaeuble is keen to ensure that Greece does not become a domestic problem for him.

...The Group of 53, to which Tsakalotos belongs, has expressed misgivings while it remains unclear how many MPs would seriously consider destabilizing the government by voting down new measures in Parliament."
---
As Another Economic Crisis Approaches, Greece and Euro Should Consider a Divorce - Huffington Post
This article by Doug Bandow is very much like the same one that appeared in Forbes (from Bandou) a week ago [Greece Heads Into Another Economic Crisis: Time To Finally Exit The European Union? - Forbes] - it contains more or less the same insulting description:
"Greece is a bit like your dissolute brother-in-law. A spendthrift, he gets himself into financial trouble and asks for a loan. You give it to him based on his promise to stop drinking, smoking, and romancing the ladies. He doesn't, of course, but you really didn't expect he would do so. However, you still want your money back. Although he promised to repay you, he doesn't understand why you are asking. Your wife gives him some more money, based on his redoubled promise to reform his bad spending habits. And so it goes.

Greeks long have enjoyed a Mediterranean culture very different from that of the northern European states. Time is flexible, leisure is mandatory, and work is unfortunate. Government is a tool by which everyone attempts to live off of everyone else, though politics is the only sure means to succeed in doing so."
---
January 21, 2017
Germany says IMF plans to stay involved in Greece bailout talks - Reuters
"Christine Lagarde spoke with Schaeuble about Greece's bailout program during the World Economic Forum in Davos this week and told him the IMF aimed to continue its participation, the spokesman told a regular government news conference.

The German Finance Ministry this week denied a report in Bild newspaper that Berlin was preparing for a deal without the IMF, which has said it will take part only if it includes significant debt relief."
---
Digital policy minister Nikos Pappas assures Greek-Americans Greece is doing better - Tornosnews
"The country is doing better, that's the absolute truth...We want all of you here tonight to become Greece's ambassadors. It's crucial for the new government of the United States to know the truth about Greece. To know our country is doing better," the minister said at a dinner in honour of the Greek-American members of the new administration in Washington.
---
Greece says it may extend fiscal contingency mechanism to 2019 - Reuters
"Greece's EU lenders want the country to achieve and maintain a primary surplus - after interest payments - of 3.5 percent of GDP beyond the programme's end in 2018.

"The government can't accept and legislate extra measures beyond 2018. It can only legislate the extension of the fiscal adjustment mechanism for one more year," Tsipras said in a meeting with pensioners earlier on Friday, according to a statement from his office."
---
January 19, 2017
Greece favors IMF withdrawal from rescue loan program - Fox
"Government spokesman Dimitris Tzanakopoulos is blaming the Washington-based fund for "pointless delays" in the negotiations.

Athens hopes a deal with European creditors and the IMF will boost Greece's battered economy, allowing access to the European Central Bank's bond-buying program and, later, to international markets."
---
To stay on in Greek program, IMF wants gov't to pass reforms - eKathimerini
"But if there is no progress next month, with the Greek government agreeing to legislate some of the measures its creditors (and not just the IMF) will demand, then the review runs the risk of remaining pending for the coming months, up until May or even June, according to the estimates of two eurozone officials."
---
Flamingo lagoon in Greece frozen over - MSN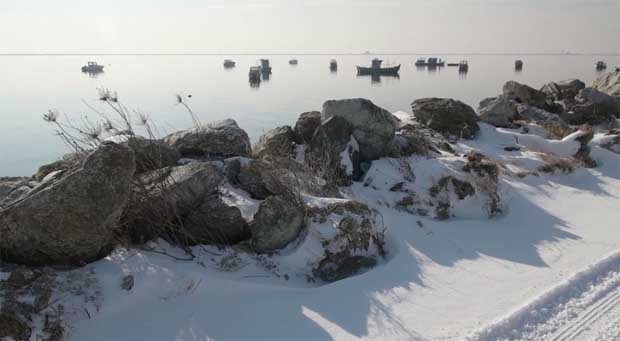 Video report
"Rare footage of a frozen lagoon, usually home to tropical flamingos, completely frozen over due to Arctic temperatures in Greece."
---
Draft report on loans to political parties, media, show ΄blatant΄ violations of bank rules - Capital GR
"The draft conclusions on a parliamentary investigation into shady loans granted to political parties and media groups by banks was handed over by the majority to the rapporteurs of the opposition parties, the president of the parliamentary committee and SYRIZA MP Antonis Balomenakis said on Monday."
---
January 18, 2017
Greece Sells State-Owned Railway Operator to Italian Firm - NYT
"The agency says the sale of its 100 percent stake to the Italian railway company is subject to approval by European Union authorities.

Wednesday's agreement is part of Greece's huge, but dragging, drive to sell off state assets, required under the terms of its bailout agreements with the country's European partners and the International Monetary Fund."
---
Tsipras: Programme review to be concluded without new measures - AMNA GR
"He stressed that the people understand who is trying to pull the country out of crisis and who is blocking the country's recovery. "We are moving forward and we are committed that things will always get better for the country," he said and referring to main opposition, he said "even if that means that they will get worse for your own political plans."

"We have complied with the programme, being full aware of the difficulties, and we have met our targets, because we made the state work and not serve its friends," he said."
---
Blackout on islands due to short circuit the Cyclades - Tanea GR
"Blackout occurred Wednesday morning in the cluster of islands of Paros, Naxos, Ios, Sikinos, Folegandros, short circuit in the transformer of the Autonomous Paros Power Plant."
---
January 17, 2017
Greece aims to conclude review to be able to refinance debt from markets in August 2018 - Reuters
"Athens hopes a meeting of euro zone finance ministers later this month will help speed up its talks with lenders which have dragged on for months mainly due to differences on reforms, fiscal targets and debt relief measures beyond 2018, government spokesman Dimitris Tzanakopoulos said."
---
Excluding IMF is no panacea for Greece - eKathimerini
"The response from Athens was that if the IMF is out of the picture, the review which has been dragging on since last year will be concluded almost overnight and without the need for any new measures to be legislated. It is no surprise that the SYRIZA-Independent Greeks administration was taken by the idea of the IMF being excluded from the program. Many government officials, including Prime Minister Alexis Tsipras, have suggested in previous months that life would be much easier if the Fund withdraws as there would be no need to discuss austerity measures that Athens has described as "illogical."

The thinking appears to be that if the IMF is left out, the swift conclusion of the review that would – theoretically – follow would unlock the benefits that could flow from that (e.g. inclusion in the European Central Bank's quantitative easing scheme and strong growth) and the government would not be forced to absorb the impact of having to enter a new and damaging round of discussions domestically about unpopular measures, such as cutting pensions or reducing the tax-free threshold for incomes."
---
Greece's EMST Among Top 10 New Museum Openings in 2017 - GTP
"The EMST, which had a "soft launch" in October 2016, is the third new museum on the list.

Located in the old Fix brewery on Kallirrois Avenue and Amvrosiou Frantzi Street in Athens, the EMST inaugurated the temporary exhibition space with the show "Urgent Conversations: Athens–Antwerp". The museum's permanent collection is expected to be unveiled in autumn 2017, when the museum is expected to open in its entirety."
---
Provisional data shows state budget surplus above target - Protothema
"According to provisional data released by the Greek Finance Ministry, the 2016 budget target exceeded expectations recording net revenues amounting to 53.968 billion euros."
---
January 16, 2017
Schaeuble advises against IMF departure from Greek program - eKathimerini
"Should it not come to a successful second review [of the steps Greece must fulfill under its support program], and should the IMF draw the consequences from this, then the current program would be obsolete. The program was agreed to only on the expectation that the IMF would participate," Schaeuble was quoted by the WSJ as saying.
---
Greece: Refugees struggle as cold snap intensifies - MSN
Video report on temperatures in Northern Greece (-10C). A nonsensical aspect of the reporting is that it shows the drinking water in the refugee camp as frozen from the water spout above the ground in an open, though covered, location. Then the reporter demonstrates each refugee "container" where families are residing has a large portable kerosene heater installed which keeps the people warm. Do the Greeks not allow the refugees to find a way to isolate the frozen water spout and lay kerosene heaters near it, enveloping the drinking water facility with heat so it does not freeze? Heavy tarps would possibly suffice, or better yet one of the "containers" shown which looks to be made from fiberglass or a heavy plastic, perfectly suitable for modification. It seems unlikely that the refugees themselves do not have anyone who has not thought of obvious solutions. The same with the filthy (and frozen) toilet facilities. If portable heat is available throughout the camp, why aren't simple efforts made to preserve the water and toilet facilities?
These are question not addressed by the video reporter. There could be limitations not being reported on, such as the Greek authorities not allowing anyone to take action to preserve the drinking water or toilets, or it could be one of the aid organizations won't allow this as it makes for a better story and so a stronger plea for assistance and attention via and from the media.
---
State funeral held for Greece's slain ambassador to Brazil - Fox
"Kyriakos Amiridis, 59, went missing Dec. 26 in Nova Iguacu, a city near Rio de Janeiro where he had been vacationing with his wife. His charred body was found in a car three days later. Brazilian police say they believe he was killed by his wife's lover under her orders. Those two and a third person have been arrested."
---
Turkey will only withdraw troops from Cyprus if Greece does the same, Turkish president Erdogan warns - UK Telegraph
"Turkey maintains a garrison of around 30,000 in the northern third of Cyprus while Greece has about 1,000 soldiers in the south. President Erdogan said that even if troops were withdrawn, Ankara would want to maintain a presence in the island as one of its guarantors, along with Greece and Britain, the former colonial power.

"We have told Cyprus and Greece clearly that they should not expect a solution without Turkey as guarantor. We are going to be there forever," he said in Istanbul. He said there was a plan for 650 Turkish troops and 950 Greek soldiers to remain on the island after a settlement."
---
Germany to deport asylum-seekers back to Greece - DW
"Germany is set to reverse a six-year-old block on the deportation of asylum-seekers back to Greece, despite a humanitarian crisis in the refugee camps there. Refugee organizations are horrified."
---
Greece's second city to get German co-funded Holocaust museum - i24 News
"The Jewish community in Greece's second city Thessaloniki has finally got the go-ahead to build a Holocaust museum part funded by Germany, the group's president told AFP on Monday.

"...The museum's construction project has been adopted by the town hall and will be co-financed by the German government and the Greek Foundation of ship-builder (Stavros) Niarchos," Jewish community president David Saltiel told AFP."
---
January 13, 2017
U.N. alarmed at migrants dying of cold, 'dire' situation in Greece - Reuters
"UNHCR spokeswoman Cecile Pouilly cited five deaths so far from cold and said about 1,000 people including children were in unheated tents and dormitories on the Greek island of Samos, calling for them to be transferred to shelter on the mainland."
More Coverage:
AP PHOTOS: Cold, filth take toll on migrant moms in Greece - Washington Post
Driving to Greece's snowed-in migrant camps - BBC
---
Erdogan re: Cyprus: 'We are going to be there forever' - eKathimerini
"We have told Cyprus and Greece clearly that they should not expect a solution without Turkey as guarantor. We are going to be there forever," Erdogan told reporters in Istanbul after Friday prayers.
More coverage:
Greek Foreign Minister Kotzias: Turkey fled Geneva talks not Greece - Protothema
---
Maximos Mansion reacts to Schaeuble IMF comments - eKathimerini
"On Thursday, German Finance Minister Wolfgang Schaeuble said that the European Stability Mechanism (ESM) could supervise Greece's bailout program in the event that the IMF decided to withdraw.

"If the Fund for some reason decides not to participate, the Europeans… will have to impose what was agreed on, obviously more effectively," Schaeuble told Suddeutsche Zeitung."
---
Greece 2017: the official ERT press release - Oikotimes
"According to the release ERT internally selected Dimtiris Kontopoulos and Fokas Evangelinos to compose the Greek entry for the 2017 Eurovision Song Contest. The team appoints Demy as the most appropriate for them performer for their project."
---
January 12, 2017
Britain, Turkey, Greece meet to discuss Cyprus settlement - Reuters
"The foreign ministers of Britain, Greece and Turkey met on Thursday to thrash out a security deal for a reunited Cyprus and end a conflict rooted in Britain's colonial past and Greek and Turkish rivalry in the region.

For the first time in decades, the three countries were to discuss a 1960 treaty cited by at least one of them in the past as a basis for intervening in the Mediterranean island."
---
Greece jobless rate eases to 23%, still highest in eurozone - RT Com
"Greek unemployment dropped slightly for the second consecutive month, according to data released by the national statistics agency ELSTAT on Thursday. The jobless rate fell to 23 percent in October from 23.1 percent a month earlier. The figure is the lowest since March 2012, when it was 22.6 percent."
---
January 11, 2017
Navy ship sent to help freezing migrants - eKathimerini
"Greece's navy has sent a tank landing ship to the island of Lesvos to house refugees and migrants during a cold snap that has triggered public health warnings."
---
Greece wants to sell smaller stake in gas grid operator - Daily Mail UK
"Under its privatisation programme, a key part of its international bailout, Greece and its biggest oil refiner Hellenic Petroleum had agreed to sell the DESFA stake to Azerbaijan's SOCAR for 400 million euros ($422 million)."
---
Greece's Energean expects to spend up to $1.5 bln on Israeli offshore gas project - Reuters
"Greek company Energean Oil & Gas plans to build its own production system in the eastern Mediterranean at a cost of up to $1.5 billion to tap two Israeli offshore gas fields, the group's chief executive said on Wednesday."
---
January 10, 2017
Greek Supreme Court hearing for 2 of 8 Turkish servicemen - Missoulian
One of the two is appealing a lower court's decision to grant Turkey's the extradition request, while a lower court prosecutor is appealing a December court decision refusing extradition of the second man. The remaining six are to appear in separate hearings on Wednesday and on Friday. Their names have not been publicly released.

A decision for the two who appeared Tuesday is to be issued on Jan. 23.
---
Tsipras: We are determined to find a just and viable solution to the Cyprus problem - amna.gr
"He said the Greek side will fully exhaust all options, right up to the last minute, to find such a solution but also that the final result "does not depend on one side only." The fact that there was a common view among the political forces on the standing positions of the Greek side was especially positive, Tsipras added, as was the "full support of the Greek political world for the efforts of Cyprus President Nicos Anastasiades for a good outcome and a viable and just solution."
---
Greek government forced to admit it hired 36.253 employees after Proto Thema revelation - Protothema
"According to data by the Greek Statistical Services (ELSTAT), the SYRIZA government hired 27,700 contacted employees, 6,803 permanent employees and 1,750 through court rulings in the past year."
---
The harsh reality - eKathimerini
"...The problems faced by the refugee population are not tackled by prohibiting photographers from documenting the situation inside the Moria camp on Lesvos island.

You cannot remedy reality by banning its representation. Is it that we do not want to taint the nation's image in the eyes of our European partners? But the image of Greece is only part of the bigger European image...

...European Union countries, which had pledged to take in 160,000 people from Greece and Italy, have so far absorbed below 5 percent of that figure. Just 6,212 lucky few have been relocated from Greece and 1,950 from Italy, making a total of 8,162."
---
January 9, 2017
Refugees in Greece 'could freeze to death' in snow due to inadequate winter preparations, warn aid groups - UK Independent
"... Some 21,000 places have been found to accommodate those most at risk from the weather in apartments with host families, with another 700 places found for unaccompanied children, but rights groups are calling on the Greek government to act quickly to reduce overcrowding by moving the most vulnerable people on Greece's islands to the mainland.

The authorities have also been criticised for not preparing properly for the life-threatening winter weather. "Europe should stop making the lives of migrants and refugees more miserable," a statement from Medicins Sans Frontieres read."
---
The Major Obstacles to peace on Cyprus - Euronews
"The status of up to 40,000 Turkish soldiers stationed in the north of the island is a crucial issue, the Greeks want them to leave, the Turks insist some must stay.

Another difficult question is on territory. The parties must find a way to share the island between two communities in one unified state; a bilateral federation with only one sovereignty, one citizenship and one international identity. It comes against against the backdrop of still painful memories, as Ourania Peletie, a Greek Cypriot councillor in the northern part of the island explained: "I'm sure there are solutions around that… and I remind you of 1974 when we were displaced by force, by the Turkish troops we had no arrangements where to stay. We were living under the trees in tents."
---
January 7, 2017
Greece's Most-Wanted Terrorist, on Run Since 2012, Is Arrested and Charged - NY Times
"On Friday, the anarchist leader, Panagiota Roupa, was charged with theft, forgery and participating in a terrorist organization. She was arrested on Thursday in a house in Ilioupoli, a middle-class suburb southeast of Athens, where she was living under an assumed identity. Her 6-year-old was taken into protective custody.

...Greek officials called Ms. Roupa, 47 — known by her nickname, Pola — the country's "No. 1 most-wanted" terrorist. With her partner, Nikos Maziotis, she was a leader of Revolutionary Struggle, which carried out a string of bombings and shootings targeting the police and others starting in 2003..."
---
Kotzias: Greece position on Cyprus unmoved - In Cyprus
"In statements to the press referring to his meeting with Guterres he said that "we discussed mainly the Cyprus problem and the Greek views and reasons as to why the system of guarantees should be abolished."

"There shouldn`t be any intervention rights of any country in Cyprus and foreign troops should be removed, first and foremost the Turkish occupying troops," he stressed.

Replying to a question on Turkey`s position on security matters, in view of the Conference on Cyprus to take place in Geneva on January 12, Kotzias said it is a matter that Turkish President Tayyip Erdogan will have to decide how to handle."
---
January 6, 2017
Greece Heads Into Another Economic Crisis: Time To Finally Exit The European Union? - Forbes
Forbes presents a long-ish article by Doug Bandow which provides a overview of the Hellenic economic crisis and contains a nicely done short version of how it got to be this crazy. The history of actions by the EU and Greek politicians detailed in the article is more or less what you have probably heard before, that is, decisions based upon immediate political need with numbers distorted to fit that need (most of the blame here is leveled onto the Greeks, though it would have been good of the author to extrapolate further on how the austerity program was born and why, as he writes "...Which led in 2010 to the start of three bail-outs cumulatively worth almost $370 billion. Greece was the nominal recipient of the cash"). Some have more flatly stated the cash transfers look sometimes like an international money-laundering operation.
In the article there seems to be an attitude that this whole issue is a shell-game of expectations vs reality that can only go on for so long (the piece also contains the de rigueur cheap-shot at the Greeks in general as being 'lazy' - i.e., "... Greeks long have enjoyed a Mediterranean culture very different from that of the northern European states. Time is flexible, leisure is mandatory, and work is unfortunate. Government is a tool by which everyone attempts to live off of everyone else...") That the article provides genuine insights and then tries to wrap it together with such smelly generalizations hurts what Forbes is offering.
There is the alternative view (not in the Forbes piece) that with austerity as a program rolling onward into it's eighth year it seems more likely all of the parties involved will just keep right on "shoveling money" (as the author says) at the problems. What would be best (in this article or some other) would be something that investigates in a definitive fashion what the trigger has to be to end the numbers charade, a political position that forces math to finally take over the matter, if only for a little while. Also unaddressed is the EU's need to keep Greece embedded into it's EU system in order to directly influence (or, really, control) the immigration influx that uses Greece as the door to Germany, Sweden, France, etc.
The article's author hopes that Greek government will unleash entrepreneurial liberty for the Greeks but the article then completely ignores two realities: one is that Greece has a shadow-economy and the entrepreneurial spirit is unleashed there, but obviously nearly invisible to the statistics quoted by the writer. The second item is that Greece has seen a net outflow of 500,000 people during this period, and the Greek 'brain drain' has been significant. The Forbes article should address this more clearly than just saying legislation on easing of business regulation is needed. It certainly is needed, there's no argument there, but that alone would not deal with the other two matters. Merging the underground economy into the above-ground, insuring that Greece doesn't have to lose any more capable people and can lure back some of those lost, is as important, because fudging the regulation laws alone can't fix the other two.
"...Tsipras mocked "fool technocrats … who can't even get their numbers right." Looking toward a possible early election, he added: "we are not going to ask anyone about giving surplus money to those most in need." His finance minister charged the IMF with "economizing with the truth." The deputy education minister, representing a small, right-wing coalition partner, charged that his country was being "blackmailed." Indeed, he added, "For centuries, Greeks have been mercilessly oppressed by the Westerners."

...Greece's debt to GDP ratio hit about 100% in 2000, with the country preparing to replace the Drachma with the Euro. Debts began heading up in the latter part of the decade. When creditors finally noticed that Athens might be in a bit over its head back in 2009, Greece's debt to GDP ratio was about 127%. Today Greece owes around $320 billion and its debt to GDP ratio is roughly 174%, second in the world only to far wealthier Japan. (The debt relief being discussed would only drop that by about 20 points—by 2060!)
---
Shaky start for Greece's new social security fund - Neo Kosmos
"After years of speculation, debate and mismanagement, Greece has finally launched the Single Social Security Entity (EFKA), a fund to cover all the country's citizens' health, pension and welfare needs.

The fund will incorporate all previous social security funds, such as IKA (the largest fund of the state), OAEE (the traders and business owners' fund), NAT (for those working in the shipping industry) and so on. This seems to be a long, arduous process, given that the organisational chart of the new fund has not been completed."
---
January 5, 2017
For Greece and Turkey, an Old Rivalry Flares - NY Times
"Ankara's persecution of lawyers, judges, academics, journalists, opposition politicians and others is one of the main causes of friction with the European Union and human rights organizations. Greece, a member of the European Union and already struggling with more immigrants than it can handle, now has to balance respect for asylum seekers with the possible fallout from an angry Turkey."
---
Istanbul prosecutor's office says 8 Turkish officers involved in Erdogan assassination plot - eKathimerini
"According to Turkish media, Turkish authorities have evidence that on the evening of July 15, the night of a failed coup in the neighboring country, the 8 officers held phone conversations with Turkish officers who are believed to be directly involved in an assassination attempt against Erdogan in the coastal town of Marmaris, where the Turkish president was vacationing."
---
ELSTAT: More Than 500,000 Greeks Left Greece Over Past 5 Years - Greek Reporter
"What is interesting is, that as Greeks flee their country because of the economic crisis, their arrivals in Greece when they come back to reside or visit are often recorded as "flight arrivals from abroad," when in reality they are nationals returning to their homeland and do not represent tourists from abroad, ELSTAT says."
---
Greece captures far-left militant who had been a fugitive for more than four years - MSN
"Roupa and her companion and co-leader Nikos Maziotis were arrested together in 2010. They were released pending trial but subsequently fled, becoming fugitives.

Maziotis was recaptured in 2014 after a shootout with police in Athens. Last year Roupa hijacked a helicopter in a failed attempt to spring Maziotis from prison."
---
Employers expect small rise in hirings - eKathimerini
"The sectors with the strongest employment prospects are agriculture (+15 percent), the financial domain, insurance, property and services to business (+14 percent). On the other hand, the sectors expected to suffer a drop in employment are manufacturing (-4 percent) and transport and communication (-3 percent)."
---
January 4, 2017
Siberian High pressure system to hit Greece from Thursday - eKathimerini
"According to forecasts so far, temperatures in Athens will drop below the 0-Celsius mark for about three days from Friday, with the wind-chill factor making it feel like -10 Celsius in the capital's northern suburbs and mountains. In other parts of the country that are accustomed to wintry conditions, the wind-chill factor is expected to be as low as -25 Celsius."
---
Greece may propose a "Friendship Pact" between Greece-Cyprus-Turkey- Protothema
"Nikos Kotzias will meet with UN envoy on the Cyprus dispute Espen Eide this afternoon. According to the same sources the government wants to set a specific agenda in order for a new balance to be found with Turkey, thus taking advantage of the international conjuncture to start a new and constructive relation between Athens and Ankara."
---
How Greece's Troubled Economy Could Turn Around in 2017 - Fortune
"Following a defiant stance in early 2015, which resulted in closed banks, capital controls, reversal of growth and exclusion from money markets, the present radical left Greek government signed an onerous agreement. The agreement provided Greece a new loan of €87 billion, yet required that Greece achieve a 3.5% of GDP surplus (through more austerity) for a number of years. This target was clearly not feasible, and the Bank of Greece proposed a surplus of 1.5% to 2% of GDP. The IMF agreed with this target, and has asked the EU to restructure Greek debt obligations consistent with this target as well as for implementation of structural reforms that would make the Greek economy competitive. However, the EU has insisted on the 3.5% surplus target and painted an unrealistically rosy picture of the Greek economy to make this target appear feasible, while not pressing Greece on reforms."
---
NBG likely to sell its insurance unit this year - Reuters
"Last month Greece's second largest lender hired Goldman Sachs and Morgan Stanley as advisers on the sale of the insurance unit, banking sources close to the deal said.

"It has been public that from a business point of view we would have liked to keep the insurance company," NBG's Chief Executive Leonidas Fragkiadakis told Reuters."
---
January 2, 2017
'Patients who should live are dying': Greece's public health meltdown - UK Guardian
"Data and anecdote, backed up by doctors and trade unions, suggest the EU's most chaotic state is in the midst of a public health meltdown. "In the name of tough fiscal targets, people who might otherwise survive are dying," said Michalis Giannakos who heads the Panhellenic Federation of Public Hospital Employees. "Our hospitals have become danger zones."

Figures released by the European Centre for Disease Prevention and Control recently revealed that about 10% of patients in Greece were at risk of developing potentially fatal hospital infections, with an estimated 3,000 deaths attributed to them."
---
National Bank of Greece to sell unit to KBC - MarketWatch
"KBC said they were buying the companies for EUR610 million ($637.7 million) from the National Bank of Greece, the Greek parent company of United Bulgarian Bank, or UBB. KBC said they expect the deal to close during the second quarter of 2017 at the latest."
---
New year brings fresh challenges for over-burdened households - eKathimerini
"For salaried workers and pensioners, 2017 will see the introduction a new tax scale with a lower tax-free threshold and a higher so-called solidarity tax levied from all of their incomes for 2016, while property owners with tenants will pay as much as 36.4 percent more tax on the rent they receive."
---
January 1, 2017
Greek President expresses condolences to Turkish people over Istanbul night club attack -Protothema
"In his message Mr. Pavlopoulos extended the solidarity of the Greek people to Turkey. The statement of support was forwarded to the Turkish Embassy by the Presidency with the President expressing his "disgust" over the attack."
More Coverage:
Greece Condemns New Year's Eve Massacre in Istanbul Nightclub - GTP
---
Greek Ambassador Killed by Wife's Lover, Brazilian Police Say- NBC
"Police in Brazil believe that Greece's ambassador to the country was killed by his wife's lover under her orders in a house in the Rio area and have detained three suspects, authorities said Friday.

Ambassador Kyriakos Amiridis went missing on Monday in Nova Iguacu, a city just north of Rio de Janeiro, where the ambassador had been vacationing. The couple lived most of the time in the capital of Brasilia."
More Coverage:
Kyriakos Amiridis killed by wife's policeman lover in Brazil; wife considered 'co-author' of crime - NY Daily
Wife and Her Lover Are Arrested in Killing of Greek Envoy in Brazil - NY Times
---
December 31, 2016
FinMin says cut-off mechanism beyond 2018 considered -eKathimerini
"In an interview with Kathimerini's weekend edition, Finance Minister Euclid Tsakalotos reveals that the government would, within the context of a compromise, extend the fiscal correction mechanism beyond 2018 when the Greek program ends. He adds that it is possible even now to describe what expenditure areas the fiscal correction mechanism would target if the IMF's prediction that 3.5-percent primary surplus target will not be met with the current agreed measures is confirmed. Nonetheless, he categorically rules out that any such measures will be implemented now."
---
Podariko - Why Greeks Enter With the Right Foot on New Years: The Tradition of Podariko - PappasPost
"As with all Greek traditions, the custom varies from region to region, but one thing is for certain, "podariko" is practiced almost everywhere on New Year's and it symbolizes "entering wit the good foot," or in most cases, the right foot. It's a symbolic way to usher in the New Year for the family occupying the house, with good luck. In some parts of Greece, the youngest child is the first to enter after the turning of the New Year— always with the right foot."
---
December 30, 2016
Fears body found in Rio could be missing Greek ambassador - eKathimerini
"Rio police were examining the corpse and scene but could not say whether it was that of the envoy, 59-year-old Kyriakos Amiridis.

"The information that we can confirm right now is that we have found a car in (the district of) Nova Iguacu with a body and it is being investigated," a source in the homicide squad told AFP."
---
Search for Greece's envoy missing in Brazil continues - news Track India
"Investigations are continuing into the disappearance of Greece's ambassador to Brazil Kyriakos Amiridis since Monday, Greek Deputy Foreign Minister Yannis Amanatidis said here on Friday."
---
Amid poverty surge, bus helps Greece's homeless - Fox
"Outside the headquarters of Greece's governing political party is a moving snapshot of what a seven-year financial crisis can do to a country: A central Athens square where refugees rest, police chase petty criminals, and the homeless wait for meals handed out by charities."
---
The flame still flickers in Greece - Jewish World
"Just outside the walls stand many buildings in disrepair, and while wandering these alleyways searching for a place to bed down for the night, we came across an old building with a Magen David (Star of David) on its plaster — and another building with the Jewish star on its metal grill work. We knew we weren't too late.

These days the large synagogue in Ioannina — a town known for its feta cheese and baklava — opens its doors for prayer only one day a year, on Yom Kippur. The inscription over the door gives its date of completion as 1829, but it sits on the site of an older synagogue that dates back to the 16th century. There was also a "new shul (synagogue)" outside the fortress that was all but obliterated by the Nazis."
---
December 28, 2016
Greece vows to improve conditions in overcrowded migrant camps - Reuters
According to figures from U.N. refugee agency UNHCR, 173,208 people have reached Greece this year, down from 856,723 in 2015.

Some 60,000 migrants, mostly Syrians, Iraqis and Afghans, are still scattered across the country, which is struggling to emerge from a debt crisis.

About 15,000 are in overcrowded island camps that have grown violent as the slow processing of asylum requests adds to frustration over living conditions.
---
Italy Surpasses Greece As Top Euro Destination For Asylum Seekers - NPR
"In 2016, Italy overtook Greece as Europe's primary place of entry for migrants, with nearly 180,000 arrivals, slightly more than Greece's 175,000. An EU agreement with Turkey to prevent migrants from disembarking dramatically reduced the more than 1 million refugees who arrived in Greece in 2015."
---
Greece says EU-Turkey deal helped shape migrant 'chaos' - World Bulletin
"Speaking about measures taken by the Greek government to deal with cold weather conditions in the camps, Mouzalas said: "There is no-one living in tents, no-one living without heating, with the only exception being 100 UNHCR tents in Elliniko [an Athens camp], that are winter tents and they do have heating."

The Greek government plans to post more asylum officers to its islands, provide more space in overcrowded hot-spots and substitute free meals issued to refugees with cash."
---
---
---
---