Greece and the economic crisis
December 7, 2016
Rioters in Greece are attacking police with Molotov cocktails - Business Insider
Video report:
"On the 8th anniversary of Alexandros Grigoropoulos' death, rioters took to the streets to express their frustrations. Grigoropoulos was shot and killed by a police officer in 2008."
More Coverage:
Molotov cocktail attacks - Iefimerida
Greece Implodes: Molotov cocktails and fireworks hurled at police - UK Express
---
Coalition perturbed by implications of decisions taken at Eurogroup - eKathimerini
"The Greek official [Tzanakopoulos] claimed that during the Eurogroup, Thomsen put more pressure on Greece to adopt extra measures in order to maintain the 3.5 percent primary surplus after 2018 rather than on the eurozone to provide further clarity on the medium- and long-term debt relief measures it plans to roll out from 2018 onward.

The government spokesman was adamant that the coalition would not agree to the adoption of any new measures in order to meet the 3.5 percent primary surplus target after 2018."
---
In Greece's tobacco culture, passive smoke a serious problem - Washington Post
"Nearly two-thirds of Greeks are inhaling someone else's tobacco smoke on a daily basis, making Greece the worst nation in the European Union in exposing people to the health risks of passive smoking.

The European Union's statistical office Eurostat said Wednesday that 64.2 percent of Greeks suffered daily exposure to tobacco smoke indoors."
---
Schauble: Measures inevitable if Greece is to stay Eurozone - Protothema
"German Finance Minister Wolfgang Schauble said that imposition of harsh measures by the Greek government was "an inescapable road from the moment Greece decided to remain in the Eurozone", during a speech at the EcoFin meeting in Brussels."
---
December 6, 2016
Greece turns from Sisyphus into Hercules - Reuters
"Some hefty tasks remain. Greece plans to privatise 6 billion euros of state assets. But in 2016 it only notched up 500 million euros. More onerous is the demand for a fiscal surplus, before interest payments, of 3.5 percent – something almost no European countries have managed for long. Greece, and lender the International Monetary Fund, say it can't be done. Germany disagrees."
---
Greece to extradite three Turkish soldiers - In Cyprus
"The court ruled that the thee pilots should be returned to Turkey to stand trial for three of the four crimes they are accused of by Turkey, but not for attempting to kill Erdogan, lawyer Stavroula Tomara told Reuters.

The pilots have appealed the ruling at the country's top court, she added."
---
December 5, 2016
Short-term debt relief approved by Eurogroup but tough measures loom - eKathimerini
"...The measures agreed to on Monday include the extending of maturities on certain loans and freezing the interest rate on some debt that could be susceptible to future interest rate hikes."
---
Two dogfights over Aegean between Greek and Turkish fighter jets - Protothema
"A pair of Greek F-16 fighter jets engaged in a double dogfight over the Aegean Sea, when two Turkish fighter jets violated Greek air space between the islands of Lesvos, Samos and Chios, Monday. The Turkish pilots were forced to retreat, after entering Greek air space in the morning hours of Monday, when they were intercepted by the Greek fighters that took off from the Skyros airport."
---
Greece tries to convince European creditors it's met targets - Fox
"Greece's finance minister [Euclid Tsakalotos] is trying to convince his counterparts in the 19-nation eurozone that his country has delivered on the reform promises made in return for the bailout money that saw off bankruptcy and a potential exit from the euro."
---
Greece gets short-term debt relief from eurozone - Yahoo
"Among the measures offered were a smoothing of some of Greece's repayment profile in order to prevent debt repayment humps on the way and a waiving of an interest rate increase that was due to take effect next year.

The measures have been seized upon by the Greece's left-wing government, which has been losing support according to opinion polls, as evidence that it's getting something in return for all the tough economic medicine that it's been making the country take."
---
Greece rejects extradition of Turkish servicemen over coup - Washington Post
"Officials say a Greek court has refused to extradite the first three of eight Turkish servicemen who fled to Greece after the failed July 15 military coup.

All eight helicopter crewmen deny charges they participated in the coup and in a plot to assassinate Turkish President Recep Tayyip Erdogan. "
---
December 4, 2016
Greece must reform or leave eurozone, says German minister - Reuters
"Greece must implement economic reforms if it is to keep its place in the eurozone, Germany's finance minister has insisted, ruling out debt relief for the country ahead of a crucial euro group meeting on Monday.

"...Athens must finally implement the needed reforms," he told the newspaper Bild am Sonntag in an interview published on Sunday.
---
Greece sees final solution on debt crisis amid euro uncertainty - Reuters
"Euro zone finance ministers will meet in Brussels on Monday to discuss short-term debt relief for Greece, and Germany's Wolfgang Schaeuble said it must implement reforms instead of hoping for further debt forgiveness.

Greece remained optimistic for a final debt deal, however, just as Italians are voting on a constitutional referendum on Sunday and a victory for the opposition 'No' camp may push the euro zone towards fresh crisis."
---
Tired of Syriza, Greece embraces a mainstream party - Economist
It has been a miserable year for Mr Tsipras and his left-wing Syriza government..... In May, after much squabbling, it pushed through €1.8bn of tax increases needed to qualify for the next chunk of cash in its current bail-out package from the EU, the third since the euro crisis began in 2010. In November Mr Tsipras reshuffled his cabinet...

...This is hardly what Mr Tsipras promised when he took power in 2015, vowing to end austerity and renegotiate Greece's deal with its creditors. Syriza's popularity has been sliding while that of New Democracy, which led a coalition government in 2012-15, has risen. It has led in the polls since December 2015, according to pollsters at the University of Macedonia. This month it was ahead of Syriza by a whopping 15 percentage points.
---
December 3, 2016
How 2016 in Greece Is Like 2014 — and How It's Different - WSJ
"...some people have started wondering whether 2016 is a rerun of 2014.

Greece's government is rushing to conclude negotiations with its international creditors on the second review of its bailout, which includes a tough package of labor market overhauls."
---
Greece targets trial return to markets in 2017, full return in 2018: Deputy PM
"Greece aims to make a trial return to capital markets in the first half of 2017, which will pave the way for a full market return in 2018 when its program ends, Deputy Prime Minister Yannis Dragasakis said on Saturday.

In an article published in newspaper Efimerida ton Syntakton, Dragasakis urged Greece's official lenders to make a positive assessment of the country's bailout progress at a meeting of euro zone finance ministers on Monday and send a "message of hope to the Greek people and Europe as a whole".
---
December 2, 2016
After Turkish provocations, EC calls on Ankara to respect member states- eKathimerini
"On Wednesday, Turkish Foreign Minister Mevlut Cavusoglu said that the eastern Aegean Imia islets are "Turkish soil," while a few days earlier the leader of the Turkish Republican People's Party (CHP) Kemal Kilicdaroglu urged the Turkish government to "take back" 18 islets in the Aegean Sea.

The Greek Foreign Ministry had described the comments by Cavusoglu as "irresponsible and provocative" and a violation of international law."
More Coverage
Turkey doubles down on Imia provocation with new statement - Protothema
---
debt-related measures and IMF's involvement in the programme are included in Eurogroup's official agenda - Capital GR
"As mentioned in the agenda highlights, 'depending on the progress achieved in the context of the second review, the Eurogroup may return to the issue of debt-related measures and the IMF's involvement in Greece's programme'."
---
American School of Classical Studies investigating deviant burials at Faliro - eKathimerini
"Those who met with a violent death may have been foreigners or locals who were killed for political or legal reasons. We can learn where they came from and who they were connected to. There are also 350 children's graves that allow us to learn about the lives of infants and children," says Buikstra.

"In general, we can assess the state of health of the Phaleron people, their ailments and their lifespan," adds the scientist."
---
Reducing pensions and exempt surplus of 3.5% requested by the IMF - Ta Nea
---
NBG hires Goldman, Morgan Stanley on sale of insurance unit - Reuters
"Greece's second largest lender National Bank (NBG) has hired Goldman Sachs and Morgan Stanley as advisors on the sale of a stake in its insurance subsidiary National Insurance, banking sources close to the procedure said on Thursday."
---
Disabled Greeks protest as more austerity looms - Ledger-Enquirier
"Protesters in wheelchairs carried black balloons while deaf demonstrators wore white gloves as they used sign language to join chants of anti-government slogans.

Disabled groups are seeking exemptions from budget austerity measures imposed under the country's international bailout agreements."
---
Greece makes formal request for return of Venus de Milo - Neo Kosmos
"The Greek island of Milos is issuing a formal request to have the Venus de Milo statue, one of the most famous in the world, returned from the Louvre Museum in Paris to its original homeland.

"Our island's treasures have been looted and we're finally ready to fight to win them back," said the island's mayor Gerasimos Damoulakis in a formal announcement."
---
December 1, 2016
December 5 EuroGroup not expected to bring total agreement - Protothema
"The Director of the International Monetary Fund (IMF), Christine Lagarde is not expected to take part in the December 5 EuroGroup meeting, according to an EU source, which portends an overall agreement on the Greek issue is not imminent."
---
Ceiling to be forced on 70,000 pensioners - eKathimerini
"Effective as of June 1, 2016, the new maximum level is set at 2,000 euros gross (or 1,767 euros net) for each individual pension and 3,000 euros gross for each retiree's total income from pensions."
---
November 30, 2016
70 migrants found in a snowy northern forest - AP
"Members of the group, who said they were from Syria, told Greek police they had crossed the Evros River on the Greek-Turkish border in dinghies and were then brought to Thessaloniki hidden in a truck.

The truck driver left them in the forest late Tuesday, and they spent the night there in the snow, authorities said. Police are searching for the driver."
---
Eurozone Bailout Fund Proposes Short-Term Debt Relief for Greece - WSJ
"A six-page document, dated Nov. 25 and seen by The Wall Street Journal, was produced by the European Stability Mechanism, the Luxembourg-based eurozone bailout fund. It outlines measures that could be taken in the near future to reduce Greece's large debt load.

The paper proposes to ease Greece's debt load by extending some maturities and locking in the interest on some of Greece's loans to shield it from future interest-rate increases."
---
Rich Kids of Greece flaunt their wealth - UK Daily Mail
"Like, the Rich Kids of Britain, who have gained a following of tens of thousands of Instagram, their Greek counterparts show off designer clothes, wads of cash, and pedigree pets.

In one picture two girls pose with their backs to the camera, showing off the red soles of their matching designer Louboutin shoes, worth hundreds of pounds a pair."
---
November 29, 2016
Greece Warns of Turkish Plot to pour 3,000 illegal immigrants a day in to the EU - theothernews
"Greece intelligence warned that Turkey is secretly planning to send over 3,000 refugees sailing to Greek shores every day.

Greek analysts warned thousands of dinghies and motorboats have massed along the Turkish coast as the refugee deal agreed between Ankara and Brussels looks set to unravel."
---
November 28, 2016
Greece seeks to fix borrowing costs in debt relief talks - Reuters
"The priority is to fix the repayments on the largest chunk of the 228 billion euros (195.12 billion pound) owed to official creditors from its three financial rescue packages."
---
Flash floods in Greece cause 1 death, strand motorists - Fox
"The fire service says heavy rains drenched both Zakynthos and the Greek capital of Athens late Saturday and early Sunday, resulting in 470 emergency calls."
---
Time for IMF to make up its mind, says Greece's new economy minister - Businesslive
"The IMF has changed its opinion many times," said Papadimitriou, who spent almost five decades in the US, where he is on leave from his post as president of Bard College's Levy Economics Institute. "It's very hard to know whether in fact they want to be in or they want to be out. I think they do want in, and we want them to be in."

Greek markets have rallied in November on the expectation creditors may finally ease the country's debt at a December 5 meeting of euro-area finance ministers. For the IMF to stay on board — a key demand of countries such as Germany and the Netherlands — such a deal must assuage the fund's doubts about the viability of Greece's medium-term fiscal targets.
---
Choice Hotels expands portfolio with 5 hotels in Greece starting summer 2017 - Hospitalitynet
"Choice anticipates that the first property under the agreement will open by the summer of 2017 under a Comfort flag in Athens, and that thereafter four additional properties will be developed on the Greek mainland and islands under the Comfort, Quality and Clarion brands."
---
Schinas considered for Foreign Minister of Greece under New Democracy government - New Europe
"...Since graduating from the College of Europe in Brugges, the 54-year-old has spent most of his life in Brussels and the EU's institutions, being at the center of EU diplomacy and decision-making.

....Schinas, according to the report by Parapolitika, spoke at the event, saying that (translated from original in Greek) Greeks "should raise our flag proudly, but resist the voices of deaf populism and homeland-mongering".
---
Ambassador Pyatt: Greece-US cooperation closest it has been for a long time - Tornosnews
"Greece and the United States are currently enjoying the closest cooperation they have had in the last few decades, US Ambassador in Athens Geoffrey Pyatt told Kathimerini newspaper in an interview."
---
November 27, 2016
Regling: Greece has bottomed out - The Standard (Austria)
"STANDARD: Has Greece economically bottomed out?

Regling: I would say Greece is back in a new bottom. In 2014, we had already seen growth and the unemployment rate fell by two percentage points. The state was then again able to issue bonds on the market. These were clear signs that Greece was on the uphill again. Then we had the relapse in the first half of 2015 with a new government. With a finance minister who has tried to drive a completely different strategy, which became very expensive for Greece. Many reforms have been reversed, which is why Greece has slipped back into the recession. This led to the third aid program. Now we are the second time in the bottom. If Greece had remained on a course of reform in 2015, you could save a lot of time and money. "
---
ESM President: Greek Economy Stagnant Again, No Need for Debt Cut - Greek Reporter
"In an interview with Austrian newspaper Der Standard, Regling said that the debt repayment maturities in 2018 will be stretched, if necessary, and noted that, "If in 2015 the country had continued with the required reforms, a lot of time and money would have been saved."
---
November 25, 2016
Greece: 2 Dead as Fire Rages Through Refugee Camp - NYT
"Police say two people have died on the Greek island of Lesbos and two others were seriously injured after a fire raged through a refugee camp used for migrants facing deportation back to Turkey.

Police early Friday said the fire at Moria refugee camp started by a cooking gas canister and that the victims were a young boy and an older woman."
---
November 24, 2016
Greece hopes for debt relief as strikes hit services - UK Daily Mail
"Greece has been surviving on rescue loans from three international bailouts since 2010, when rising borrowing costs left it locked out of bond markets.

Talks between the government and creditors are on hold, with Greece accusing bailout hardliners of proposing cuts that would be a "social disaster."
---
November 23, 2016
Greece wants to conclude EU/IMF review, won't accept 'irrational' demands - Reuters
"Negotiations between Greece and its official creditors - the European Union and the International Monetary Fund - hit a snag this week due to differences on fiscal targets, energy and labor reforms in the country, where one in four is unemployed.

"The Greek government is fully consistent with what was agreed and has proven it has the political will to conclude the second bailout review without meaningless delays," Tsipras told his Syriza party lawmakers. "But this does not mean we would discuss irrational demands."
---
Alleged people smuggler to be extradited to Greece - BBC
"Jamal Owda, 27, faces allegations of smuggling people through Greece and getting 95 people into Macedonia. Palestinian-born Mr Owda has maintained his "total innocence" and has seven days to appeal against the ruling."
---
How corruption is impacting Greece and how it can be mitigated - Neo Kosmos
No doubt there are readers right now that are eager to label me naive for thinking that corruption can be addressed adequately. You may be right, but I'm willing to bet you're wrong about that in two generations' time. The youth are fed up with the "it's who you know" approach to enable career progression, achieving certain ends, and even justice. Greece can proudly boast being the home to some of the most educated people in the world. In the STEM (science, technology, engineering and mathematics) fields for instance, the OECD ranks Greece in sixth place for producing the most scientists per capita (26 per cent, despite government funding cuts). But the Greece they've inherited is one where meritocracy is overshadowed by nepotism.
---
Greece's 9-month Tourism Revenues Down by 5.5% - Greek Travel pages
"Revenue from Greece's travel services dropped by 703 million euros in the first nine months of the year with the travel trade balance recording a 7.1 percent decline at 10.472 billion euros against 11.269 billion euros in 2015, according to tentative data released by the Bank of Greece this week."
---
Turkey: Facts and scenarios - eKathimerini
"Let us take a look at the facts. Turkish President Recep Tayyip Erdogan is very powerful, but is facing serious dangers. The Cyprus issue risks coming to a dead end – perhaps this is the last chance to solve it.

The moment of truth has also arrived in the relationship between Europe and Turkey. The latter's accession course will freeze and this could have some serious repercussions. The most obvious is the threat that the deal between Brussels and Ankara to manage the refugee and migrant crisis might collapse."
---
Commemoration of the Holocaust at Thessaloniki - RT
Event organized by the Thessaloniki Concert Hall Sunday, November 27, 2016
---
November 22, 2016
Greece, creditors remain apart in talks on reforms - Fox News
"The finance ministry said Tuesday the week-long talks in Athens made "significant progress." But the two sides remain apart, mainly on thorny labor reforms."
---
Greece keeps 2.7% growth estimate, boosts surplus target - Yahoo
"Greece's economy this year is set to shrink by 0.3 percent according to the latest estimates, continuing a slide uninterrupted since 2009 except for one year, 2014.

Under the terms of its latest EU bailout, Greece must register primary budget surpluses (before debt service) of 0.5 percent of GDP this year, 1.75 percent in 2017 and 3.5 percent in 2018.

The budget tabled Thursday said Greece beat its 2016 target by posting a 1.09-percent primary surplus, and will do so again in 2017 with a surplus of 2.0 percent.

It kept the growth target of the draft budget tabled in October, but improved the surplus, which at the time had been listed at 1.8 percent."
---
Recession-hit Greece projects return to strong growth in 2017 - Reuters
"The budget, submitted to parliament for approval, projected a primary surplus - the fiscal balance excluding debt servicing costs - of 2 percent of GDP next year, compared to an above- target 1.1 percent of output in 2016.

Greece signed up to an international bailout deal, its third since 2010, in July last year. It has received about 240 billion euros in bailout loans so far, and is the most indebted country in the euro zone. One in four Greek workers is unemployed."
---
Greece is on track for its best growth in a decade - Business Insider
"Next year's advance is expected to reduce national debt from 180.3 percent of gross domestic product in 2016 to 176.5 percent — a figure still considered by the government to be unsustainably high."
---
November 21, 2016
Constantine Stephanopoulos Dead at 90 - VOA
"Known widely as Costis, Stephanopoulos served two full presidential terms from 1995 to 2005, as allowed by the Constitution.

"A moral man with a lofty vision,'' said leftist Prime Minister Alexis Tsipras. President Prokopis Pavlopoulos, a conservative, called Stephanopoulos "a model of selfless, dignified and consistent service for the public good.''

Although the president has a largely ceremonial role in Greece, Stephanopoulos won wide popularity with his modesty and lack of bombast while in office."
---
November 19, 2016
Greece and Turkey set to discuss Cyprus security issues - In Cyprus
"If an agreement is reached on the matter of territorial adjustments between President Nicos Anastasiades and Turkish Cypriot leader, Mustafa Akinci during their talks in the Swiss resort, Greek and Turkish Foreign Ministers will start discussing the issue of security before a multilateral meeting is convened."
---
4.7 earthquake rocks Kilkis and Thessaloniki - Protothema
"The epicentre of the earthquake was located 18km west of the city and had a shallow 4km depth."
---
November 18, 2016
Migrant crisis: Chios island camp in Greece attacked - BBC
"Unidentified assailants have thrown petrol bombs, fireworks and stones at migrants' tents in Souda, on the Greek island of Chios, forcing about 150 people to flee.

It was the second night of violence in and around Souda camp. About 4,000 migrants and refugees are on Chios."
---
Tsakalotos Says Debt Deal Delay Hurts Greece: Interview Transcript - WSJ
Interview with WSJ has a set of basic, up front questions that Tsakalotos bandies well. Asked about SYRIZA calling elections, he responds that there's no point of doing it in 2017 "...unless the worst scenario [on debt and recovery] comes about." Since that's the very thing that could happen, SYRIZA may be facing the (at this time) much better polling New Democracy soon, unless the IMF and the Germans reach some kind of sense of mutual destiny. From the interview:
"If they don't give debt relief it will be very short-sighted of them. If the eurozone is going to survive, the number-one requirement is to make sure people see that the eurozone can solve its problems. If it just postpones political decisions and kicks the can down the road, then people will say it's not working.

Greece doesn't want the postponement of the debt issue, because Greece thinks that if we kick the can down the road and say "we will decide in two years," then the investment community will say "well, we will decide in two years." So we won't have this clear runway for how we're going to get out of this [bailout] program in 2018."
More Coverage:
Finance Minister Euclid Tsakalotos has warned Greece's creditors - eKathimerini
---
Aid shortage in Greece leaves refugees without warmth - USA Today
Brief video report at USA Today
---
November 16, 2016
Germany rejects debt relief for Greece after Obama offers support - Reuters
"German Finance Minister Wolfgang Schaeuble said late on Tuesday granting Greece debt relief would do it a disservice.

...A finance ministry spokesman said there was nothing new to say. "Our position is unchanged. Obama's visit has not changed anything," he said at the government news conference."
---
Arrests in Athens as protest turns violent during Obama's visit to Greece - CNN
"Six people have been arrested in the Greek capital after a group of anarchists started throwing rocks and Molotov cocktails following an anti-capitalism protest, Athens police told CNN.

...Unrest broke out as the group tried to break through a police cordon to march to the US Embassy and Presidential Mansion, where Obama was attending an official state dinner.

Protesters threw Molotov cocktails, and police responded with stun grenades and tear gas, dispersing the crowds who eventually retreated into the side streets."
---
Greece, Seeking Dose of Stability, Is Rattled by Trump's Win - NYT
"Even before Mr. Trump's victory, Mr. Tsipras's troubles had mounted all year. His popularity plunged after his government snapped in place new pension cuts and tax increases to appease his nation's creditors, further angering beleaguered Greeks.

The risk now is that Greece could re-emerge as a weak link in the eurozone, as pivotal elections in several European countries next year may shift the focus from stabilizing Greece."
---
November 15, 2016
Obama: The US will stand 'shoulder to shoulder' with crisis-hit Greece - eKathimerini
"We consider this visit will contribute to the effort to reduce Greece's debt," government spokesman Dimitris Tzanakopoulos told Reuters. "The US president has repeatedly stated he wants to solve this huge issue before he leaves office."

..."To the rest of Europe, I will continue to emphasize our view that austerity alone cannot deliver prosperity," Obama said during a meeting with Tsipras.
More coverage:
Obama: Austerity can not be a development prescription - Ethnos
Obama΄s visit: We intend to stand shoulder to shoulder with the Greek people - Capital GR
Obama: Greece has a tough road ahead - Protothema
Obama prepares for questions on Trump, highlights Greece as 'reliable ally' - CNN
Obama praises Greece's 'extraordinary compassion' for refugees - Yahoo
---
Winter Is Coming for Tens of Thousands of Refugees in Greece - Time
"Greek authorities are still trying to determine the exact cause of the fire in Oreokastro camp, but residents say they already know the culprit: northern Greece's bone-chilling winter nights. The boy's mother had left a hotplate on in a desperate attempt to heat her tent and keep the family warm. Most likely the boy brushed up against the electric cooking appliance with his sleeping bag, which subsequently caught fire. Camp resident Hayat Abdullah, from Deir ez-Zor, Syria, warns that these kinds of fires are likely to happen again, as refugees battle the cold. "Of course it is dangerous to leave the hotplate on," she says "But a lot of people use them to heat the tents. It's all they have."
---
November 14, 2016
Greece hopes Obama visit will boost chances of debt relief - Reuters
"The United States and the International Monetary Fund have urged a restructuring of Greece's crippling debt load but face resistance from the European Union, particularly Germany, whose banks would be most exposed to such a move.

Obama, on his last trip to Europe before handing power to Donald Trump in January, will discuss the debt issue and the continent's migrant crisis with Prime Minister Alexis Tsipras, but his visit will also trigger protests by leftist groups and trade unions that have long seen the United States as an "imperialist" power."
---
Obama calls for 'meaningful debt relief' for Greece - UK Guardian
"Obama, who has blamed the excoriating effects of austerity on Europe's slowing growth, said while Athens needed to implement reforms, a nominal write-down would help reignite an economy that has lost over 25% of its output since the nation's financial woes first surfaced seven years ago. At around €330bn (£284bn), or 180% of gross domestic product, Greece's staggering debt is by far the biggest in the EU."
---
Here's What Happened the First Time a U.S. President Went to Greece - Time
"...Eisenhower's visit was not just about the Cold War: when he arrived in Athens, "cheering throngs" lined the streets as he passed in a Rolls-Royce with King Paul of Greece. "Ike could see the Parthenon glowing in light on the Acropolis, the ruins of the Temple of Olympian Zeus, and a small obelisk monument to Americans who were killed in Greece's 1821-29 war for independence from the Ottoman Empire," the magazine continued, before he laid a wreath at that monument. As the crows cheered, he was seen to laugh in joy over the happy welcome he received."
---
Greece voted the best country in the world - NeoKosmos
"According to the readers of Condé Nast Traveller (CNT), Greece is the best country in the world and the top destination to visit in 2016, followed by Italy and the US.

The Readers' Travel Awards celebrate the best of the best in travel, as voted by the people who love to wander the world and explore different places.

....Despite the negatives, there was sufficient substance for Greece to come in at #1, proving that despite all its difficulties, the country continues to capture the attention and imagination of travellers, by climbing to the top from last year's fourth place."
---
Does Trump matter for the Greek economy? - eKathimerini
"Donald Trump's assertions that he is "great with debt" and that he has "made a fortune by using debt" make him sound like the kind of person you would want on your side when you are struggling to make ends meet. It is doubtful, though, that the US president-elect would want to invest time in the Greek issue. At the height of the frantic negotiations between Athens and the rest of the eurozone, Trump said he felt that the euro was "set up to hurt the United States" and that he had little concern for Greece's predicament.

"I'd let Germany handle it," he told Fox Business. "We have enough problems; let Germany handle it. Germany will take care of it. This is peanuts for Germany. They'll take care of it. Frankly, [Russian President Vladimir] Putin probably comes in to save the day, if Germany doesn't."
---
IMF's demands for new Greek bailout deal - Protothema
"According to an article in "Vima tis Kyriakis," IMF mission chief Delia Velkulescu stressed the need for the implementation of certain reforms in order for the Fund to even consider "throwing money" Greece's way:

The abolishment of "personal dispute" with respect to existing primary pensions The further reduction of the tax-free threshold, currently at 8,600 Euros, and the elimination of all tax exemptions The increase in collective redundancies up to 10% of the workforce..."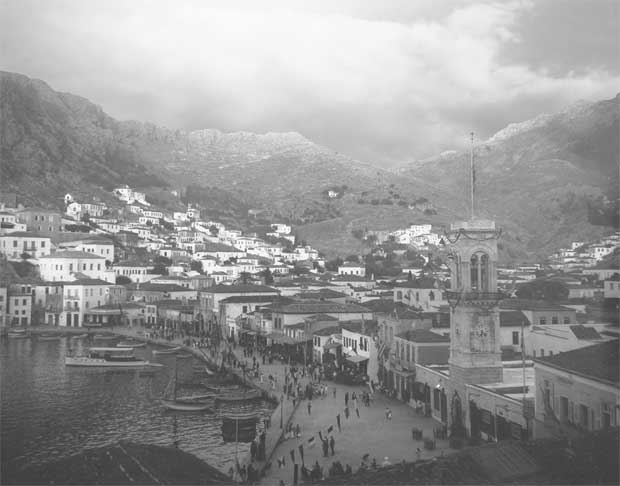 Vintage image of the Island of Hydrah
---
November 12, 2016
Obama expects Trump queries on trip to Greece - Daily Mail
"Obama leaves Monday for a six-day trip to Greece, Germany and Peru. In Greece, he'll tour the Parthenon, give a speech about globalization and meet with Prime Minister Alexis Tsipras. The White House says the stop in Greece is Obama's final state visit before leaving office."
---
Greece expects a bumper year for tourism despite 'unfair' coverage of migrant crisis - UK Telegraph
"The popularity of the Greek islands among British holidaymakers has survived the migrant crisis unscathed, according to the country's tourism minister, who says 2017 will be a bumper year for Greece.

...Next summer the country, which boasted an overall seven per cent rise in arrivals from January to September compared to the same period last year, will be a beneficiary of the instability and security issues in nations such as its neighbour, Turkey, as well as Tunisia and Egypt, said Mr Josephides [Noel Josephides, chairman of Sunvil, which offers packages to Samos]."
---
November 10, 2016
Motorcycle assailants carry out grenade attack on French embassy in Greece - Yahoo
"Left wing organisations in Greece, which has a history of domestic militants periodically carrying out bomb or shooting attacks against authorities, have called for protests during Obama's visit but no group has claimed responsibility for the attack. "
---
Parties agree on TV watchdog, paving way for new auction - eKathimerini
"Parliament Speaker Nikos Voutsis, a SYRIZA official who chaired Thursday's session of deputy House speakers representing the different political parties, agreed to a demand by the opposition that licenses be granted to more than just four TV channels as foreseen in Pappas's auction.

The opposition parties had demanded that the authority for overseeing the auction be transferred back to ESR. "
---
Greece to ease capital controls soon, needs debt measures: Stournaras - Reuters
"We gradually lift capital controls and the next step will take place soon," Stournaras, a European Central Bank Governing Council member, told Reuters in an interview. "The full lifting of capital controls is the end of the road."

"To get there we need the finishing off of the second (bailout program) evaluation, discussion on debt measures and quantitative easing inclusion. Above everything else, it depends on how quickly full confidence returns."
More Coverage:
Greece to ease capital controls soon - Financial Express
---
Greece enlists terror squad after referee's home burned - USA Today
"Greek soccer has been plagued for years by persistent fan violence and allegations of corruption and match-fixing.

The government briefly delayed the start of the top division in September, arguing that a festering squabble involving the federation, league organizers, and clubs posed serious security concerns."
More Coverage:
Greece suspend football competitions after arson attack on refereeing chief - UK Guardian
All Greek football events suspended after arson attack - MSN
---
November 9, 2016
Gov't plays down Greece impact of Trump victory - eKathimerini
"The significance that the US place on Greece does not change," a government source was quoted by local media as saying Wednesday.

The same source stressed that the outcome of the vote did not affect the importance of outgoing US President Barack Obama's planned visit to Athens later this month."
More Coverage:
We were prepared for both possibilities, gov't sources say on US election result - Ethnos
---
Tsakalotos: Aiming for Agreement on 2nd Review by November 28 - Greek Reporter
"The Greek side is aiming for an institutions-level agreement on the second review by November 28, when the EuroWorking Group will meet to prepare for the Eurogroup on December 5, a Greek finance ministry source told the press here on Tuesday.

Achieving this target will also mark the start of an in-depth discussion on debt relief that will help create a "clear exit corridor" for Greece, the same source said."
---
Greece suspends soccer competitions after suspected arson attack - UK Daily Mail
"The decision was announced by the EPO's temporary administrative board following a fire in the early hours of Wednesday morning in the Halkidiki area of northern Greece.

Neither Bikas nor any of his family were at the property, which suffered major damage."
---
November 8, 2016
Desperation over debt relief underlies Greek hopes for Obama's Greece stop - New Europe EU
"It seems the Greek side is focused on getting something, anything, that it can use domestically on the debt issue — yes, the very same debt that the Americans don't hold. Most of all Prime Minister Tsipras, badly sagging in the polls, needs something he can package as a political lifeline from Washington. He wants to be able to inform the Greek people that he singlehandedly convinced President Obama to take the fight for Greek debt relief directly to Angela Merkel, bypassing Brussels, the IMF and the Eurogroup. It will be interesting to see how Obama's people navigate this minefield, since most of what we have heard so far from American officials this year has put the onus for debt relief back on Greece."
---
Greek PM announced long-awaited cabinet reshuffle - Capital GR
"PM Mr Tsipras proceeded on Friday with a cabinet reshuffling with the aim to communicate the govt΄s intention to speed up the required reforms for the conclusion of the second review of the programme within 2016, which should open up debt relief discussions, possibly by the Eurogroup on December 5."
---
November 7, 2016
Greece broadly on track with fiscal targets: EU's Dombrovskis - Reuters
"As regards Greece's fiscal performance, we see that they are likely to meet this year's fiscal targets and also the preparations for next year's budget show that the primary surplus target, as outlined in the Memorandum of Understanding -- 1.75 percent of GDP -- is within reach," he said.
---
Schaeuble Pours Cold Water Over Greek Hopes of Debt Relief - Greekreporter.com
"Eurozone finance ministers said they could not give a commitment on significant debt relief for Greece before next year's German elections. Germany's Finance Minister Wolfgang Schaeuble led the bloc of ministers opposed to debt relief for Greece, pouring cold water on Greek hopes that the Eurozone would keep its part of the pledge regarding reforms in exchange for relief and debt viability. German, Dutch and French governments are now pushing the decision for fiscal loosening further down the timeline so that Greece does not become an issue in their election campaigns."
---
November 5, 2016
Alexis Tsipras Shakes Up Cabinet to Soothe Greece's Creditors - NY Times
"Eager to push through bailout measures so his negotiators can begin talks with their European counterparts on relief for Greece's huge debt, Mr. Tsipras retained his core economic team. Euclid Tsakalotos, an economist who has been described as low-key and has made headway with his eurozone peers in bailout talks, kept the critical job of finance minister.

But in what appeared to be an effort to please Greece's creditors, Mr. Tsipras replaced Energy Minister Panos Skourletis, who has opposed the full privatization of Greece's electric power system, with the more moderate economy minister, Giorgos Stathakis."
---
Central banker urges Europe to specify debt relief measures for Greece - Reuters
"Stournaras reiterated that Greece's economy is expected to grow by 2.5 percent next year and by 3 percent in 2018, as long as Athens speeds up reforms and privatisations agreed with its official lenders under its third international bailout.

"These projections assume that the programme implementation will remain on track, the relevant loan tranches will be disbursed on time, and that the monetary policy of the ECB will continue to be accommodative," he said."
---
November 4, 2016
Greece: 15 Arrested in Anti-Mosque Protest - NYT
"Police say 15 protesters have been arrested in Athens for staging an occupation at a site where a mosque is due to be built using state funds.

Protests were launched at the site two weeks ago but ended early Friday when riot police were sent to the area to make the arrests shortly after dawn. The protesters face charges of public disturbance and are to appear at a prosecutor's office later Friday."
---
Greece set to win €1.75bn from EU climate scheme to build two coal plants - UK Guardian
The 1100MW coal stations will cost an estimated €2.4bn, and emit around 7m tonnes of CO2 a year, casting doubt on their viability without a cash injection from an exemption under Europe's carbon trading market.

The European parliament's industry committee last month approved a rule change allowing Greece to join the scheme, the '10c derogation' of the emissions trading system (ETS). Now, positive votes in the environment committee next month and at a plenary in February could set wheels in motion for the coal plants.
November 3, 2016
Greek retirees rally against planned new pension cuts - Accesswdun
"More than 5,000 protesters marched to the labor ministry and outside parliament, burning copies of a letter send by Labor Minister George Katrougalos explaining the pension changes.

"They have torn us apart with all the cuts, and they are telling us we are supposed to be happy with these measures. We are sending the minister's letter back to him, and will continue our protests in Athens and other cities," protest organizer Dimos Koumbouris said.

The country's largest labor union also called a 24-hour strike for Dec. 8."
More Coverage:
Greek retirees rally against planned new pension cuts - Yahoo
---
November 2, 2016
OPAP to revive plans for video lotto after new gaming rules - Reuters
"OPAP had planned to launch video lottery machines last year but halted the project after Greece introduced tougher betting rules.

The company, which has paid some 500 million euros for the licences, has said it was ready to launch the business once regulations governing it were amended."
---
EU is losing its patience with Greece as overcrowded refugee camps there grow violent - Business Insider
"Some 61,000 migrants are still scattered across Greece, including 15,900 in overcrowded island camps that have grown violent as the delays mount, with around 2,500 more arriving each month. The camps are now holding three times as many people as they held when the deal was signed, and twice as many as they were built for.

...The long waits and squalor of some camps have turned frustration into violence. On Chios and the island of Lesbos in recent days, asylum-seekers attacked EASO's offices to protest against delays. Interviews there have yet to resume.

EASO has deployed 202 staff in Greece and has called for 100 more, but EU member states have yet to respond, EASO spokesman Jean-Pierre Schembri said. Greece has repeatedly asked for more."
---
In Greece, Property Is Debt - WSJ
"The figures are clear. In 2013, two years after a property tax was introduced (previously, real estate tax revenue came mainly from transfers or conveyance taxes), 29,200 people declined to accept their inheritance, according to the Justice Ministry. In 2015, the number had climbed to 45,627, an increase of 56 percent in two years. Reports from across the country suggest that this year, too, large numbers of people are refusing to inherit.

...A striking example of the perils of property is provided by charities that have been richly endowed with real estate. For example, in Athens, the Asylon Aniaton, a hospice, used to fund itself by renting or selling property. Now it's unable to sell anything, and of its 887 properties, 396 are without tenants. In 2015, its revenue came to 2.17 million euros while it had to pay taxes of 1.83 million euros (of which 908,839 euros were property taxes). What was left went toward caring for 180 patients."
---
New wage cuts demanded by lenders - Tanea
"Further reduction of the minimum wage in the private sector require lenders to labor, which is described in an internal document - fire notified the Eurogroup in June 2016 with the completion of the first evaluation. The document came yesterday to light through the Report of the Office of Budget of the House."
---
Greece blocks EU, U.S. sanctions against Iranian bank - Protothema
"The Greek government has backed down from its plans to introduce an interim bill that would allow TV stations to operate with temporary licenses, following opposition party New Democracy's (ND) refusal to consent on the formation of the new National Council of Radio and Television (NCRTV) during the Parliamentary Council of Presidents session, Monday. The new failure -the fifth in a row- of the Council of Presidents to reach agreement on the formation of the new independent media watchdog means any developments on the licensing of the television stations will be suspended until the end of the year."
---
Greece Defies EU, U.S. on Sanctions for Iran's Bank Saderat - WSJ
"Prime Minister Alexis Tsipras's government undertook to end the sanctions on Bank Saderat, a partly state-owned company that runs Iran's largest banking network, as Athens seeks to rebuild close economic ties with Iran, a key source of cheap energy for the country in the past. Athens has also been critical of EU sanctions on Russia.

But the stance is potentially risky for Greece, which will host President Barack Obama this month. U.S. Treasury Secretary Jacob Lew warned last year that any firm that deals with Bank Saderat "will risk losing its access to the U.S. financial system."
---
November 1, 2016
ESM chief sees decisions on short-term Greek debt relief by end-year - Reuters
"Greece's official lenders are likely to offer it short-term debt relief by the end of this year, the head of the euro zone's bailout fund said on Tuesday.

Klaus Regling, head of the European Stability Mechanism, told reporters that there was progress in talks. "The ESM has a mandate to look at short-term measures, which we do, and we will make proposals before the end of the year," he said."
---
PPC Sells Stake in Electricity Operator ADMIE to China's State Grid - WSJ
"The board of Greece's PPC, Public Power Corp, opted to sell a 24% stake in grid operator ADMIE to the Chinese company, which had placed the highest offer for the asset, the Greek company said in a statement. An Italian firm also submitted a bid at a lower price, a PPC official said, without giving any further information."
---
Greece blasts EU over migrant sharing - MSN
"Mouzalas blasted the lack of European support to implement the EU-Turkey deal, under which migrants who arrived in the Greek islands after March 20, including Syrian refugees, could be sent back to Turkey."
---
Athens in diplomatic spat with Tirana over demolition of ethnic Greeks' homes - eKathimerini
"The Greek Foreign Ministry also warned its neighbor that: "The protection of property rights, and in particular of minority rights, is an integral part of the five conditions set by the European Union...."

The warning prompted a terse retort from Albanian Prime Minister Edi Rama...

In his post, Rama published an engraving depicting Athens in 1670, and said:

"This engraving… reminds us, among others, that if the Acropolis still stands for the glory of humanity and civilization, this is thanks to the vision of the Albanian Archbishop of Athens Gjergj Dushmani, who in 1686 negotiated with Francesco Morosini of the Venetian fleet not to bombard the city … Such a story of a city that was once, according to the evidence and historians, mainly Albanian-speaking does not make it absolutely an Albanian city."
More Coverage:
New attack by Rama: The Acropolis survived thanks to Albania - Ethnos
---
---
---
---